Enter Chris Curry
When Ian Williamson contacted Clive Sinclair in August 1977, the popular "face of British technology" was still working at Sinclair Radionics, and his other firm had just become Science of Cambridge.
The two men agreed to meet one evening in a pub in Bar Hill, a small village just to the north of Cambridge. Sinclair brought along a colleague, Chris Curry, who had become one of his closest confidantes.
In the summer of 1976, with the government's National Enterprise Board poring over the company's books, Sinclair handed Curry Sinclair Instruments and told him to establish it as a business along the lines of Sinclair Radionics in its mail order electronics heyday.
Curry set to work, borrowing £500 from his father to fund the establishment of an office at 6 King's Parade, Cambridge, out of which 'Instruments would operate.
Then he began looking for products the company could make and sell. "To start with I was the only person there," said Curry in a 1982 interview. "I used to do everything: placing the ads; packing kits; taking them to the post office; mending some of them; answering technical queries ... absolutely everything. Later on there was a secretary, then more and more people were involved."
The first Sinclair Instruments product was the infamous Wrist Calculator - "a ghastly thing", Curry would later say - developed by a Radionics designer, John Pemberton, in his spare time. It went on sale in January 1977 as a kit priced at £9.95 plus eight per cent VAT and described in the ads as "the ultimate in common-sense portable calculating power". But it was a git to build and get working.
"Science of Cambridge was selling a really crummy wrist calculator which Chris was embarrassed about," says Williamson, "Chris was interested [in the kit], but it was a very non-committal meeting. And then Chris turned up a week to 10 days later at CCL with a cardboard box full of broken calculators and asked if I could use any of these... and I said yes.
"I actually said, 'Why have you got some spare?' and he said, 'The Mill is built on the them'."
Curry was immediately taken with Williamson's concept. He too had noted the growing interest in microcomputing, and he felt the kit was the right product for SoC. "I had been very interested in the computer market, buying the US magazines and seeing what was happening, I actually tried to negotiate an import agreement with an American company which had what they called a 'computer in a book'," Curry said in an interview in 1981.
He never struck a deal with the unnamed American firm, but he had Ian Williamson's kit instead. Curry was something of an electronics buff himself - as a youth, he says, he spent many a happy hour attempting to build valve amplifiers with tubes salvaged from old televisions - and would have appreciated not only Williamson's design but also the young engineer's talk of the potential market among electronics buffs for a kit priced well below the competition.
Green-lighting the kit
The deal was on. "We made an agreement for them to take the product, a contract was drawn up and I signed it and sent it back," says Williamson. "It didn't come back - it should have done - and I had not been long at Leyland when Chris rang me up and he was very embarrassed and said Clive won't let me go ahead with the agreement."
The agreement offered Williamson £5,000 upfront for the kit and royalties to follow when the kit went on sale.
In fact, he had two calls from Curry. The first time, he listened while Curry asked if he would be willing to redesign the kit to use only components made by National Semiconductor, the American chipmaker which had designed the SC/MP processor Williamson had selected for his kit. As an engineer, he knew that Curry's requested changes were entirely feasible - they would just take time and money to implement.
"But I was reluctant to do it because you'd have to start from scratch in terms of the redesign, and it wasn't clear how they were going to get a functional keyboard at that price," he says. He asked Curry about the keyboard; Curry mentioned the use of a very low-cost membrane keyboard. Williamson wasn't keen on that at all, but he promised to think about it.
He didn't have long to wait. "And the next call was 'Clive won't let me proceed, Nat Semi has offered to do it for free'," he recalls. "What had happened was that when they went to get pricing on the Scamp, National said, 'Can't we have it all?' Clive essentially said, 'Go with national and cut Williamson out'."
When Curry had approached National Semiconductor to negotiate a purchase order for the SC/MP processor, the American chip company quickly spotted an opportunity: sell him all the other components he needed too. Curry would have to buy these anyway, but working with a single supplier would simplify the process and potentially make the overall purchase less expensive.
National Semiconductor's sales team offered him a kit design of its own, as a sweetener. SoC could have a circuit layout and silicon parts list for free - all the chipmaker wanted was Curry's guarantee that he would commit himself to buy its microprocessor, memory and other chips.
Curry wasn't keen on Williamson's use of a calculator keyboard and display, or the enforced selection of octal as the device's number-entry system. Whether it was octal that put him off or the expense of the calculator keyboard - likely the former, since the keypad cost was not significant - the National Semiconductor offer provided the perfect opportunity.
Expansion plans
The Nat Semi kit also had expansion possibilities, an opportunity Curry would make use of to sell add-on products to buyers – such as extra memory and chip blowers – after the board itself had gone on sale. But so did Ian's prototype. He had already devised an interface to allow his kit to be connected to a TV screen as a display and he planned to add a Basic interpreter. It would be loaded in from cassette, so he had in mind to build add-in hardware to drive a domestic tape recorder. He even had a notion that this expanded system might be operated through a kind of on-screen keyboard with a lightpen.
"Before you know it, you've got a full computer," he says. "There was in my mind a roadmap that led down that route, but I effectively stopped working on it at that mid-point of 1977." The Leyland job offer had put paid to any plans he might have had to expand his kit into a complete home computer system.
Curry would later dismiss Williamson's original work, saying: "We nearly went ahead with an inexpensive home computer which would have been based on the use of a calculator chip for keyboard and display. Eventually, we went away from the use of a calculator and used more conventional interfaces to provide a display and keyboard - and produced the MK14."
Yes, the product now had a name: MK14 - "MK" for "microprocessor kit", so pronounced "em-kay" not "mark". It wasn't was a straightforward reproduction of the existing National Semiconductor SC/MP evaluation system. Always mindful of cost, Curry had the Nat Semi board "cost-engineered" downwards: the design was tweaked to make use of fewer, cheaper parts, among them the keypad.
The MK14's keypad was one of its weakest components. It appears to have come from National Semiconductors' other evaluation kit, designed before the Intro Kit and called the Low-Cost Development System (LVDS). It was a large black box onto which a number of circuit boards could be fitted, one for the SC/MP and others for memory, IO and such. It had a hexadecimal keypad exactly like the one later used on the MK14. But the keypad was not robust and often failed.
"The first [MK14] weakness, the keyboard, is more or less acknowledged by the manufacturers in as much as they provide an edge connector on the printed circuit board for an external keyboard," wrote Personal Computer World contributor Clifford Clark in the magazine's March 1979 issue.
"The second shortcoming is the manual, which jumps from simple memory switching to sample programs laid out in assembler format. There are statements about out-putting to the display with no instructions on how to do it."
Don't blame Ian Williamson for that. While he was later paid £2,000 - "over the odds", he says - to write a programming manual for the MK14, Science of Cambridge never used it. The book, co-written with CCL co-founder Rodney Dale, eventually came out through another publisher.
The seeds of Acorn
It is not known who penned the more simple guide that shipped with the MK14 itself, the one Clifford Clark and many other reviewers criticised. Most likely it was written by one of the growing number of Cambridge University electronics and computing buffs who had been hanging out with Chris Curry. Certainly one of them – David Johnson-Davies, who would go on to run AcornSoft – wrote the manual's sample programs.
Many of them would go on, with Curry and Hermann Hauser, to form the core of a new microcomputer company, Acorn. One of them was Steve Furber, then a maths graduate pursuing a doctorate in aeronautical engineering. But Furber increasingly found himself distracted by a newfound love of microprocessor technology.
The maths grad built the first MK14 prototype using the National Semiconductor schematics and chips: "I got the circuit diagram and built one using Verowire and solder in my front room," said Furber. "The MK14 was basically a copy of a Nat Semi Scamp development kit and they'd taken a mass-programmed ROM and copied it into two linked PROMs on the MK14. They managed to copy it wrong, and I debugged this thing in my front room. That was the first piece of work I did for them."
Bugs such as these were fixed and the circuit diagram reproduced as a printed circuit board. The MK14 finally went on sale in February 1978, though it took three months more for SoC to begin pushing the kit out on appreciable numbers.
It sold for £39.95 plus £3.20 VAT and 40 pence P&P and, once assembled, could "handle dozens of user-written programs through the hexadecimal keyboard". Assembly could be carried out by "anyone with a fine-tip soldering iron and a few hours' spare time, using the illustrated step-by-step instructions provided".
The MK14 "became a great favourite", Curry said in 1981. "I think we sold about 15,000 of them."
That success could be attributed to both the very low sale price and to Curry's professional-looking ads, which stood out a mile from those offering rival microprocessor kits and the new, full microcomputers that had just begun to appear, such as the Nascom 1.
To the potential buyer, Curry's smart ads made the MK14 look like a solid product. And if the keypad had been cost-reduced to the point at which it would break down with relatively little use, the rest of the system held up well.
But this was not the case with Sinclair Instruments' ability to fulfil orders. As occurred with many later Sinclair computer products, the MK14 suffered from long shipment delays. Curry requested 2,000 sets of chips from National Semiconductor for the first batch of MK14 kits, but interested buyers sent it many, many more orders than that.
This left him unable to fulfil them until more components came through, which took several months. Curry never quite got the numbers right and shipment delays plagued the product throughout the remainder of 1978 and 1979.
"Chris kept me in the loop as to how things were going," remembers Ian Williamson. "[The MK14] took the form of a normal Sinclair project, in that he under-priced it - he didn't need to go to £39.99 - and he under-ordered.
"They committed to 2,000 units and got orders for 20,000. At £49.99 they could have put a proper keyboard on instead of what they had which became unusable in a day, but it was functional and it was successful for the purpose it was designed for.
"I don't look at this as a big deal. I was one of the first, very few, electronics engineers who programmed microprocessors in the UK. I could see that everyone wanted to learn about it, and found a way they could do it inexpensively. [The MK14] doesn't have anything in it that's uniquely Williamson."
Heavy industry
Chris Curry kept in touch with Ian while he was still at Science of Cambridge, to sound him out about developing self-learning guides for the then upcoming Acorn Microcomputer. "I remember meeting with Chris and Herman. I may have produced something around the System 1," he says.
But apart from co-writing a few programming guides with Rodney Dale, his participation in the emerging UK microcomputing scene ended in September 1977. Williamson's day job put him in charge of Leyland Truck and Bus' electronics R&D efforts. "After a few years running the technology activities, I got caught up in Chief Executive Michael Edwardes' psychological assessment programme and they decided I would be a better manager than an engineer. So at the age of 31 or so I was moved to run a loss-making gearbox company in Coventry [Self-Changing Gears Ltd]. And I've been running companies ever since."
Williamson was in charge of Self-Changing Gears for five years. When it was bought by the US-based Cummins Engine Company, he was sent to run another UK Cummins subsidiary, Newage (now Cummins Generator Technologies) in Stamford, Lincolnshire. He later became a divisional executive with BBA Plc (now BBA Aviation) with oversight of a number of subsidiary companies doing £4m-5m worth of businesses.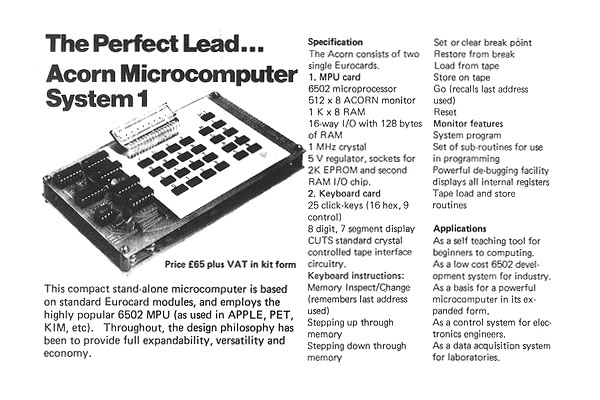 Little Acorn: launched early in 1978 as the Acorn Microcomputer,
by 1980 it was being referred to as the System 1
In 1985, he was hired to be Carclo Plc's chief executive. "It was a steel and wire company when I joined it - and now it's seen primarily as a high-tech company. We have quite a significant operation in Cambridge by the Science Park which is a leader in printed electronics and touchscreens. So my career has kind of come full circle."
Does he regret turning his back on the emerging computing sector all those years ago? "I wouldn't be human if I hadn't thought that occasionally, but equally I wouldn't be able to do the job I do now if I ever regret decisions I make. To do what I do, over all the years I've done it, you have to have the courage of your convictions and stick with them and you don't go back and live your life again.
"When I get an opportunity I complain about the pressures of public life but if you look at the history of Carclo over the past 10 years, I've been able to use a public company platform as a entrepreneur. The shareholders allowed me to take quite risky technology bets and that's been very good. It would be nice if there was more of it. The country would be a healthier place if there was more of that."
Ian Williamson retired from Carclo in March 2013. He's now enjoying a well-earned break and planning his next venture. ®