This article is more than 1 year old
Boffins find ALIEN WORLD orbiting the Sun's LONG LOST TWIN
Could there be LIFE as well? Maybe, maybe not...
Boffins have located an alien world orbiting a solar twin to our own Sun for the first time.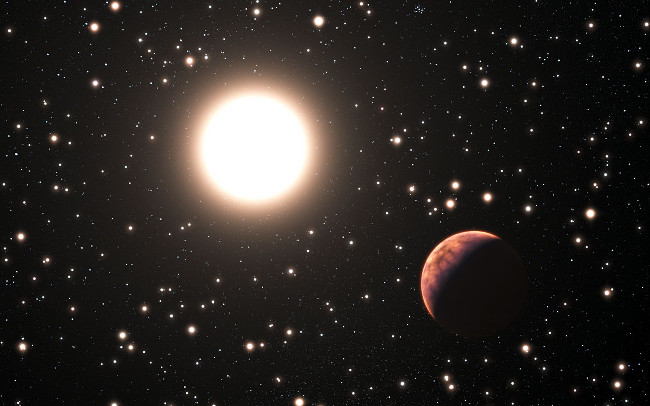 Astronomers using the European Southern Observatory's HARPS planet hunter in Chile and other telescopes around the world have found three such planets in the star cluster Messier 67.
Although a thousand exoplanets have been confirmed, only a handful have been seen in star clusters. Even rarer is that one of the worlds is orbiting a star that is almost identical to the Sun.
Researchers have been carefully monitoring Messier 67 over the last six years to look for the tiny motions of stars towards and away from the Earth that would reveal the presence of planets in the system. They're trying to figure out if there's something different about planet formation in clusters that would explain why so few worlds have been spotted in them.
"In the Messier 67 star cluster the stars are all about the same age and composition as the Sun. This makes it a perfect laboratory to study how many planets form in such a crowded environment, and whether they form mostly around more massive or less massive stars," said Anna Brucalassi of the Max Planck Institute for Extraterrestrial Physics in Germany.
The cluster lies around 2,500 light-years away in the Cancer constellation and contains around 500 stars. Many of the cluster's stars are fainter than those normally targeted for exoplanet searches, making it much more difficult to detect the signs of alien worlds.
But HARPS and the other scopes managed to pick up the signatures of three planets, two of which are around a third of the mass of Jupiter and orbit stars similar to the Sun in seven and five days respectively. The third world is bigger than Jupiter and takes 122 days to get around its host star.
One of the Sunlike stars is the first solar twin in a cluster that has been found to have a planet, though, unfortunately, it's far too close to its host for any liquid water to exist there.
"These new results show that planets in open star clusters are about as common as they are around isolated stars — but they are not easy to detect," said ESO's Luca Pasquini, co-author of the new paper. "We are continuing to observe this cluster to find how stars with and without planets differ in mass and chemical makeup."
The findings were detailed in "Three planetary companions around M67 stars" to be published in Astronomy & Astrophysics and available here.