This article is more than 1 year old
Let Google's tentacles fondle your mobile's web downloads and Chrome will put the data on a diet
Compression-by-proxy tech can be switched on in browser
The latest version of Google's Chrome browser for handheld devices includes a data-compression feature that's designed to save customers money on their mobile bills, among other new bells and whistles.
The compression comes disabled by default on Android and iOS, but can be activated by flipping a single switch in the browser's settings.
Once enabled, it reroutes the user's web requests through a SPDY proxy to Google's servers, where a number of content optimizations are performed before the data is sent down to the handset. (Kinda what Opera Mini has been doing for years.)
For starters, the Google proxy re-encodes all images on a page into WebP, the JPEG-replacement image codec created by On2 Technologies that's much beloved by the Chocolate Factory but hasn't gained much traction elsewhere.
Google claims the more modern codec can reduce the size of JPEG and PNG images by as much as 40 per cent at similar quality levels. That's significant, given that images account for more than 60 per cent of all of the data transferred by typical web pages.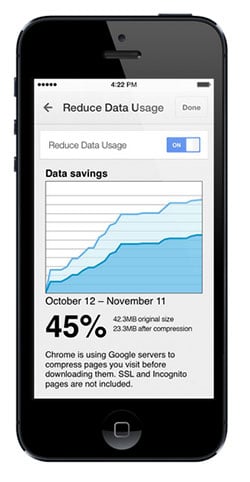 Chrome's new compression promises to
slim down your mobile bill
Google's servers also "minify" HTML, CSS, and JavaScript files, removing any unnecessary whitespace, comments, and metadata, before squashing the whole bundle with Gzip compression and sending it to the phone.
The connection between the browser and Google's proxy server is secured with SSL, and the proxy performs all DNS lookups, saving a little bit more bandwidth on the browser's end. Switching on the feature also simultaneously enables Safe Browsing, which authorizes Google's servers to screen content for known phishing and malware attacks.
The one catch is that the compression system only works for HTTP URLs. HTTPS traffic bypasses the proxy and is sent along directly to the requested site – which, for security reasons, is probably how you want it to work.
Google says that enabling the feature will cut down your data usage by as much as 50 per cent, and you can view your actual savings via a graph on the settings page. A white paper on the technology is available if you'd like to dive into the gritty details.
Besides compression, the new version of mobile Chrome also adds two other new features, one each for Android and iOS. Chrome users on Android can now create shortcuts to their favorite web applications and pages that can be launched from the device's homepage just like regular apps. And Chrome for iOS has gained built-in Google Translate integration, which has been available in the Android version for some time.
Just when we will be able to get our hands on the new goodies, however, isn't quite clear. When your Reg hack last checked the Google Play store on Wednesday afternoon, Californian time, the most recent stable version of Chrome for Android was published on November 18. But a blog post by Google engineer Matt Welsh assures us that new version will be rolling out to the store "over the next few days." ®