All-flash array flogger Nimbus Data: We coined it in 2013
Upstart claims revenue doubled
All-flash array firm Nimbus Data released results from the year to date, saying it had had a great 2013.
It claimed:
Revenue more than doubled compared to 2012,
Net income grew more than 4 times compared to 2012,
Headcount grew 125 per cent compared 2012,
More than 500 Nimbus Data storage arrays are now in production worldwide,
Opened new sales and engineering office in Austin, Texas.
Nimbus claims: "Revenue, Net Income and Headcount Growth Outpace Industry Peers." On the the hand, flash rival Pure Storage just a few weeks ago claimed its growth over the 2012-2013 period has included 50 per cent plus growth per quarter.
Nimbus's Austin office opening was followed by layoffs.
Back in March last year, after we ran a Nimbus staff leaving story, Nimbus said: "Company headcount has doubled in the last 12 months, not shrunk as you have claimed."
A 125 per cent head count growth could mean the company has around 50 employees now, compared to 22 or so a year ago.
We expect more product news this year, CEO Thomas Isakovich saying: "In 2014, we expect to continue to widen our technology leadership with multiple new software and hardware offerings that push the boundaries of storage efficiency and application performance."
Let's leave you with a Nimbus cup cake illustration tweeted by business development person Brittani Neff. OK, the blue icing is not that appetising, but who said this business isn't fun?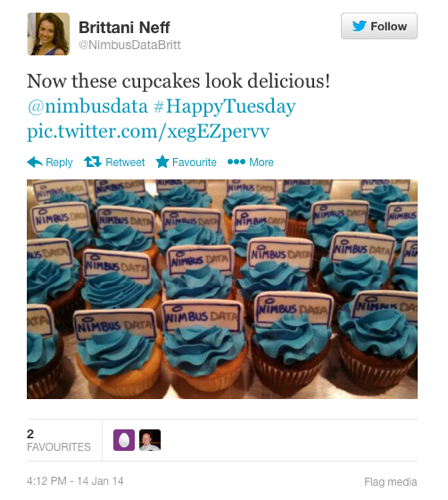 Click pic to tickle your sweet tooth.
®