Quantum expects to see Q3 revenue hike, sheds 60 extra bodies
Shift to 'fully outsourced' manufacturing still underway
Quantum expects to report a seasonal third quarter revenue hike in its third 2014 fiscal quarter ended 31 December, with lower costs helped by manufacturing outsourcing and several additional redundancies.
El Reg storage desk has received several emails about the latter and they were also confirmed by the company.
Revenues for the third quarter are expected to be between $145m and $146m. Taking the mid-point they will 10.7 per cent higher than the previous quarter.
But they will also be 8.5 per cent down on the year-ago quarter's $159m. The year before that third quarter revenues were $173.5m and $176.2m the year before that. It's decline all the way.
It's likely Quantum will make a profit on the GAAP measure (Generally Accepted Accounting Principles) which would compare to a $5m loss in its second fiscal 2014 quarter and an $8m loss a year ago. How is it expect to work that trick, getting a profit from revenues that are lower than a year ago when it made a loss?
Click chart to enlarge it.
The revenue hike for the third quarter is attributed by Quantum to:
Strong sequential improvement in sales of Scalar tape automation systems,
Ditto for and DXi deduplication appliances,
Year-over-year revenue growth of approximately 20 per cent from StorNext scale-out storage products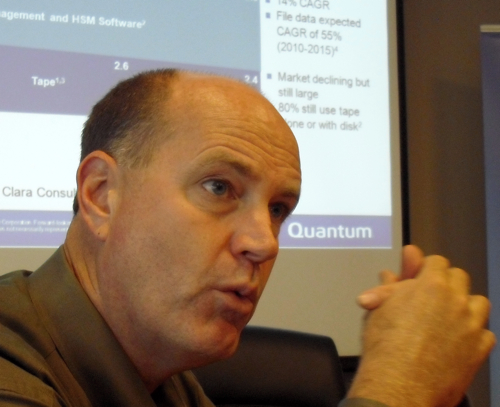 Quantum CEO Jon Gacek
The better income number, a $6m to $7m non-GAAP net income amount, will possibly/probably translate to an approximate $5m GAAP net income number. Its rise is attributed by CEO Jon Gacek to "improving our sales execution and efficiency, and reducing our cost structure."
Gacek said: "We believe we have an advantage in scale-out shared storage, active archive and cloud-based data protection. We plan to build on our StorNext leadership in end-to-end content workflow, the value of Quantum's Lattus Object Storage as a forever disk archive, our number one market share position in tape automation and our best-in-class DXi deduplication portfolio."
The "reducing our cost structure" bit refers to the completion of its switch to a fully outsourced manufacturing model, whereby Quantum is to shed 120 "positions" (people). The firm says this outsourcing will "reduce overall expense by approximately $10m annually".
It "also plans to eliminate approximately 60 additional positions across various functions this quarter, reflecting reduced resource needs, better organisational efficiencies and a more focused investment strategy".
A press release from the storage firm confirms the job cuts:
This quarter Quantum will complete the change to a fully outsourced manufacturing model as previously announced last July, eliminating the remaining 120 positions related to this change.

The company also plans to eliminate approximately 60 additional positions across various functions this quarter, reflecting reduced resource needs, better organizational efficiencies and a more focused investment strategy heading into the new fiscal year.
Mails about redundancies
We have received mails from people close to the matter about redundancies. One source claimed there had been cuts in "the DXi engineering unit". When we asked the firm, it would not confirm the specifics.
Another source claimed: "It seems they had some more layoffs last Friday (3 January)... They kept "DVT" intact, which is the hardware testing team."
We asked Quantum about the redundancies and Brad Cohen, Quantum's corporate communications VP, provided this statement:
As we stated in our press release yesterday, we plan to eliminate approximately 60 positions this quarter from various functions across the company. Some of those impacted were notified last Friday.

The other 120 positions referenced in our press release are related to our move to a fully outsourced manufacturing model announced last July and included in the total number of positions we said would be eliminated over the next six months as a result, which you wrote about at the time. In other words, these are not new reductions or new news.

We are not going to provide a breakdown of, or further details about, the 60 positions...

Finally, I would note that we are also continuing to hire new people as our business evolves, as we further expand our product portfolio and as new opportunities arise.
Comment: Ripe for sale?
Source have also been speculating about a company sale, implying that Quantum is being tweaked, adjusted, modified and refashioned into a profitable core business which would have backup, archive and file virtualisation (what Quantum calls scale-out storage) elements to it.
We might think of tape automation and DXi as one component and the StorNext/Lattus product area as another.
We could possibly envisage fellow LTO Consortium members HP and IBM as possible Quantum tape automation business acquirers, together with SpectraLogic. Oracle would be a wild outside bet.
In October rumours linked NetApp to a Quantum acquisition but nothing has emerged from the storage jungle drums about that since.
Quantum's board does contain activist investor Starboard Management nominees who all want to increase shareholder value.
At the time of the potential NetApp acquisition rumour, Cohen said: "There's a lot of rumour and speculation in this industry, so our policy is simply not to comment when these types of questions get asked." ®