This article is more than 1 year old
Google Glass driver told she CAN wear techno-specs while on the road
If they're switched off. Glass definitely half empty for cops
It's safe to wear Google Glass behind the wheel after a California court struck down a woman's traffic citation – which was issued by a highway patrolman for wearing the head-mounted computer.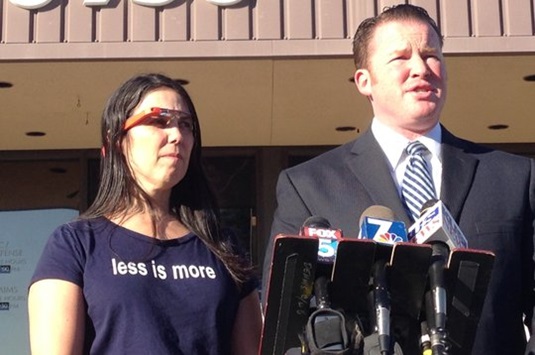 Cecilia Abadie and her lawyer meet the media after beating the rap (Credit: San Diego Union Tribune)
Cecilia Abadie, a product manager for Full Swing Golf, received the citation, thought to be the first of its kind for the Glass hardware, in October after being pulled over for speeding. But in the San Diego traffic court on Thursday, Commissioner John Blair dismissed the ticket on the grounds that the headware wasn't turned on at the time.
Abadie's lawyer had argued in court that the regulation cited, "driving with a monitor visible in violation of California Vehicle Code 27602" didn't apply to his client since the law was passed before Google Glass was available. Abadie has said she wears her Glass headset all the time, even when not using it.
"Glass is built to connect you more with the world around you, not distract you from it," a Google spokesman told El Reg in a statement.
"As we make clear in our help center, Explorers should always use Glass responsibly and put their safety and the safety of others first. It's early days for Glass and we look forward to hearing feedback from Explorers and others in advance of a wider consumer launch this year."
While Abadie and Google might be celebrating, it was a bad day for police officer Keith Olge who pulled her over. Not only did the Glass charge fail to stick, but Abadie also beat the speeding ticket he gave her for driving at 85 miles per hour in her Prius because of lack of evidence. ®