How flash storage raced from glory to despair in 2013
And back again. For some...
Flash dramas abounded in 2013, from triumphant IPOs, disastrous IPO after-effects, profound strategy changes, and firms crashing out in flames.
Two CEOs went. Two companies crashed. Several were bought. All in all it was a hell of a year. Let's start with all-flash arrays.
All-flash arrays
Here's where a lot of the flash action was as all-flash arrays (AFAs) went mainstream. The legacy disk drive array suppliers all went into the all-flash array business as they built product to respond to Numbus Data, Pure Storage, Solidfire and Violin Memory arrays:
EMC had its XtremIO product on limited availability but went GA late in the year. Rumours are that it's now the the AFA volume leader.
HDS doubled the maximum capacity of its HAF (HDS Accelerated Flash) to 38.4TB. This is an all-flash array (ASIC, SSD + SW) inside a VSP, HUS VM or HUS 150 system.
HP introduced its all-flash 3PAR 7450.
Dell announced all flash versions of its EqualLogic iSCSI and Compellent FC arrays, saying its Compellent array software worked very well with flash, including automated data placement across two flash tiers (SLC and MLC) and disk tiers.
We're still waiting on NetApp's ground-up design FlashRay with the EF550 appearing during the year, upgrading the EF540, and both being all-flash iterations of an E-Series array with a primarily disk-based OS.
We're also still waiting on IBM for its FlashSystem renaissance, likely to happen later this month.
Skyera announced a 21PB-in-a-rack monster costing $1.99/GB in August. The skyEagle packs 500TB of NAND into a 1U box, an amazing density that blows everybody else away.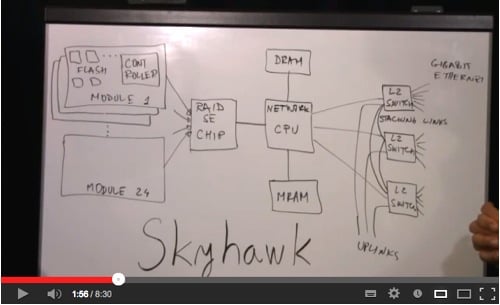 Skyera skyHawk design.
Frankly, if Skyera's boss, Rado Danilak, and his team hadn't developed the SandForce controller business, bought by LSI in October 2011, people wouldn't have believed the density of this skyEagle box. It was a pre-announcement, with product delivery slated for the second half of 2014, possibly earlier.
In March IBM's new storage general manager, Ambuj Goyal, said that transaction data should move from IBM disk arrays to flash arrays; "Our play is the all-flash array for transaction processing, not hybrids." In his view the flash array controller should sit behind a [mature] disk array controller, like a DS8000 or Storwise one. Then, in April, Big Blue announced a $1bn investment to boost its flash business.
Flash arrays or appliances have become the preferred place in the enterprise data centre for storing random data with high access rates.
Gamely countering the flash hardware appliance trend VDI technology supplier GreenBytes got out of the flash hardware business and transitioned to selling its VDI software with no hardware, thinking that flash arrays were headed towards commodity status and making profits would be darned difficult.
The startup AFA momentum is with Pure and Solidfire, Violin having been hobbled - see below.
Flash in the cloud
In April Switzerland-based CloudSigma offered its IaaS services using all-flash storage.
November saw Amazon put out compute instances with flash storage in its cloud. December saw us writing about Performance Servers from Rackspace which were stuffed with flash.
Google also offered flash storage for compute-in-the-cloud instances in December.
That's it really; game over; flash has arrived as a server accelerator in cloud server instances from CloudSigma, Amazon, Google and Rackspace. Any other cloud compute provider has to match that or cut prices to suicidally low levels.
Flash came to the cloud with no fuss really but fuss there was amongst the companies building and supplying flash storage; major league fuss.
Acquisitions, investments and and crashes
One view is that many flash cowboys went and struck it rich while others just struck out. Here's a summary:
Seagate invested $40m in PCIe flash card HW and SW startup Virident, and said it would sell Virident PCIe flash cards, only for WD to buy Virident later in the year. Oops
WD invested in all-flash array startup Skyera in March
Cisco went and bought all-flash array startup Whiptail for $415m in September and then confused us all by saying its technology would be integrated with UCS servers anthem emphasis would not be on selling stand-alone flash arrays
Greatly troubled OCZ crashed and Toshiba bought its assets
WD went on a buying spree:

Buying VeloBit and
Buying Virident and
Buying sTec and
Assigning the three to its HGST sub

Virident FlashMAX

SanDisk bought SMART Storage and its FlashDIMM technology in June
Avago, the re-named Avaya, is buying LSI, partly for its PCIe flash card business
Hybrid flash/disk array startup Starboard Storage crashed and burned, with SGI picking up the assets
EMC bought ScaleIO in July for its scale-out virtual SAN technology, using a server's direct-attached storage, including flash
The big news was effectively a no news item; despite encouragement from all quarters Seagate did not buy a flash technology company. Names mentioned included Violin, Fusion-io and Virident, with Seagate apparently turning down an offer to buy the latter. Disk in the cloud was more appealing to Steve Luczo's company than buying additional flash presence in servers, desktops or networked arrays.
This contrasts starkly with WD's pro flash product initiatives and HGST's emergence as WD's flash product arm, excepting Black2 hybrid disk+flash drives.
The surviving stand-alone all-flash hardware firms include Kaminario, which makes very fast flash arrays which top SPC benchmarks ratings, Nimbus Data, Pure Storage, Skyera and Solidfire and, of course leadership-challenged Violin Memory.
Nexenta and other storage SW-only suppliers also have all-flash arrays provided through their partnerships and channels.