IBM plays with its Lego, hits upon System X server redesign brainwave
New modular systems pack in Ivy Bridge Xeon E7s, eXFlash flash, and much more
IBM's new range of System X servers are built like Lego, but rather than letting you build castles or spacecraft, Big Blue hopes they'll become the foundation of fat databases with tough input-output requirements.
The sixth generation of the x86 servers were announced by IBM on Thursday and, as previously reported by El Reg, come with eXFlash, which is flash memory courtesy of SanDisk on a DDR3 module connected to the processor memory bus.
The new servers have a modular design, IBM says, which should support multiple generations of CPUs and allow sysadmins to drop in future processors churned out by Intel. Systems that support the modular approach include the System x3850 X6 four-socket server, the eight-socket System x3950 X6, and the IBM Flex System x880.
The modular part comes from pluggable "Compute Books" that each contain one processor and 24 DIMMs that can be slotted into the overall server chassis. The "Compute Books" are part of a larger modular push by IBM that sees it also create a hot-swappable "Storage Book", "Primary IO Book", and "Optional IO book" to give sysadmins greater flexibility in how they upgrade the systems, according to Big Blue.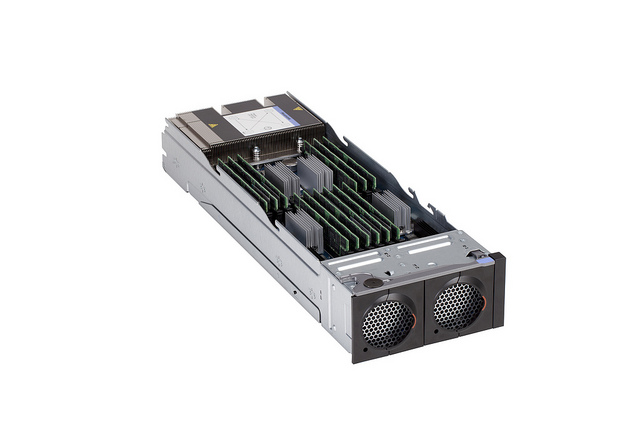 IBM's new "Compute Books" see Big Blue go for Lego-style servers
With this approach, IBM has taken inspiration from block toys like Lego, and (it seems) Facebook's "Open Compute Project" server scheme which sees the social network aim for greater servicability (for want of a better word) in its data center kit.
These new servers support E7-4800 v2 and E7-8800 v2 processors, and up to 96 DIMM sockets (x3850) and 192 DIMM sockets (x3950), respectively. Both come with IBM's FlashCache Storage Accelerator software.
In addition, IBM has cozied up to the Wall Street money folk with an IBM System x3750 M4, which is designed for low-latency financial traders. One IBM customer opted for the x86-based x3750, as opposed to the standard approach of using custom field-programmable gate array chips, and the "InRush 3 Accelerated Ticker Plant" network adapters to feed data through to the server.
Though IBM insinuates this means the CPU is being used for trading work, we doubt that as the latency from input to market calculation to output is simply too high for the ravenous speed-freaks of robo-trading.
Big Blue also unveiled a two-socket System x3650 M4 BD storage server that can cram in up to 14 disk or solid-state drives delivering 56 terabytes of storage, along with 16 DDR3 DIMM slots. IBM says in a canned statement this system "provides 46 percent greater performance than previous comparable IBM System x servers and is ideally suited for distributed scale-out of big data workloads."
Prices were not disclosed. Rumors swirled last year that IBM was on the verge of selling its x86 server division to Chinese box shipper Lenovo, and on a recent conference call an IBM exec hinted that a "big divestiture" may take place in 2014. ®