Obama reveals tiny NSA reforms ... aka reforming your view of the NSA
Prez announces tweaks here and there for ordinary American citizens
---
President Obama has today outlined his plans to tweak the rules under which US intelligence services monitor their own population and citizens of countries around the world.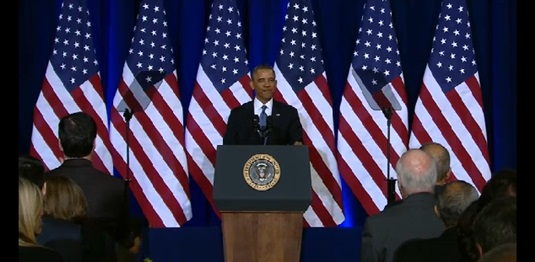 Trust us, we're Americans
"As the nation that developed the Internet, the world expects us to ensure that the digital revolution works as a tool for individual empowerment rather than government control," he said during a White House briefing.
"Having faced down the totalitarian dangers of fascism and communism, the world expects us to stand up for the principle that every person has the right to think and write and form relationships freely – because individual freedom is the wellspring of human progress."
Obama announced that today's system of collecting metadata on all US phone calls under Section 215 of the Patriot Act will be changed at some point this year. Rather than having the government hold this vast repository of data, this will either be left to the phone companies or handed off to an unnamed third party for storage, Obama said.
In addition, starting immediately, intelligence analysts will no longer be able to search the phone records without obtaining a court order, and will only be able to conduct "two-hop" searches – ie: of a specific phone number, to whom that number connected, and whatever numbers that second connection went on to communicate with - rather than the current "three-hops" system.
The secret Foreign Intelligence Surveillance Court that makes these decisions on who to investigate will also be reformed to allow greater congressional oversight. In addition, the government will appoint a panel of non-government "advocates" who will "provide an independent voice in significant cases" being heard by the court.
The use of national security letters, which are used to extract information from companies and stops them from disclosing they have done so, is also being reviewed. Obama said that these would no longer be open-ended gagging orders and companies would be able to disclose their use after a limited time – unless there's a real government need for secrecy.
When it comes to the controversial section 702 of the FISA Amendments Act, that allows the surveillance of US citizen's communications with foreigners, Obama said he has asked the Attorney General and the Director of National Intelligence to look at ways of strengthening privacy protections for US citizens.
If you're not a terrorist, you have nothing to worry about, duh
As for the rest of the world Obama said that ordinary citizens (and their leaders) should not be worried that the US is spying on their communications, and he was instructing that such monitoring only be carried out for the purposes of "counterintelligence, counterterrorism, counter-proliferation, force protection for our troops and our allies, and combatting trans-national crime."
US intelligence services will continue to gather information on the intentions of other governments, Obama said, adding that this was in line with the practices of any other government in the world. But he is appointing a member of the State Department to liaise with foreign governments and reassure them about US intentions and surveillance practices.
"The leaders of our close friends and allies deserve to know that if I want to know what they think about an issue, I'll pick up the phone and call them, rather than turning to surveillance," he explained.
"In other words, just as we balance security and privacy at home, our global leadership demands that we balance our security requirements against our need to maintain the trust and cooperation among people and leaders around the world."
Obama emphasized this was the start of the reform process and he would be appointing a senior White House official to oversee the changes. Obama said he would also be happy to work with Congress to adapt US intelligence protocols further and was starting a separate, more general, review of big data and privacy.
"It's embarrassing for a head of state to go on like that for 45 minutes and say almost nothing," a newly bearded Julian Assange told CNN in an interview from his Ecuadorian embassy hideout in London. "What we see is kicking the ball off into the Congressional grass, kicking it off into panels of lawyers that he will appoint and instruct to report back at some stage in the future." ®