This article is more than 1 year old
HP EliteBook 840G1: Sometimes it's an Ultrabook, sometimes it's not
A 14-incher that's more for spills than thrills
Review At a recent event when HP was handing out Elitebooks and other gadgetry to the great and the good of the UK's tech press, a thought crossed my mind as the options presented themselves. Shall I go for the eminently portable Elitebook 820 G1 12.5in model or the somewhat chunkier 14in 840 G1? With you, dear reader, in mind, I had a good long ponder on this.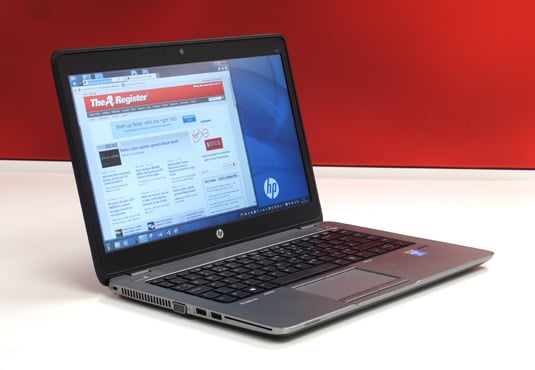 Taking the rough with the smooth: HP's EliteBook 840 G1
Now, let's see. Small form factors are always popular, but for many it's a what-you-would-buy-if-you-could-afford-it option, because more often than not other practical considerations win the day. I was tempted though, but having a 1366 x 768 display – and only Core i5 configurations being handed out – I felt the larger Core-i7 equipped 840 G1 had a more enduring appeal even without an SSD.
As for the screen, it was anybody's guess what I was getting as I was handed a laptop bag to wander home with. Would it be full HD (and some of you might even get beyond this paragraph) or the more standard lower resolution option?
The good news is, you can keep reading. I'm typing this whilst gazing upon a rather easy-on-the-eye full HD 1920 x 1080 matt screen. The menu bloat of Office 365 sits quite comfortably atop Word and there's no underlying feeling of claustrophobia creeping in on this desktop.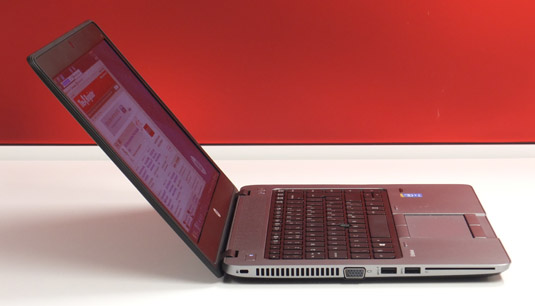 VGA interfacing, if you still need it, along with USB 3.0 and a SmartCard reader
I also lucked in on the RAM too, as 4GB is standard, but this model came with 8GB of 1600MHz DDR3 RAM along with a 500GB 7200RPM Toshiba HDD. OK, so the HDD might get a few grumbles and it does impact on benchmark performance, especially when compared to the Toshiba Portégé Z30 running the same Haswell generation dual-core 2.1GHz Intel Core i7-4600U CPU, but for typical tasks it's not obviously hampering anything.
Graphics get a boost too. Even though the Intel HD 4400 Graphics is perfectly adequate for most tasks it does share up to 4GB of system memory and whereas the AMD Radeon HD 8750M that's also on-board will rely on its own 1GB of RAM provision for improved performance. For the most part, the Intel GPU kicks in for power saving profiles, whereas the AMD option works in performance modes.
Beyond replacing the HDD with an SSD, if you're after a further performance boost, this Elitebook can accommodate a flash cache of 32GB, alternatively the same slot can fit a mini-card 120GB SSD. I tried to get HP to send me the flash cache to see how much of a difference this would make. I've tested various hybrid configurations that all improve boot up times and make a significant impact on benchmarking results too.
Cache on delivery
Yet, for the moment, at least, getting kitted out with a cache on an Elitebook remains elusive. Evidently none to be had in the market, not even for ready money. A glance at the HP service manual [PDF] reveals it's an M.2 NGFF (next generation form factor) module, and these components are still quite a rarity.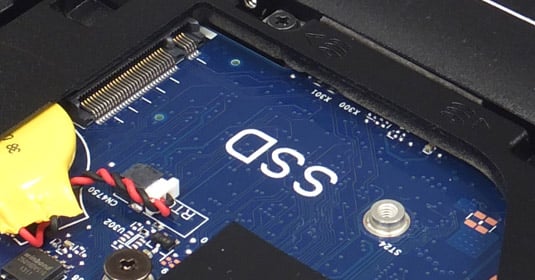 This single-keyed M.2 NGFF slot can accommodate a 42mm flash cache or an SSD mini-card
At 339 x 237 x 21mm and weighing 1.58kg it's not especially cumbersome to manage to lug around. According to HP's website, "Not all configurations will be classified as Ultrabooks" – this is a footnote to the headline claiming the HP 840 G1 is an "industry leading Ultrabook". Well, make up your minds, folks…
The thin black base panel is actually metal and the palm rests are too, although you could easily presume them to be plastic. The lid has a rubberised texture which soon shows glossy fingerprints on its matt finish. The keyboard is spill-resistant and the whole kit and caboodle is apparently designed to endure MIL-STD 810G testing. Another footnote mentions the MIL spec testing is "pending" – slackers.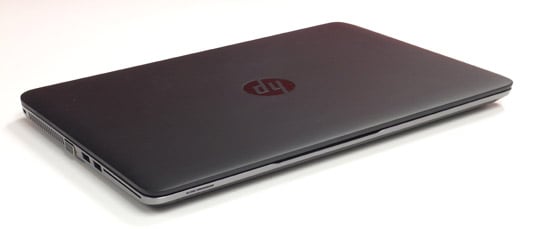 MIL spec tested? Er, we're getting round to it
Apart from the ruggedised lid, it doesn't appear especially butch. The easily removable base cover creaks when you lean on the palm rests and the right-hand shift key is a bit stiff and squeaks sometimes too. Yet overall, the keyboard itself has a good feel to it and is easy to get used to. The slightly textured surface is none too bothersome: indeed, its non-slip touch probably works well in warmer climes or when its desk pizza time.
Being for business bods, HP has loaded this model with its Client Security software. Assuming it would no doubt hassle me for passwords if it began to feel separation trauma, I did my best to avoid setting it up during testing. Curiously, if I rested my hand on the palm rest for too long it would pop-up and start demanding attention.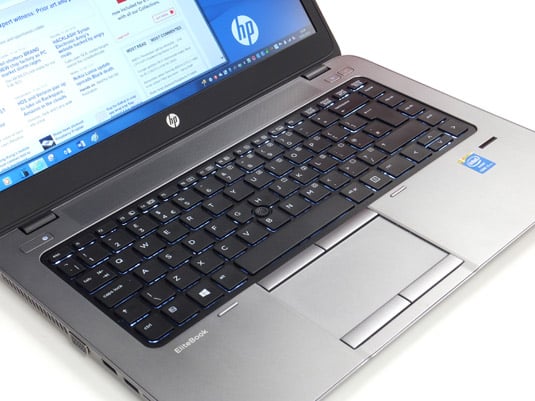 The spill resistant backlit keyboard has only three illumination settings: bright, dim and off
It took me a while to realise what the problem was, but my hand was resting on the fingerprint reader over to the right side and this flesh contact was getting the Client Security app all excited. I just wanted it to bugger off and wondered, apart from disabling the driver, if there was a simple way to turn off this Validity Sensors tech. It seemed the only way around it was through it, so I gave in to the Client Security nagging.