Rosetta comet chaser due to wake up for final rendezvous on Monday
Ten-year space mission reaches final goal
---
Scientists at the European Space Agency and NASA are facing a nervous weekend as the Rosetta spacecraft prepares to power up after three years of hibernation on Monday morning.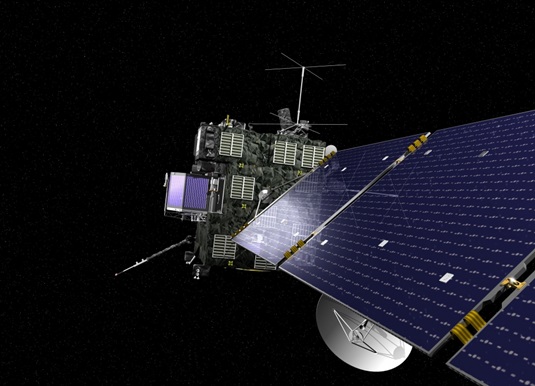 Rosetta could unlock the language of cometary life
The billion-Euro spacecraft, launched in 2004, is approaching comet 67P/Churyumov-Gerasimenko that's 800 million kilometers out from Earth, and will hopefully spend the next 17 months shadowing its target – watching as it transforms from a frozen snowball into a steaming pile of matter during its cruise through the Solar System and back out into space.
"We are going to be in the cometary catbird seat on this one," said Claudia Alexander, project scientist for US Rosetta from NASA's Jet Propulsion Laboratory in Pasadena. "To have an extended presence in the neighborhood of a comet as it goes through so many changes should change our perspective on what it is to be a comet."
Rosetta carries a suite of 15 instruments to study the comet, but will also attempt to get a lander on the comet itself. The lander, dubbed Philae, will fall towards the comet and then fire harpoons into the icy surface. Once fixed, the 100kg lander will use its 10 instruments to analyze the body's makeup and physical properties while relaying the information, and hopefully the first photos of a comet's surface, back to Rosetta.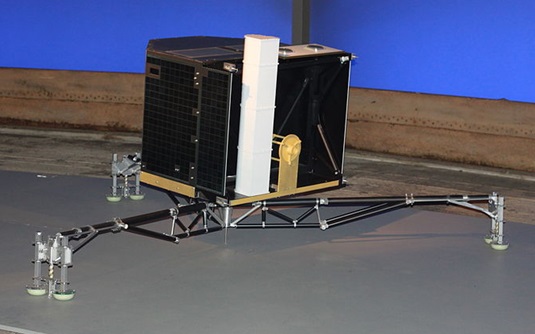 Our best shot at getting close-up data on a comet's surface
"All the instruments aboard Rosetta and the Philae lander are designed to work synergistically," said Sam Gulkis of JPL, the principal investigator for the Microwave Instrument for Rosetta Orbiter. "They will all work together to create the most complete picture of a comet to date, telling us how the comet works, what it is made of, and what it can tell us about the origins of the solar system."
It's been a long, slow trip for the spacecraft. After a delayed launch in 2004 Rosetta began a series of three huge loops around the Earth to build up speed for its cometary rendezvous, a trip that has seen it fly low over Mars in 2007 and take time to check out other objects of scientific interest on the way.
In 2008 the Rosetta spacecraft sent back the first images of the asteroid 2867 Šteins after coming within 800 kilometers of its surface. After swinging close by Earth again the spacecraft then caught a glimpse of the 100-kilometer-wide 21 Lutetia asteroid in 2010 as it whizzed by.
The craft has been in hibernation mode since then but at 10am UTC on Monday Rosetta should click back into action and begin firing up its systems for the final stage of its ten-year mission. If all goes well it will start examining the comet this summer and, once a suitable landing site has been found, will fire down the Philae lander in November.
"It feels good to be part of a team that is on the cusp of making some space exploration history," said Art Chmielewski, NASA's project manager for US Rosetta, based at JPL. "There are so many exciting elements and big milestones coming up in this mission that it feels like I should buy a ticket and a big box of popcorn. Rosetta is going to be a remarkable ride." ®