Blocks and Files SanDisk has an excellent chance of making it as an enterprise flash storage supply because it's pursuing a SMART strategy that is (wait for it, wait for it) ULL-tra bright.
What it's managed to do is corner an area of the server application acceleration market that looks to be brand new and full of potential. And it's done it through buying SMART Storage, which has an exclusive deal with Diablo Technologies to add its flash technology and products to Diablo's DDR3 DIMM access tech; thereby providing Flash or NAND DIMMs to be used alongside memory or DRAM DIMMs
The benefit is that cheap (relative to DRAM) flash storage would be closer to the CPU than flash on a PCIe card would be, and so provides faster access to data. Its latency is lower than PCIe flash's latency and, SanDisk, says, it's also predictable and consistent – whereas PCIe flash card latency can spike.
IBM tried out the ULLtraDIMMs fitted to a Gen 6X server in a New York financial business, 60East Technologies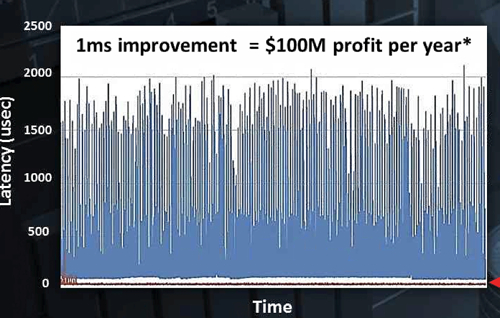 ULLtraDIMM vs PCIe flash latency. Blue lines are PCIe flash latencies. Red lines are ULLtraDIMM latencies. Lower is better. Consistent is good too. Click chart for larger image.
You can see more slides here.
The financial services company reckons that a 1ms improvement in latency in its systems is worth $100m in profits per year. PCIe flash latency is higher and spikes a lot of the time - although we don't know the time axis values in the chart.
Results like this convinced IBM to sign an OEM deal with SanDisk and add what it calls eXFlash to its sixthgeneration X servers. We can reasonably expect eXFlash-filled IBM servers to blow servers fro any other suppliers out of the water in applications which are severely affected by PCIe flash access latency delays and variations yet cannot afford complete in-DRAM-memory systems. VDI could be a case in point.
SanDisk claims that whereas 100 physical servers with PCIe flash would be needed to support 10,000 VDI instances, only 50 would be needed if they used ULLtraDIMMS and they wouldn't need as much DRAM as the PCIe flash-card-using servers either.
If this turns out to be true, then, for certain VDI and financial services applications and others where data access latency is at a premium - but entire in-DRAM working sets are not justified - IBM will sell its eXFLash-filled servers and no other server OEM will get a look in.
What can Cisco, Dell, Fujitsu, HDS, HP, SuperMicro and others do?
Talk to SanDisk, because it has the exclusive arrangement with memory channel technology-owning Diablo Technologies, it says, and no other supplier has equivalent memory channel technology. (SanDisk vigorously refuses the Netlist legal claim against it and Diablo and will fight it out. The probable worst case here is that Netlist gets a piece of the license revenue action.)
So, practically speaking, all the roads to flash-DIMM servers lead through SanDisk. The company conforms it is speaking widely to potential customers, including server suppliers and storage array suppliers whose controllers might benefit from the technology, and others no doubt.
SanDisk is the only shop in town for this stuff and has its very own gold mine in the making here. It's future as an enterprise flash storage supplier is virtually certain and the future is bright. ®
Bootnote
No, I don't own any SanDisk shares, and SanDisk hasn't paid me any money (and won't), or given me a week in Acapulco or anything else. This is my opinion, pure and simple. It might be dumb, it might be wrong, but it's all mine.
Similar topics