Scientists at NASA's Jet Propulsion Laboratory are puzzled by a mysterious rock that has appeared in front of the Opportunity rover, Curiosity's never-say-die older sibling.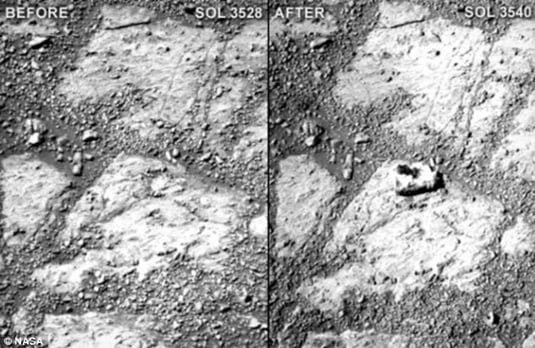 Is someone – or something – screwing with NASA?
"Mars keeps throwing new stuff at us!" NASA Mars Exploration Rover lead scientist Steve Squyres told Discovery News.
"It's about the size of a jelly doughnut. It was a total surprise, we were like 'wait a second, that wasn't there before, it can't be right. Oh my god! It wasn't there before!' We were absolutely startled."
The rock showed up on Opportunity's cameras on January 8, but wasn't there days earlier when the indefatigable Mars rover took an image of its surroundings before hunkering down and waiting for better weather to recharge its solar panels. The rover has had a good recharge period, and is now being primed for action.
The team at JPL and NASA are serious-minded folk, so there was no mention of Martians deliberately playing mind games with us, Elvis engaging in a game of ring toss, or the elusive King of Rock 'n' Roll having dropped a tasty deep-fried snack item, when the astroboffins revealed the existence of the rock at a presentation about 10 years of Opportunity's travels across the Martian surface.
Sticking instead to the real world – or, more properly, worlds – Squyres proposed more prosaic solutions. One possibility is that a meteorite hit the surface of Mars and the troublesome torus is debris from the impact; however, the team has spotted no smoking hole on the planet, so the cause may be man-made.
Opportunity's six wheels kick up a certain amount of debris every time they roll, and Squyres said that his team is working on the theory that the rock was either lodged in the rover on its ten-year trip and it fell off, or that in turning the rover the pressure from a wheel flipped the object in front of the cameras, tiddlywink-style.
"You think of Mars as being a very static place and I don't think there's a smoking hole nearby so it's not a bit of crater ejecta," Squyres said, "I think it's something that we did ... we flung it." ®