Overland Storage shareholders have overwhelmingly voted in favour of the Tandberg Data takeover by Overland.
There was a 98.8 per cent vote in favour of the takeover at a 16 January meeting. But, then, there was no other option on the table except the virtual certainty of an eventual Overland collapse and a total wipeout of their shareholdings.
Overland CEO and president Eric Kelly said: "With the combination, we will expand our number of global channel and service partners, and offer one of the most extensive and complementary product lines and service offerings in the enterprise storage industry. The acquisition will expand our reach in APAC, Europe and the Middle East , and will allow us to leverage our world-class manufacturing facility in China to improve operational efficiencies and meet customer demand."
The senior management team of the combined business will be:
Eric Kelly - president and CEO,
Kurt Kalbfleisch - chief financial officer,
Randy Gast - chief operating officer,
Lisa Loe - vice president of worldwide mobility & cloud services (Americas, Asia Pacific sales),
Scott Petersen - vice president of worldwide OEM sales & government,
Graham Paterson - vice president of EMEA sales,
Trevor Heathorn - vice president of Overland engineering, and
Carol Dixon, vice president of Global human resources.
Scott Petersen is Tandberg's SVP for the Americas and Graham Paterson is Tandberg's SVP for EMEA. The others are Overland people.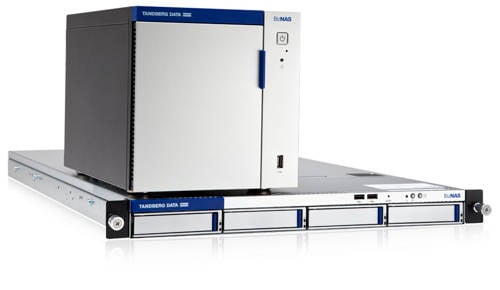 Tandberg Data BizNAS
Overland now gets a substantial increase in revenue and mass manufacturing facility usage plus the Tandberg products, including its Atom-powered BizNAS line.
This Tandberg acquisition, together with the Sphere 3D relationship for software providing BYOD access to enterprise apps, gives Overland a fresh start.
Let's hope its execs, and Tandberg's execs too, are energised by the possibilities ahead rather than exhausted by the struggles to get this far. ®