This article is more than 1 year old
Lenovo Yoga 10: Mediocre tech, yes, but beautifully fondleable
The ten-inch Android tablet that takes a stand
So-So AnTuTu
Similarly, the chipset isn't going to set your pubic hair on fire if you use the slab as a literal laptop device. Running the show is a Mediatek MT8125 system-on-a-chip boasting a 1.2GHz quad-core Cortex-A7 processor, PowerVR SGX544 GPU and 1GB of RAM. That's a combo that returns an AnTuTu score of around 13,400 which is on the lower side of average in this era of devices that can turn in scores of well over 30,000.
Still, 13,400 is large enough number to suggest the ability to yank the skin off a least a couple of rice puddings at the same time.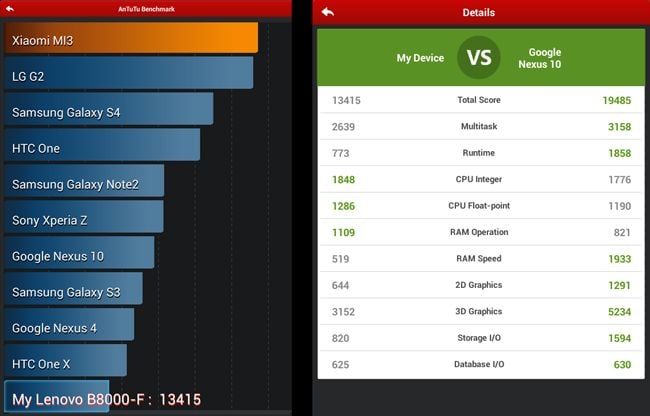 AnTuTu benchmark performance
And so it proves. The Yoga 10 can run games like Real Racing 3 and NOVA 3 without any trouble, and in use it never feels slow or hesitant even if it's not as supremely fluid as the new Nexus 7.
I've read a comment in a British broadsheet that when updating apps the Yoga 10 "slows to a crawl" - granted, a problem with many an Android device running a less-than-manly chip - but let me say for the record that in this case No It Doesn't. Yes, it slows a little, but come on, for £250 you can't realistically expect the sort of performance you will get from a 10-inch Android slab costing £150 more or an iPad costing at least twice as much.
Internal storage is pegged at 16GB - or 12GB and change after system requirements - but that Micro SD slot is good for cards up to 64GB in capacity, so this is a feature of the specification you don't really need to lose sleep over.
And rest of the boys in the band? The 5MP main camera is dismal (but who really cares?) while the 1.6MP webcam is very good indeed, so at least Lenovo is spending the money in the right place. The cameras are also cunningly positioned. The main snapper is built into the right-hand end of the bulge so it's directly above your hand when you are holding the Yoga in portrait orientation in your left hand. Ditto the webcam, which, when you hold the Yoga in the same way, is directly above the centre of the screen. Lenovo really has thought all this design through with some diligence.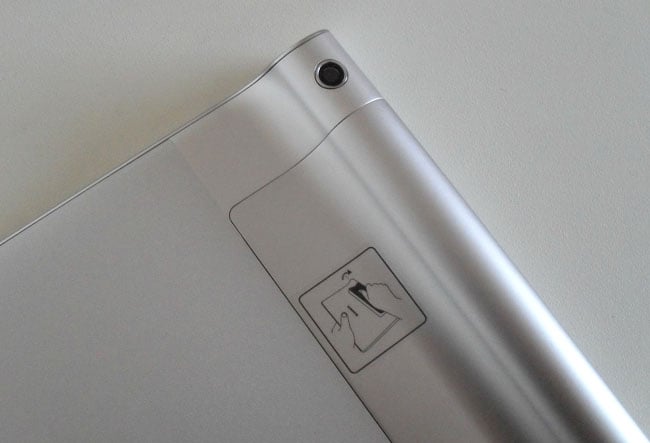 A dismal 5MP camera - but who cares?
Battery life is impressive thanks to a 9,000mAh power pack that will pony up well over nine hours of 1080p video playback or half as much again of more mixed usage, and there is support for USB hosting out of the box. GPS, Bluetooth and single band 802.11n Wi-Fi are all present and correct, but there's no NFC chip or IR transmitter. Given the price, that is exactly what I expected. There was some bloatware pre-installed on my review unit, such as Navigate 6, but all of them can be removed just as you would any other downloaded app.
The Yoga 10 runs Android 4.2 with a Lenovo makeover which essentially means the design has been tweaked and the app tray has vanished in a misguided attempt to give the interface a more iOS-ish feel. This is a pain until you get around to dumping all the apps you seldom use into one folder after which it ceases to be an issue. If you want an app tray, just install a good third-party launcher like Nova Launcher.
Will there be a KitKat update? Yes. Do I know when? No.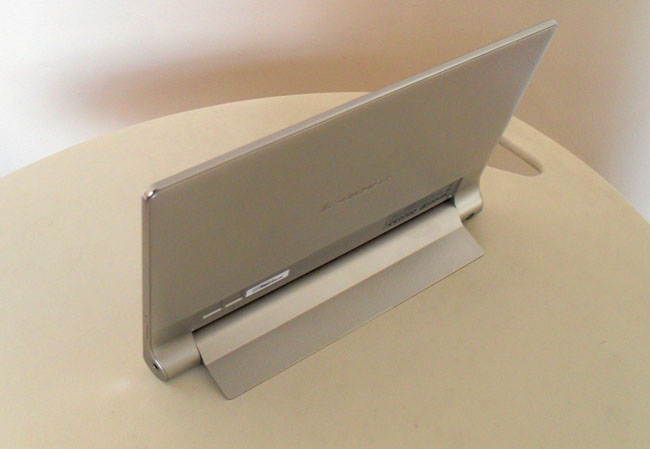 Round the back
Finally, Lenovo deserves a tip of the hat for only asking a £30 premium for the 3G version of the Yoga 10, which retails for £279.
The Reg Verdict
In line with its asking price, the Yoga 10 has a mediocre screen resolution and a mid-range chipset, but it still does everything you are likely to want a tablet to do and with a decent lick of speed. What separates it from the herd is the rather clever form-factor, which pays dividends should you wish to pop it on a desk or hold it in your hand.
If you plan on using your tablet primarily for reading books, watching videos or video chatting then the stand-me-up and sit-you-down stand options and ergonomic bulge are well worth having. ®

Lenovo Yoga 10: Mediocre tech, yes, but beautifully fondleable
Cunningly designed ten-inch tablet that's let down - but only a little - by a below-par display and average performance. But, oh, what a smart design.
Price:
£249 (Wi-Fi), £279 (Wi-Fi / 3G) RRP