Did Microsoft actually put 'get repeatedly pwned by Syrian hackers' on its 2014 todo list?
Now its Office blog is trashed
---
Another week, and yet another successful compromise of Microsoft's servers by the so-called Syrian Electronic Army. And this time it's Redmond's revamped Office blog that got vandalized.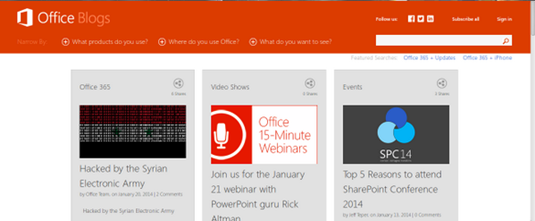 All your blogs are belong to us
"A targeted cyberattack temporarily affected the Microsoft Office blog and the account was reset," a spokesperson told El Reg in a statement.
"We can confirm that no customer information was compromised. Microsoft continues to take a number of actions to protect our employees and accounts against this industry-wide issue."
Microsoft relaunched the Office blog on Monday, but in a series of Twitter postings the self-styled Syrian Electronic Army (SEA) mocked Redmond's attempts to keep the dastardly defacers at bay: "Changing the CMS [content management system] will not help if your employees are hacked and they don't know about it."
It's a highly embarrassing development for Microsoft. Last week the SEA successfully got into two official Microsoft Twitter accounts and one blog, and a few days later Redmond was forced to admit that some of its staff email accounts had also been taken over.
The SEA has made Microsoft a target because it claims Redmond is selling user data from Hotmail and Outlook to the US government for monitoring purposes. Microsoft has denied this, although it was named as a participant in the NSA's PRISM massive internet surveillance operation in leaked documents from whistleblower Edward Snowden.
This latest hack is another embarrassment for a company that has been making much of its advanced computer security capabilities. In November the Windows giant trumpeted its new Digital Crimes Unit facility, a CSI-style center designed to map cybercrooks around the world and stop them in realtime.
While Microsoft has had some success in tracking down and eliminating armies of hackered-controlled hijacked PCs (aka botnets), it might be an idea if Redmond spent a little more time putting its own house in order and allocated some resources to knocking back the SEA.
The hacking group started out going after media outlets and caused a brief stock-market rollback after broadcasting the report of an explosion at the White House on AP's Twitter feed. Rival hacktivist group Anonymous claimed to have targeted the SEA, but this latest attack suggests that the SEA is still out there cracking passwords. ®