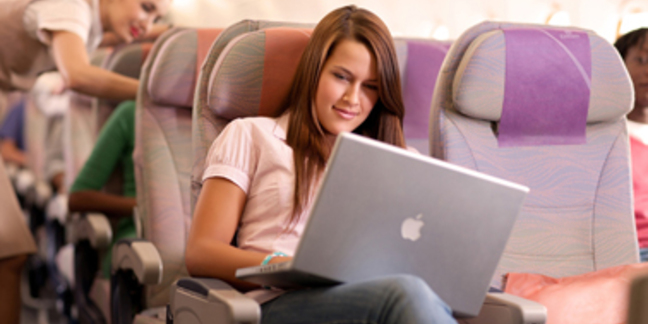 A generous allocation of 4,128 MHz worth of spectrum running from 27.5GHz to 30GHz (albeit not contiguous) will give data speeds of 50Mbit/sec to a single plane or ship and an estimated 10Mbit/sec per user thanks to a new frequency allocation from Ofcom.
The ruling allows "Earth station antennas" on moving vehicles which will connect to geostationary satellites. While this slice of spectrum gives a lot of bandwidth, a 44,000 mile (71,000km) round-trip means latency won't be great, making it much better for applications like file downloads and streaming than multiplayer games. But regulatory issues aside, it should still be completely practical to Skype.
Ofcom sees the new frequency as being most valuable to aircraft and shipping since they do not have the option of using cellular networks. They note that: "Recent advances in technology have improved the effectiveness of earth stations. Newer antennas are capable of maintaing very stable pointing accuracy allowing earth stations to track the satellite closely even when mounted on a fast moving vehicle."
Land-based vehicles such as trains and coaches will not need a licence. Planes and boats which cross international boundaries will, with planes being licensed through a variation of the Aircraft Radio licence issued on Ofcom's behalf by the Civil Aviation Authority. Licensing of ship-mounted Earth stations, currently administered by Ofcom, will be effected through the variation of the Ship Radio licence.
The frequencies had previously been licensed for VSAT (very small aperture terminal) devices and quite a bit of infrastructure exists. The Ofcom ruling follows the CEPT (ECC Working Group Spectrum Engineering) work, which recommended the move from VSATs to Earth stations.
Ofcom expects services to be available in the next few months, but the infrastructure is still growing. Inmarsat launched its first Global Express satellite in December and has two more to launch.
Unlike most cellular frequencies the satellite spectrum is not allocated to individual operators but shared between them, of course the narrow link to a satellite makes this quite practical.
One of the operators who expects to provide service to airlines is OnAir. It uses the Inmarsat L band system to offer GSM and Wi-fi on aircraft and welcome the huge additional bandwidth the Ka frequency opens up. While 50Mb/s over a whole A380 might not sound like a lot, it's a huge improvement on what we have today.
OnAir hopes to announce a first customer for the new service before the end of the year. ®
Sponsored: Ransomware has gone nuclear