This article is more than 1 year old
Candy Crush King went 'too far' when it candy crushed my app – dev
Phone games biz shuts down week-old app for using trademark in its name
The developer behind the Candy Slots iOS game has said Candy Crush Saga-maker King has gone "too far" with its enforcement of its trademark on the word CANDY.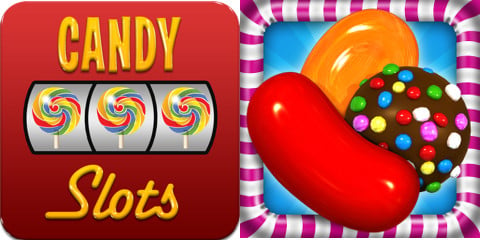 The icons of Candy Slots and Candy Crush
Slots programmer Benny Hsu was surprised to find an email in his inbox yesterday from Apple, which said that phone software biz King had complained that his App Store game, full title All Candy Casino Slots – Jewels Craze Connect: Big Blast Mania Land, was infringing its trademark.
As he outlined in a Reddit post, Hsu told King he didn't think there could be any confusion over the names, and pointed out that many other apps had some sort of candy theme. But the company apparently replied that the use of CANDY SLOTS in the icon for his game "uses our CANDY trademark exactly, for identical goods and is likely to lead to consumer confusion and damage to our brand."
The self-described blogger, iPhone app developer and entrepreneur still denies there could have been any confusion.
"My intent was not to infringe their intellectual property," he told The Reg. "Candy is something we have all loved since we were children. I just wanted to create a game with a fun theme.
"If anyone saw my icon or played my game, they would know that there was nothing in it that tried to copy Candy Crush. Also there are so many games in the App Store that have a candy theme. Candy Crush was not the first candy-themed game to be created and it won't be the last. So I don't understand why they feel like they own the word CANDY."
Hsu said he thought he had a strong position to fight King from, but he didn't have the time or the money to go up against a massive mobile app maker. Instead, he plans to change the name of his game to All Sweet Casino Slots.
"If I had used the words CANDY CRUSH in my game name, I would not feel it was wrong for them to oppose it – I know they have to protect against copycats," he said. "However, I used a common word CANDY and that is it.
"I am sure my game would not have impacted their brand, downloads, or revenue in the least bit. I just think they're going too far with situation and I'm glad the word is getting out about what they are doing."
The news that King had trademarked the word CANDY in Europe, and was in the approval stage of getting a US trademark, seemed a little heavy-handed, but the company said in a statement that it wasn't planning to enforce the trademark too strictly.
"We don't enforce against all uses of CANDY - some are legitimate and of course, we would not ask App developers who use the term legitimately to stop doing so," a King spokesman said.
The firm specifically mentioned Candy Casino Slots as what it believed to be "evidence" of blatant infringement.
"We believe this app name was a calculated attempt to use other companies' intellectual property to enhance its own games through means such as search rankings," the spokesman commented.
A quick search of Apple's iTunes App Store for the word CANDY in iPhone apps turns up a number of candy-themed games, including Candy Blast Mania and Candy Maker. ®