This article is more than 1 year old
Our robot overlords won't be evil cyborgs: Prepare for whisker-equipped ROBO-KITTIES
Boffins invent e-whiskers to stick on their cute ickle faces
Given the world's (bizarre) fondness for all things feline, folks will no doubt be delighted to discover that our robot overlords could be whiskery robot cats instead of creepy robot humanoids.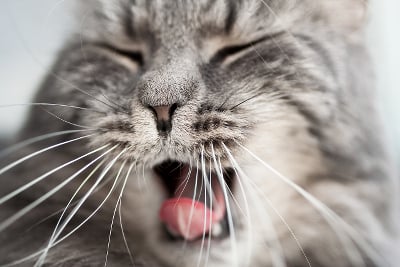 That was doubtless what was going through the mind of boffins at Berkeley Lab and the University of California when they came up with slightly whacky concept of e-whiskers.
The researchers created tactile sensors made from composite films of carbon nanotubes and silver nanoparticles, which work in a similar way to the whiskers of cats and rats.
The whisker is a great biological sensor that allows cats to hunt in total darkness and aids animals' navigation by picking up tiny changes in the air. Berkeley's boffins are hoping their e-whiskers can do the same.
"Our electronic whiskers consist of high-aspect-ratio elastic fibres coated with conductive composite films of nanotubes and nanoparticles. In tests, these whiskers were ten times more sensitive to pressure than all previously reported capacitive or resistive pressure sensors," said research leader Ali Javey in a statement.
The e-whiskers respond to pressure as slight as a single Pascal - about the same amount of pressure as a ten pound note exerts on a table surface just by lying there. That gives them the same ability as animal whiskers to help robots "see" and feel their environment.
"The strain sensitivity and electrical resistivity of our composite film is readily tuned by changing the composition ratio of the carbon nanotubes and the silver nanoparticles," Javey said. "The composite can then be painted or printed onto high-aspect-ratio elastic fibres to form e-whiskers that can be integrated with different user-interactive systems."
To prove that the whiskers work, Javey's team used them to come up with a highly accurate 2D and 3D map of wind flow, showing the e-whiskers' potential applications not just for advanced robotics but for real-time monitoring of environmental effects.
The full study, "Highly sensitive electronic whiskers based on patterned carbon nanotube and silver nanoparticle composite films", was published in the Proceedings of the National Academy of Sciences. ®