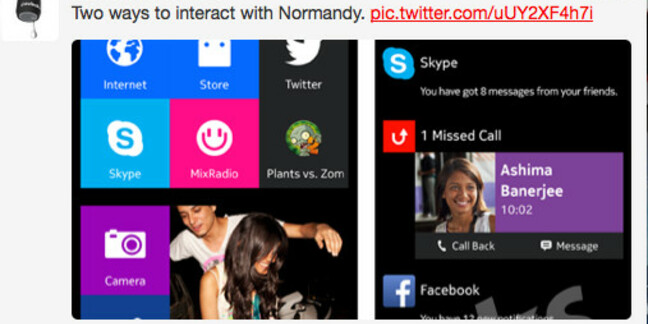 Images of a Nokia phone running a forked branch of Android have been circulating since November - when the project was still very much alive - with many more tumbling out of leak sites last week.
For its Kindle HD range, Amazon took the Android code base and ported over its own services, and it looks as if Nokia has done the same here - with screenshots purportedly showing HERE Maps.
Renders show a number of colourful, slim devices devices targeted at the burgeoning Indian market. They're skinned with a UI that looks like Nokia's FastLane UI as well as an ersatz, Tile-based Windows UI.
The intention appears to be to bolster the competitiveness of Nokia's low-end range in emerging markets. Nokia had promised to be faithful in the February 2011 deal with Microsoft to license Windows Phone software. It promised to use only home-grown platforms, and that exclusivity was rewarded in the contract with generous "platform support payments", advances to be offset against royalties, worth $250m a quarter - or $2bn in all - to date.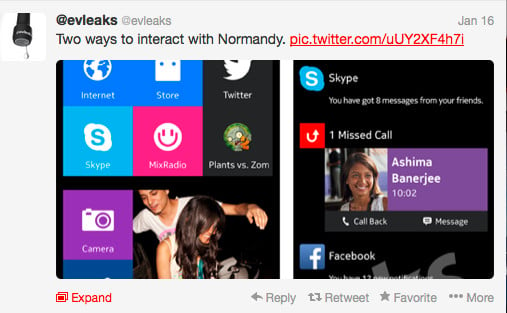 Yet the number of "home-grown" platforms diminished rapidly in 2012. Just one year before, it was revealed that Nokia had developed Meltemi, a Linux OS with a Qt run-time and development tools, for low-end smartphones.
That's the reason why it acquired Norwegian-platform Smarterphone in late 2011. Smarterphone had produced a very slick, resource-light OS. The brainchild of Haavard Nord - whose Trolltech Nokia had acquired in 2008 - Smarterphone's software fitted perfectly with Nokia's strategy of making phones "for the next billion" first-time smartphone users.
Meltemi, Qt, QML and the Smarterphone platform were all axed in June 2012 in a purge of 10,000 employees, while the Smarterphone employees were moved over to S40, for which they developed the FastLane UI. The changes left Nokia with just the ancient S40 as their sole in-house platform - alongside Windows.
But thanks to a break clause, the prospect of Nokia selling Android devices was very real.
The "inside story" on the deal which appeared at the WSJ and NYT omitted any mention of the break clause or of Nokia developing Android phones.
(We've heard it was the Nokia board who called Microsoft to discuss an acquisition, not the other way around, and the renegotiation was what prompted the call.)
Yet how "home grown" is a forked Android? Nokia could, with some justification, argue that it's no more or less "home grown" than a Meltemi or a Maemo. Either way, with Android devices retailing in China for $30 (albeit a 2G version), Nokia was clearly in a struggle to keep Asha devices, even with the attractive timeline-based FastLane UI. The new Asha 503 retails for around 6,500 Rupees ($105, £64) in India, and yet sales have not been stellar.
Citing manufacturers such as Xolo and Micromax, India's Financial Express yesterday highlighted the big improvements in quality from Android phones costing some 7,500 Rupees or less. These are far more capable than the Ashas. If Nokia is hanging on in India by its fingernails to a cliff, it isn't clear the cliff will be there in 12 months' time.
Brimful of Asha... Normandy's alive
The prospect of a Nokia-branded Android emerging in 2014 will leave many wondering why it didn't emerge earlier. Like, say, in 2011. Nokia's experiment with Windows Phone saw it claw back some respectability, regaining market share it lost in 2011 and 2012 as it finally unveiled a broad range of devices last year. Yet Nokia might not have lost all that market share had it been able to make a more orderly transition from Symbian.
As Elop was putting the finishing touches to his "Burning Platforms" memo, Nokia's smartphone share had plunged to 31 per cent for Q4 2010, from 40 per cent a year earlier. Nokia's share then crashed to around three per cent in 2012.
Nokia made the switch to a platform without any market presence but without any product to show on the new platform for almost a year. The product vacuum was replaced by a near-vacuum: in all, Nokia spent a painful two years without any strong differentiated products at the high end and could only sell an obsolete and already-EOL'ed platform into the low end. That's an enormously long period of time in which the company had to suck air.
Only a year ago was the range fleshed out - with widespread (non-exclusive) availability of higher end Lumias, and very keenly priced low end Lumias. By this time the Nokia board had lost patience.
It's the lack of a Plan B, C or D that resulted in the two-year vacuum - and this was the consequence of complacency during the OPK* era. It continues to haunt Nokia today. Attaching the blame for the vaccum to Elop, rather than the Nokia board, is not completely fair. Given the way that Android prices fell - thanks to packaged silicon from companies like MediaTek - the window of opportunity for a Meltemi or Smarterphone would have been very small indeed. I suspect many a Reg reader would have opted for a Nokia Android had one been available during this period.
Once it has gotten around to choosing a CEO, one of Microsoft's biggest decisions will be what what to do with the so-called "Normandy".
It's often overlooked that the Asha range is part of the Microsoft-Nokia deal and Microsoft enthused in its press release formally announcing the deal about Asha serving "as an on-ramp to Windows Phone."
The problem with on-ramps is that if they're really attractive, people won't get off. Note that the Nokia holding company can start selling branded handsets again in a couple of years. Perhaps it' s just starting early? ®
* Former Nokia boss Olli-Pekka Kallasvuo, whom critics bashed for Nokia's loss of the high-end market to Apple and BlackBerry - then known as RIM.
Sponsored: How to simplify data protection on Amazon Web Services