Blocks and Files IBM's storage results are down in the dumps and we're sure it's in talks to sell off its server business to Lenovo. Should it sell off its storage business too?
Big Blue's fourth quarter FY2013 results gave it the blues, with the Systems and Technology Group revenues for the quarter down 26 per cent compared to a year ago.
The Chinese territory, Power and x86 server sales looked particularly bad, but storage was poor too.
IBM said storage hardware revenues for the quarter were down 13 per cent on a year ago, which we computed to be $958.74m, compared to $1.1bn a year ago, and made a chart: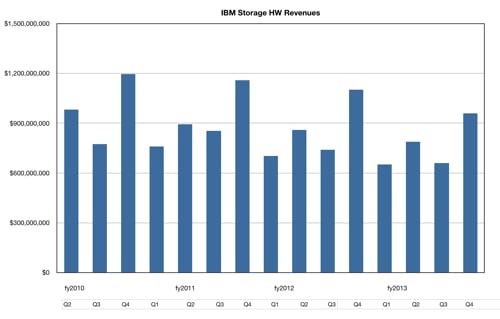 We also charted the annual storage revenues: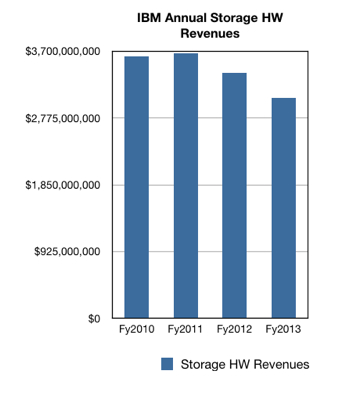 The picture is one of decline from fiscal 2011 onwards with 2013 showing an accelerated decline.
If we chart the revenues by quarter since 2010 we get this graph: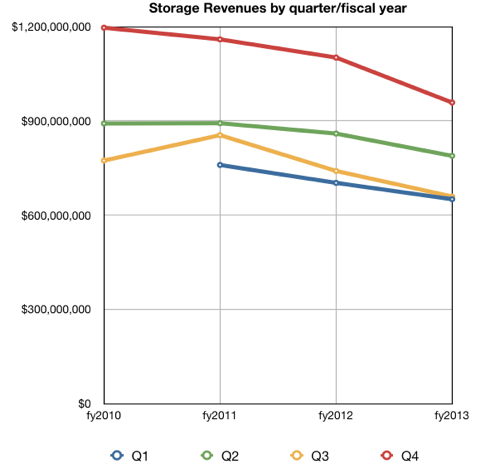 It shows the generally declining quarterly storage hardware numbers since 2010. The red line shows the Q4 trend and we can see the latest – and steeper – drop.
So … whatever IBM has done in storage hardware has not generally worked in terms of producing growth.
Stifel Nicolaus MD Aaron Rakers said: "IBM again pointed to strength in its StorWize revenue with double-digit growth, while traditional OEM-based midrange revenue (i.e., NetApp Engenio-based) continues to decline … IBM also cited declines in high-end storage, driven by pricing pressure … its flash products (i.e. TMS-based FlashSystems) contributed a few points of growth storage growth during the quarter."
Gartner estimated that IBM took $37m in flash-based revenue during the quarter.
IBM CFO Martin Schroeter said in an earnings call: "We'll acquire key capabilities, we'll divest businesses, and we'll rebalance our workforce as we continue to return value to shareholders."
Which leads us to ask whether IBM should divest its storage hardware business.
One important point is that the server business is x86 or Power processor-based and could be sold as a complete entity. Whereas the storage business has a mix of technologies, such as the DS8000, XIV, SVC, Storwize, DS5000 and 3000, FlashSystems and tape automation. It is hard to see why any other supplier would want to buy all of this.
What might pass through an IBM planner's mind is that the high-end tape and DS8000 products could be kept as mainframe-attach systems with the rest potentially up for sale.
Storwize looks to have healthy prospects and SVC is well-established. The rest is, frankly, mundane. XIV seems to be a niche product with little or no growth ahead. Tape automation in the mid-range sector (the LTO-based business) is generally in decline and yet to bottom out, but HP, Quantum, SpectraLogic and Oracle might be potential purchasers of it.
The DS5000 and DS3000 appear to be mature products with little or no growth ahead. The FlashSystem line of arrays and PCIe cards is pitched at a growing market but virtually every supplier who could need either flash arrays or PCIe flash cards in their product range has them already.
Amongst the potential buyers of parts of IBM's storage business might be Lenovo, but it will have its hands full with IBM's servers – potentially. Dell has its own storage range problems and it's hard to see how those problems might be fixed using IBM storage products.
Of course, we don't know how profitable IBM's storage products are. But we do know that IBM has no hybrid array answers to Nimble Storage, Tegile and Tintri, and no visible presence in the virtual SAN/server SAN area. Historically it's bought its way into new storage technology rather than developing it in-house.
So, put crudely, IBM has one storage star (Storwize/SVC) one prospective star (FlashSystem) one mainframe attach array, the DS8000, and a collection of about to be mature, mature, and getting-past-it storage products.
It doesn't look like a sellable set of businesses, although individual components, like the mid-range tape and Storwize/SVC should more readily find buyers. Not the rest though.
If it does sell either of these two the remaining storage product businesses will look even worse, with no halo effect or masking of poor revenue from Storwize or other growth products
It looks to us as if IBM will simply have to soldier on. Somehow, if its desire is strong enough, it will need to bite the bullet and retire its under-performing storage product lines. ®