This article is more than 1 year old
Sony brings 4K shooting to the masses in weeks
But you'll have to save up for a telly to watch it on
Hands on Las Vegas is about 5,200 miles (c. 8,400km) from Blighty's capital, which makes CES a bit of schlep for all but the terminally keen. Knowing this, Sony UK showcased its finest for 2014 to the UK press this week, from 4K camcorders to er, 4K tellies... with some laptop goodness in between.
Most of the laptops we'd all seen before: apart from the Vaio Flip 11 – yes, it's the same as the Flip 13 but smaller.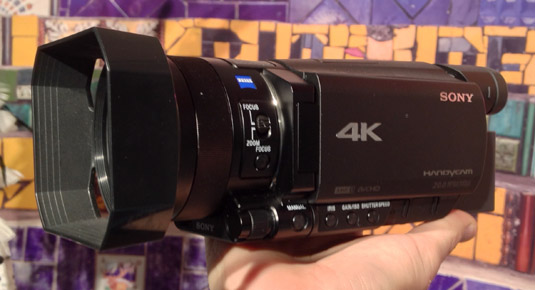 If there's no Ultra HD content on your eye-wateringly expensive 4K telly, why not make your own?
As 3D failed to excite in recent years, naturally we're all going to buy 4K tellies instead. It's an optimistic notion at the current prices but creating content for the inevitable resolution hike has certainly got a whole lot cheaper.
Sony's FDR-AX100E camcorder isn't some in-the-distance concept that will be available in a couple of years' time: you'll be able to pick one up in April for £1,829 – a month earlier than previously stated.
At less than half the price and a good deal smaller than last September's semi-pro 4K/£4K offering, the FDR-AX1, this is just the sort of product to help popularise the 4K format. Budding film makers and enthusiasts are the obvious targets, with the forward-thinking family user latching on over time as the prices inevitably fall.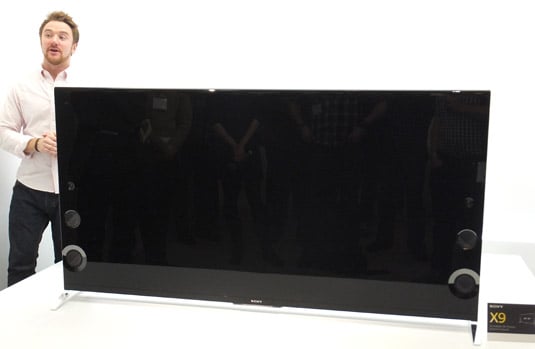 Originally £6,000 six months ago, Sony's UK store has its 65-inch X9 4K telly going for £4,300 – er, sounds like a bargain
Well, that appears to be the plan and it's much easier to envisage than folk buying into stereoscopic kit that was being touted as must-have in recent years, although at 915g with battery, this is still quite a chunky beast and reminded me of grappling with my Dad's old Sony CCD-F500 Video8 Handycam from the mid-1980s. If your memory stretches back that far, only a monochrome EVF was available, rather than the additional pleasure of the 921K touch panel display featured on the FDR-AX100E, which has neatly configured metering for its 5.1 surround audio recording.
Sony relies on Carl Zeiss glass to deliver a 12x optical zoom with a 35mm equivalent range of 29-348mm captured on its own 20.9Mp Exmor R CMOS sensor that notches up a 14.2MP (effective) resolution for 16:9 video. As seems to be the norm with TV standards, there's more than one meaning to 4K and in this instance we're talking about 3840 x 2160 rather than 4096 x 2160. Confused? You wouldn't be the first, and we covered this 4K-ing palaver very recently here on El Reg.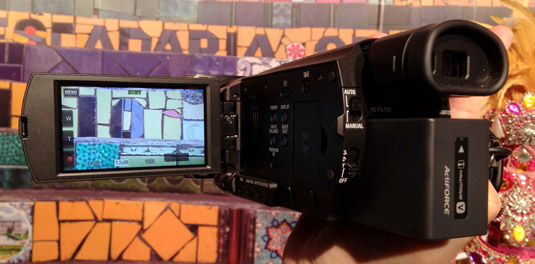 At last, a 4K video camera that you can clasp in one hand
The recording format is XAVC S MPEG4-AVC/H.264 [PDF] and it seems the frame rates are either 30p/24p or 25p/24p depending on the localisation with 50/60p speeds available for HD video capture. With the 4K 60Mbps data rate, a 32GB card would manage just over an hour and you'd need at least a Class 10 SDXC card or a suitable Sony Memory stick variant to store these Ultra HD video recordings.
Increasing its appeal is the broad range of card support enabling slower formats to be used for HD or lower resolution recording. There's even a dual shooting mode that captures both 4K and HD footage, the latter in the AVCHD format, which could save you time transcoding or enable edit decisions on lower-spec video-editing platforms, especially if you're not equipped to handle XAVC S.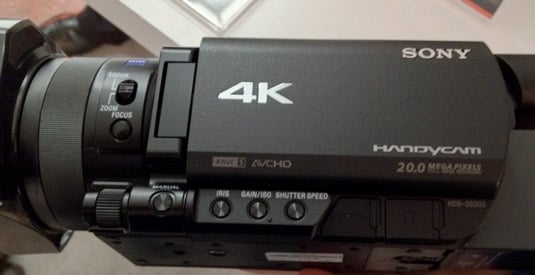 XAVC S, anyone? It's still early days for Sony's 4K consumer format
Indeed, it may be the format that trips things up for early adopters, with the Windows-only Sony's Vegas Pro 12 offering the desired codec compatibility, but there are mumblings on forums regarding how XAVC S – a long GOP interframe codec – is going to play out on alternative editors such as Apple Final Cut Pro X and Adobe Premiere. Currently, relying on third-party utilities appears to be the only way forward. ®