This article is more than 1 year old
Growing revenues, profits on the up: WD sails on serenely
SSD revenue uptick, buyouts delivering the goods - for now
WD's latest quarter shows untroubled growth as the disk drive business sails serenely on, untroubled by any flash storm.
For its second fiscal 2014 quarter, ended Dec 27, 2013, revenues were a clean $4bn, nicely up from the first quarter's $3.8bn and the year-ago quarter's $3.8bn. Net income was $430m, lower than the previous quarter's $495m but more than the $335m reported a year ago.
Everything looks rosy to CEO Steve Milligan: "We executed well in the December quarter as we continue participating in the ongoing growth of data in all of our served markets… We serve very large markets underpinned by strong data growth prospects."
WD manufactured 63.1 million disk drives in the quarter just ended; slightly up on the first quarter's 62.6 million. It made $155m in enterprise SSD revenues. (these results are for WD only, by the way, and not its HGST subsidiary which reports separately)
WD started recording enterprise SSD sales in fiscal 2012's third quarter and we've charted the numbers from then: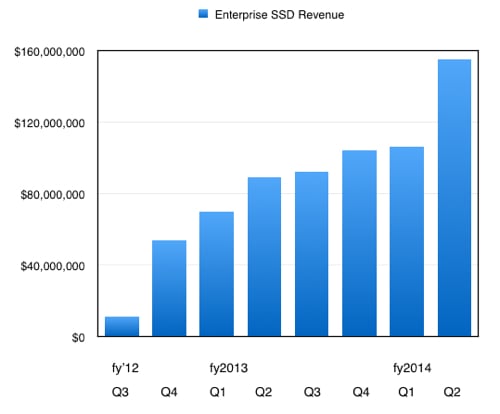 WD enterprise SSD revenue to Q2 FY 2014.
After the initial jump in the second quarter growth was steady – until the latest quarter when there is a pronounced jump from $106m to $155m. What gives?
Financial analysts Stifel Nicolaus' MD, Aaron Rakers, pointed out that there was "a full quarter of sTec and VeloBit, as well as mid-Oct close of Virident acquisition." He said the SSD revenue jump was helped by "one single-source opportunity that drove solid results," and the "majority of revenue [was] derived from enterprise SAS SSDs."
Getting back to spinning drives, WD saw "strength in gaming and branded shipments … and continued signs of stabilisation in PCs."
Average capacity per drive was 874GB; in the previous quarter it was 811GB.
WD is making and selling more and bigger disk drives. It's making and selling more SSDs and the HDD/SSD product mixture is working well for it. Flash disruption? What flash disruption? ®