SanDisk flashes better-than-expected results. Right, let's upend our biz model
Rising revenues, rising profits... falling memory prices?
Flash card and SSD shipper SanDisk has ended a lovely-looking fiscal 2013 with four quarters of rising revenues and rising profits, contrasting well with the relative disaster that was fiscal 2012. But the company will have to move fast to address falling memory prices.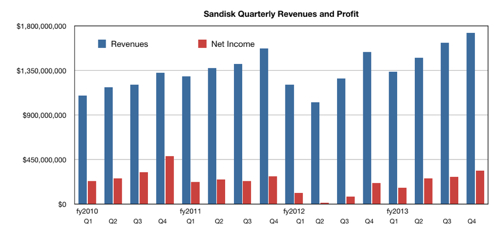 Chief financial officer Judy Bruner said at the earnings call (read it here on Seeking Alpha):
We expect that we can continue to do better in terms of our overall blended price decline than the industry price decline as we continue to execute on our strategy of moving our portfolio, shifting our portfolio, to higher value added solutions. But there is obviously some expectation of price decline in the industry and in our business model as well.
In its fourth quarter, ended 29 December, SanDisk's revenues were $1.7bn, $100m up on the third quarter and $190m higher than a year ago. Net revenue was $338m, contrasting positively with the $227m recorded in the third quarter and the $214m from a year ago.
Net income as a percentage of revenue didn't smoothly rise in the quarter though, with the percentage numbers being 12.4 per cent for the first quarter, then 17.7 per cent, falling to 17.0 per cent and rising to 19.5 in the fourth quarter – overall a good show.
The chart above shows the year's regular rises in revenues and profits; Joe Tucci would be pleased with such a chart.
The full year revenue number was $6.2bn which compares well indeed to the poor $5bn recorded in fiscal 2012. All-in-all it's cue exec back-slapping all around. SanDisk CEO and president Sanjay Mehrotra said: "We delivered outstanding results in the fourth quarter and full year 2013." True that.
He added: "Our SSD product revenue set another quarterly record and represented 19 percent of our annual revenue, and we also set a record for annual retail product revenue."
In the earnings call he said: "Our fourth quarter client and enterprise SSD sales increased sequentially to account for 21 per cent of total revenue. Our enterprise SSDs set a new revenue record in the fourth quarter with strong customer adoption of our Lightning fast drive as well as a full quarter of enterprise SSD revenue from our SMART Storage Systems acquisition."
Ah yes, SMART Storage and its ULLtraDIMMS, now OEM'd by IBM: "Business momentum for the SMART Storage Systems based solution is rising with SATA and fast SSDs achieving several new design wins and many others in the pipeline at traditional storage and server OEMs and at hyper scale accounts. …. We expect the UltraDIMM revenue ramp to begin later in 2014."
Mehrotra expects the ULLtraDIMm opportunity "to be multi 100 millions [dollars] of opportunity and starting from there and growing in the future."
SanDisk's enterprise market push is going well: "We expect enterprise storage solutions to be the fastest growing product for us in 2014. … We expect our broadening engagement with hyper scale customers to begin bearing fruit in 2014 with meaningful revenue contributions starting later in the year."
The client flash side did well too, and its outlook looks good too, Mehrotra saying: "We continue to target achieving 25 per cent of our 2014 revenue from enterprise and end-client SSDs."
Mobile and retail flash products contributed its good stuff to the mix as well.
SanDisk is expanding its fab capacity and expects two NAND geometry shrinks from the current 19nm technology with 3D NAND pilot production starting "in the latter part of 2015. Our expectation for the production ramp of 3D NAND technology in 2016 remains unchanged."
SanDisk announced a dividend for investors, making them happy too. Its revenue estimate for the nest quarter is $1.45bn to $1.525bn with a $6.4bn to $6.8bn for the full fiscal 2014 year. Steady growth then, nothing flashy. [Sorry - Ed] ®