This article is more than 1 year old
Robots? What a bunch of workers...
Google Glass is the last thing you should worry about when going postal
Something for the Weekend, Sir? Robots have taken over my newsagent.
Well, it's more of a general store than a traditional sweet shop, I suppose. Also, the mecha infiltration so far seems limited to the tiny Post Office counter situated between the beyond-sell-by-date tinned produce and the freezer chest full of Captain's Table gag-fests.
Yet it's from such modest murmurings and surreptitious beginnings that entire civilisations are subsequently smashed. And it's not just my local branch, either... but I'll get to that later.
My suspicions were aroused when the part-time fool working behind this particular Post Office counter, after years of exasperating ineptitude, very suddenly exhibited competence. When once it would take him up to ten minutes to sell a stamp, take your money and provide a receipt – such a complex transaction! – he had become a keyboard whizz and a label-printing demon.
Without warning, he seemed inexplicably proficient enough to process a Special Delivery in under 45 seconds from start to finish, including weighing and labelling, all done with a dead-pan face and sparse monotonal, monosyllabic verbal interjections.
This alone doesn't make him a robot. He may simply have taken delivery of a large green pod from space and had his body snatched, strictly speaking making him an alien, not a robot, which is OK.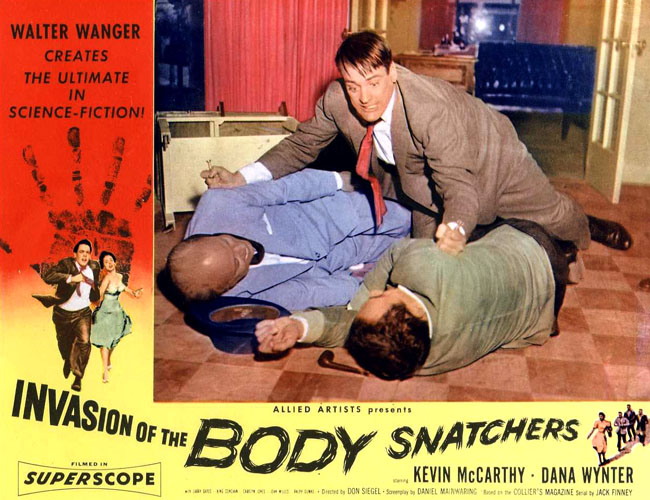 'Die, you foul alien pod purveyors of stamps, bubble wrap and parcel tape!'
However, I knew he had become a wire-stuffed, circuit-board sentry from robo Hell when he exhibited violent signs of being jealous of my home computer. No sooner had I dropped a small package – something I'd sold on eBay – onto his scales, he took one look at my prepaid label and went techno-mental.
He, that is to say 'it', nearly burst a servo while accusing me of personally destroying the Post Office as an institution by printing my own postage labels via PayPal. I understood, of course, that it was just insulted that I had been playing with another mailing system behind his rotorised back.
I tried to explain that I was still young and wanted to try other methods of purchasing postage before I settle down on one, couldn't we still be friends and can I have a certificate of posting.
I swear I could see a whiff of smoke accompanied by the smell of fish. I left the shop quickly before it had a chance to incinerate the premises with its laser-beam eyes, or something.
Afraid to return to whatever smouldering ashes were left behind, I determined to take my parcel-posting business elsewhere. This, unfortunately, involved a 25-minute schlep to a proper Post Office in town, only to be confronted by four more bots behind the counter. Three of these were enormous. I imagine they have a morale-boosting poster on the wall around the back reading: "You don't have to be morbidly obese to work here... but it helps!" Except they probably won't have any such poster because workplace morale isn't an issue since they're all ROBOTS:
I'd like to send this First Class Signed For please.
- The address?
It's for my mum. Her name and address are on the front.
- What is inside?
Eh? Why do you want to know what's inside? It's a birthday present.
- What is inside?
Some linen napkins.
- What else?
A bag of pot pourri.
- What else?
A birthday card.
- What else?
A can of Uranium 235.
- What else?
A Big Boy 'Prolapse II' strap-on double-pronged dildo vibrator with lube.
(...the robobese fembot falls motionless, clicking to itself... I hear a faint hiss of white noise... dogs across town begin barking...)
I knew it would come to this. While everyone else was lusting over the next wave of consumer breakables being rolled out at CES a couple of weeks back, I was still reeling from the revelation mid-December that Google had become a supplier of robots to the US military.
It is said that Boston Dynamics had previously provided assistance to Sony when the latter was designing its Aibo robotic dog, a hideous creature hailing from the same sinister dimension as the Furby.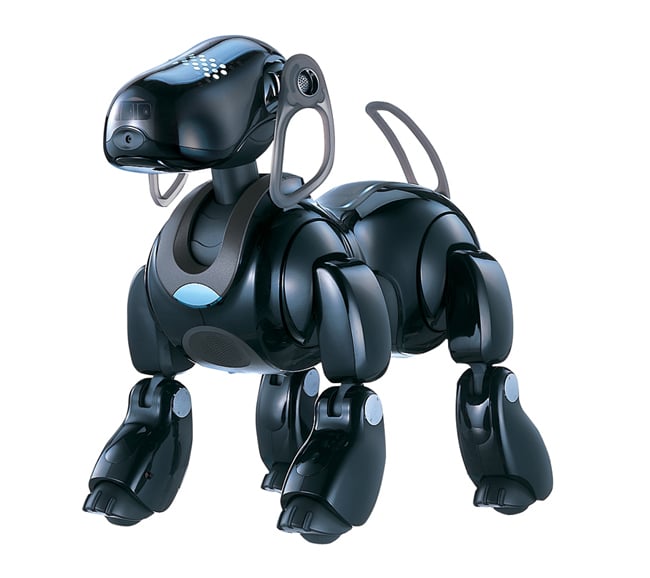 Know thy works: Boston Dynamics went from this (aaaaah, bless)...
Aibo has grown up a bit since then, now looking more like an unholy headless cross between a dog and a donkey as built from Meccano by Damien from The Omen. It is the BodyWorlds take on a mecha nightmare. If Tetsuo: The Iron Man had a pet, it would look like this.
Its very sprightliness is what makes it so scary: all that's missing is a wagging tail. "Throw me a stick! Bounce me a ball! Let's kill Johnny A-rab!"
Seriously, though, these are not intended as combat robots but mechanised pack-horses. Google and Boston Dynamics are not trying to kill people, but to provide support services that may have civil as well as military use. Besides, LS3 looks a bit too crude for action in the field.
Except that the video you just watched is already 16 months old. I rather imagine that by now, a descendant of LS3 will be able to stand on its hind legs, manipulate objects, interact verbally… and work in Post Offices all around the country.
Can someone find out who bought all those undervalued Royal Mail shares? It wasn't Google, was it? ®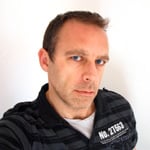 Alistair Dabbs is a freelance technology tart, juggling IT journalism, editorial training and digital publishing. He appreciates that there may be a perfectly good reason for a Post Office counter worker to ask what is in every bleedin' letter and parcel you might want to send. He does not know what this reason is. Try fibbing and see what happens.