This article is more than 1 year old
Cisco quietly slips out new all-flash arrays – perhaps it doesn't want EMC, NetApp to notice
Unless they've come to some new arrangement in their clique
The competition gloves are almost off: Cisco has made available two Invicta solid-state arrays that integrate into the unified computing system (UCS) fabric but are not converged server-storage systems. The two systems, which had a low-key launch on Friday, will compete with Cisco partner EMC's own XtremIO all-flash arrays.
The background to this non-announcement is that Cisco bought Whiptail, an all-flash array (AFA) startup that builds Invicta and other branded gear, for $415m in September. Cisco is partners with EMC and EMC subsidiary VMware in the VCE consortium, which provides converged server-compute-networking systems to customers using EMC storage arrays. EMC, meanwhile, has been developing its own AFA using acquired XtremIO technology, and that kit is now generally available. We're told Cisco will not compete with EMC.
Details of the two new Invicta systems can be found on Cisco's website, but the gist is:
The UCS Invicta C3124SA – catchy title – is a 2U appliance holding 3TB to 24TB of SSD using 2.5-inch SATA SSD drives.
The UCS Invicta Scaling System is an 8U base system starting at 6TB and scaling up to 720TB, then occupying 42U rack units.
Both are managed by Cisco's UCS Director, and connect to hosts via 8Gbit/s Fibre Channel or 10GbitE. They both have an Invicta OS installed which provides, among other things, async and open target replication, deduplication with an up to 10x data reduction, multi-tenancy, and thin provisioning.
The C3124SA performs at 250,000 random read IOPS with 4K blocks, we're told, and has a bandwidth of 1.9GB/sec. It has a latency of 100 microseconds. The Invicta Scaling System (ISS) performs at up to 4 million IOPS, has a 40GB/sec bandwidth capability, according to Cisco, and a 200-microsecond latency rating. We're told that the ISSes can have up to six scaling system routers (SSRs) and 30 scaling system nodes (SSNs).
The flash is, Cisco implies, MLC flash and is packaged in 1TB SSDs. The chips are not integrated into UCS server systems in the same way that Oracle packages flash into its Exa-class engineered systems; it is a separate, networked resource.
Cisco's literature does not explicitly say that these are networked all-flash arrays but nor does it say they are converged compute-plus-storage systems. Instead it says the UCS Invicta systems are integrated into the UCS fabric. It certainly doesn't show any schematic diagrams with Invicta boxes connected by network links to UCS server boxes.
The illustration from Cisco's Accelerate Application Performance with the Cisco UCS Invicta Series [PDF] white paper implies the Invicta flash is colocated with UCS servers or integrated into them. It doesn't show a network link.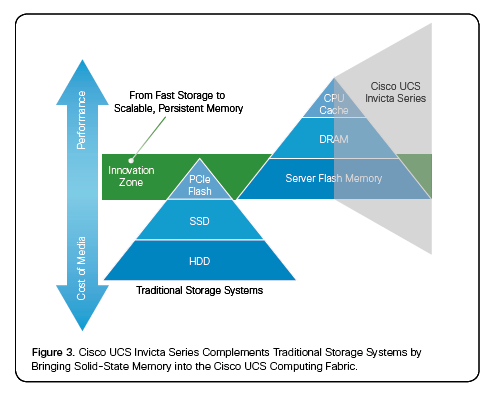 Cisco Invicta diagram from the white paper
This is, we suppose, a not-so-subtle marketing fudge designed to hide the fact the Cisco is now competing with EMC in providing all-flash arrays for, at least, its UCS servers. The impression we have, here on The Reg storage desk, is that Cisco wants these all-flash-arrays to be sold as UCS server-connect devices and not as generally available arrays, to be connected to the servers of your choice.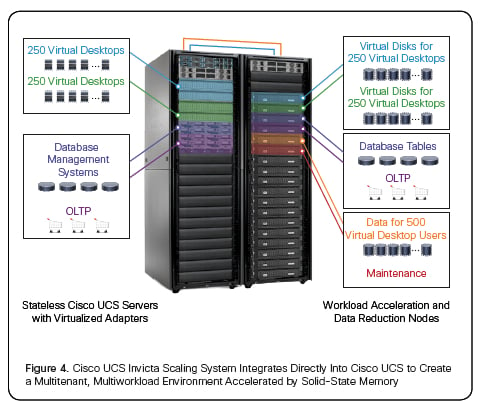 Cisco UCS servers and Invicta array in two separate racks
Getting back to EMC and Cisco, it appears there's no longer any notion of a no-compete agreement, unless Cisco and EMC have agreed that: one, Cisco UCS servers are no-go areas for XtremIO arrays and, two, Cisco will not sell Invicta arrays outside of UCS server-connect situations or not into EMC accounts, and, three, VCE converged systems will have no AFAs at all or a choice of both Invicta (Cisco) and XtremIO (EMC) all-flash arrays.
In general, our understanding is that these UCS Invicta arrays will be presented by Cisco as incompatible with non-UCS server environments, and Cisco has no plans to reverse that situation.
Cisco will also be in a similar position concerning FlexPod partner NetApp with its existing EF540/550 all-flash arrays and coming FlashRay product. How long the EMC and NetApp partnerships with the networking giant Cisco can continue when it is shipping and selling its own Invicta-brand all-flash arrays is unclear.
Cisco is now, in your humble hack's view, in competition – at best – with EMC and NetApp. Once either of those suppliers move into servers then the filing of partnership divorce papers can be expected; the gloves will be fully off.
We have no details of pricing, although a starting price of $63,000 has been mentioned, nor is there word on the availability of the UCS Invicta gear. ®