Player slayer
Power-ups now appeared more readily, with nastier results like turning the ball into a weapon that, with a well-aimed shot, could take your opponents out. The most inspired power-up though, was the one that reversed your opponent's joystick controls, leaving them quite bamboozled and full of sweary uselessness until the black magic wore off – brilliant.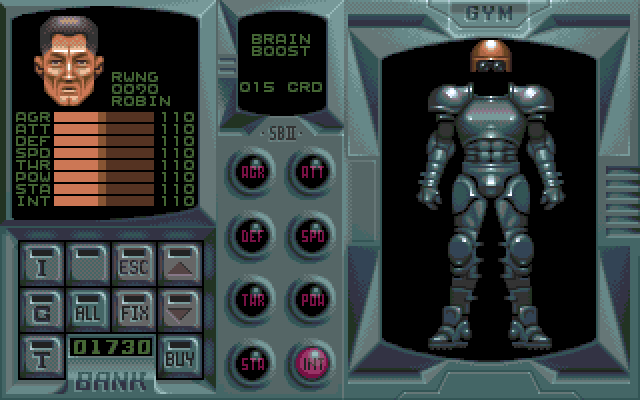 Smarten your Spartans
The ability to spruce up your team with earned cash was also given more status in the sequel – with the option to work through team members individually, adding "elbow pads", "brain boosts" and "bitmap shades" as you saw fit. Or for lazy team managers, an "All" button pumped each team member up across the full range of options.
The extent to which Speedball 2 could get under your skin was quite something, with much grudge-match heckling ensuing between rival players. Inevitably, losers would get in a sulk and start blaming the useless joystick they had been given, and sometimes there was a hint of truth in the claim. Since many an Amiga or ST came bundled with just the one joystick, a second controller had to be scavenged from somewhere else. In my case it was an old, and slightly bizarre, Atari 2600 controller.
Woe betide anyone ridiculous enough to think they could win with keyboard controls alone - that awkward, dual-direction combined key pressing would leave fingers aching and teeth grinding, as your opponent made circles around you on their way to victory.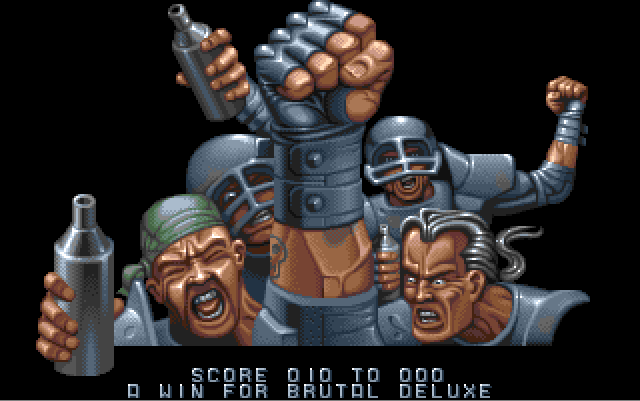 Celebrate a goal with a couple of drinks
The Speedball series lay dormant until the year 2000, when Speedball 2100 for the PlayStation arrived, attempting to cash in on the success of that popular console and keep the game franchise alive. While graphics were technically improved, as you would presume, the loss of the cleanly defined, precise look of the previous games felt like a great thing had been chucked out unnecessarily.
Moreover, the one-player option was too easy and some players even complained that the controller hurt their hands. It certainly wasn't dreadful, but Speedball 2100 didn't really live up to the hype.
Other Speedball reboot attempts have also been variable in quality and success.
A safe move was made with the version of Speedball 2 released for Xbox Live Arcade in 2007 – a relatively minor update that gave the Bitmap Brothers a second shot at success in the US game market. It did moderately well, though many Speedball fans were disappointed that it hadn't been enhanced in any particularly worthwhile way.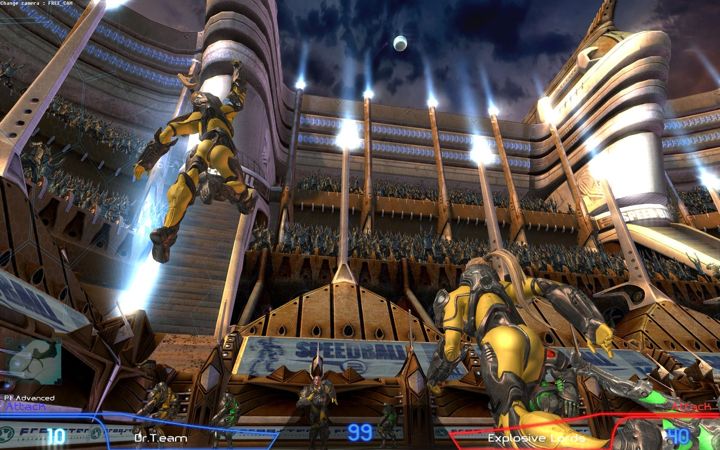 Tournament play: Speedball goes 3D
Speedball 2 Tournament, a 3D-enabled sequel for PC released later that year, should have answered the critics, yet it received a mixed reception. The 3D viewpoints didn't really enhance the gameplay – while it looked more contemporary, the 3D aspect was actually confusing, and controls were a bit awkward too.
As for more recent efforts, Speedball 2: Evolution (2011) was a welcome diversion for Android, iOS and Symbian users. Updating the graphics, though retaining some of the classic sounds and allowing for multi-device competitive matches, produced a minor hit – no doubt the Speedball faithful were pleased to have the game tucked away for portable pleasure.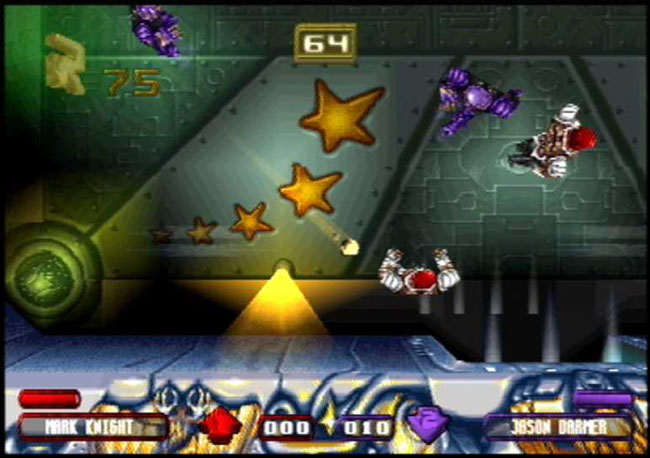 The Bitmap Brothers are back: Speedball 2100
Right up to date, in December 2013, Speedball 2 HD was released for the PC through Steam, offering a vaguely spruced-up adaptation of the mobile version's visuals. The game's play mechanics work well, with lots of new power-ups and team enhancements, though if you're looking for a challenging one-player experience you should, again, look elsewhere. It's a shame the game doesn't include an online, or even LAN, multiplayer option, though I guess it does promote, therefore, the original's party joy of crowding round a computer in a darkened bedroom.
One fine day, Speedball 3 will touch down with a well-deserved bang and schools across Britain will again suffer a wave of devious student (and teacher) bunk-offs. In my 1990s dreams anyway. ®
Released 1988/1990
Developer The Bitmap Brothers
Publishers Image Works, Empire Interactive, SOFEL, Krisalis Software, Renegade Software, Virgin Games, Wanadoo, Amiga Inc
Platforms Amiga, Atari ST, PC, Commodore 64, Sega Master System, NES, Archimedes, Amiga CD32, Sega Megadrive, Game Boy, Game Boy Advance, Blackberry

Similar topics
Narrower topics