Apple blows past (most) Wall Street moneymen's expectations
Quarterly results show it was an 'iPad Christmas', but current-quarter numbers scare investors
---
After Apple announced its new iPad Air and iPad mini with Retina display last October, CEO Tim Cook offered the hopeful opinion that "it's going to be an iPad Christmas."
Turns out his hopes were fulfilled. Apple has announced its financial results for the first quarter of its fiscal 2014 – which happens to coincide with the gadget-gobbling holiday shopping season – and reported that it sold 26 million of its überpopular fondleslabs.
This was the first quarter during which more than 25 million iPads were sold, even though neither of the two new models were available for the full quarter, and supplies of the iPad mini with Retina display were said to be constrained. During the 2012 holiday quarter, by comparison, Apple sold 22.9 million iPads.
"We are really happy with our record iPhone and iPad sales, the strong performance of our Mac products and the continued growth of iTunes, Software and Services," said Cook in a prepared statement when the financial results were released after the markets closed on Monday.
Sales of the iPhone weren't too shabby, either. Apple reported that it had sold 51 million of its smartphones – 5s, 5c, and 4s combined – in the quarter, the first time that iPhone sales had topped 50 million in a single quarter.
We'll let you guess when the previous iPhone sales record had been set. Yup, you're right: during 2012's holiday shopping season, Apple sold 47.8 million of its handsets.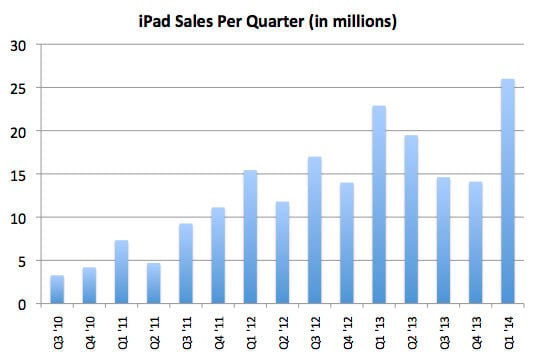 iPad sales hit set a new record this holiday quarter ...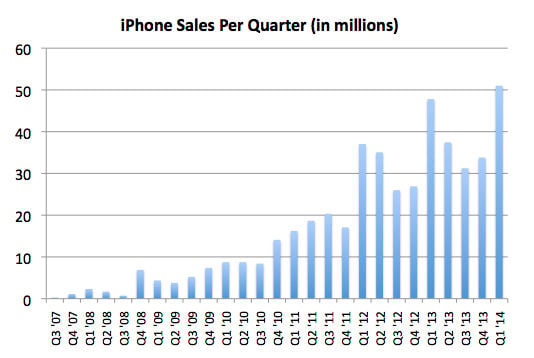 ... as did iPhone sales, as well.
Add in the sales of 4.8 million Macs during the quarter, which was up from 4.1 million in the same quarter last year [PDF], along with various and sundry other income streams such as iPods, software, and the iTunes Store, and revenue for the quarter was $57.6bn, net income $13.1bn, and the all-important – to the Wall Street moneymen, at least – earnings per share (EPS) $14.50.
These numbers may have surprised some Wall Street folks, but not all. Yahoo! Finance, which gets its numbers from Thomson Financial, pegged its EPS estimate of $14.09, while Fortune was more bullish, reporting a consensus estimate of $14.36. The "whisper numbers" – insider chitchat – collected from 27 analysts surveyed by Seeking Alpha was even more optimistic, averaging $14.57 with a high of $15.30 to a low of $14.00.
Yahoo! Finance's revenue estimates averaged out to $57.46bn; Fortune was a few hundred million bucks more optimistic at $58.1bn. For the record, Apple had provided revenue guidance of $55bn to $58bn when it reported its results last October for the fourth quarter of its 2013 fiscal year, which ended in September.
For the current quarter, Apple's guidance is markedly more muted, as it – and every other consumer electronics company, for that matter – invariably sees sales contract in the first calendar quarter of the year. Expect revenues to come in at somewhere between $42bn and $44bn, they advise.
These projections displeased the Wall Streeters, who hammered Apple's stock price after the numbers were announced. As The Reg has noted many times, the moneymen turn the old baseball cliché on its head: in investing, you're only as good as your next at-bat. ®