IBM dive-bombs into all-flash array pool
It's a belly-flop, snark startup swimmers
Analysis `
Splash! IBM has launched its first in-house all-flash array, one of the fruits of its billion-dollar flash storage investment. The FlashSystem 840 is an impressive box but what do IBM's mainstream and startup competitors, each with their own all-flash arrays, think of it?
We asked them - and we also asked IBM what it thought of what they said. Enjoy the two sides giving each other a kicking.
Dell
A Dell spokesperson said: "The FlashSystem 840 lacks snapshots, remote replication, and tiering that utilises less expensive storage. Putting the array behind SVC adds more cost to an already costly flash solution, while also reducing the response time benefit of having the all-flash array.
"Given the performance hit, it's not clear when someone would use the FlashSystem behind SVC rather than the less costly native flash options for SVC. Dell Fluid Cache for SAN, out in just a few months, will offer even higher IOPS and lower response time than FlashSystem, while being compatible with snapshots in our Compellent arrays and providing additional savings with more cost-effective flash types."
It looks as if Dell hopes there will be few if any openings in Dell's accounts for the FlashSystem 840, especially in Compellent-using accounts.
EMC
We received a comment from Josh Goldstein, the VP for marketing and product management at EMC's XtremIO Business Unit.
He said: "The FlashSystem 840 is nothing more than a hardware refresh of the FlashSystem 820 with updated serviceability and capacity points. The product has not changed in any significant way from its prior TMS incarnation. It's still a fixed hardware appliance with no data services. XtremIO is a software-centric array with a rich set of data services engineered specifically for flash and which scale-out linearly, a must-have for the flash data centre.
"The SVC head for data management is a huge disadvantage. SVC is a disk-centric architecture. While it allows layering of some data services atop the FlashSystem 840, it's not an integrated, flash-specific approach. We've already seen the limitations of Violin trying to layer Symantec and Falconstor software on top of their hardware arrays.
"This is IBM's version. XtremIO's data services, in contrast, are developed entirely for flash with no disk architecture legacy. Furthermore, XtremIO data services are completely integrated in the array software, with no need to manage a flash hardware layer and a separate set of data services appliances.
"XtremIO will continue to execute on our current plan, which is producing amazing results for our customers and in the market."

FlashSystem 840
IBM said the EMC claim that SVC is disk-centric "is not correct. SVC was tuned for flash." The EMC claim that SVC is not integrated with FlashSystem "is not correct. FlashSystem Enterprise Performance Solution is a solution in which FlashSystem 840 is integrated with SVC."
Kaminario
Kaminarion CEO and co-founder Dani Golan provided answers to two questions we asked:
El Reg: How does IBM's FlashSystem 840 compare to a K2 all-flash array?
Dani Golan: The biggest difference is that the Kaminario K2 all-flash array is a hardware-agnostic software appliance – one that is an economical, mature and highly-available offering. IBM FlashSystem 840 is proprietary hardware appliance, and as a result, more expensive and limited in scale. It's also more complicated as it requires two separate boxes (FlashSystem and SVC) to deliver an end-to-end solution.
El Reg: He added a couple other points of differentiation:
K2 has a scale-out architecture and is designed to provide the right balance of capacity and performance based with individual customer needs. [For reference, our K2 v4 (our current version on the market) can scale from 2TB to 120TB net, up to 3 million read IOPS and 1.2 Million write IOPS.] IBM's FlashSystem 840 can neither scale up nor scale out.
K2 provides native data management and data protection features, unlike IBM's FlashSystem 840 which uses SVC to provide most of these capabilities, adding management overhead, as well as more cost and less performance. K2, for example, supports native application-aware snapshots optimized for flash. These translate to overall simplicity, significant cost savings and increased productivity.
El Reg: How will IBM's entry into the all-flash array market with its first in-house system affect things in general do you think?
Dani Golan: This move from IBM is just more validation that flash is no longer niche – and shows all-flash arrays to increasingly be the choice for primary storage. Of course, it also promotes healthy competition across all vendors and continued innovation from all directions.
---
IBM said the Kaminario claim that "IBM's solutions are "limited in scale" and cannot scale-out ... is not correct. The FlashSystem Enterprise Performance Solution scales up and scales out."
HDS
An HDS spokesperson offered this thought: "The new IBM system looks like a fine flash-only entrant, but certainly nothing market-changing about it. At HDS, we think the need to use SVC for functionality is a major difference versus what we are doing with HUS VM. HUS VM appears to have similar performance, enterprise-grade Hitachi Accelerated Flash, can tier to HDDs and has all the storage virtualisation that SVC brings, but does so in a native, built-in fashion."
IBM said the HDS view that "IBM's solution is "flash only" ... is not correct. The FlashSystem Enterprise Performance Solution supports all flash configurations and configurations that virtualise other IBM and third party storage."
HP
Vish Mulchand, HP Storage's director of product management was asked if SVC was a disadvantage or advantage in front of the FlashSystem 840. He said: "Flash is disruptive. Customers want to accelerate mission critical applications with Flash. Performance is important, but more importantly customers want to leverage this acceleration without compromise! While IBM FlashSystem 840 can deliver performance, it is an All Flash Appliance that lacks Tier1 resiliency and data services."
Even IBM agrees, he claims, according to this Q-and-A session with Ambuj Goyal, the general manager for IBM system storage and networking:
Question: "What about the FlashSystem all-flash platform acquired from Texas Memory Systems?"

Goyal: "That goes into scenarios where clients say, 'I'm already doing things like data backup and replication and all the data loss prevention things in my software. All I want is the amazingly fast capability to access data'. … In those scenarios we are seeing a huge interest in all-flash."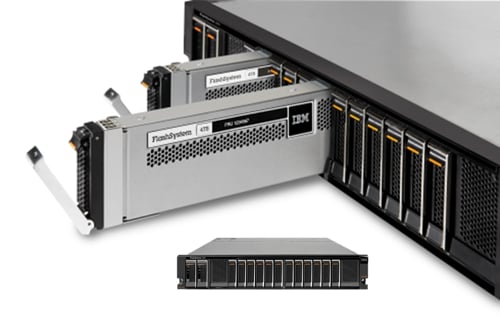 FlashSystem 840 module pulled out.
Mulchand added other points:
FlashSystem lacks Tier 1 data services (such as replication, QoS, snapshots, etc) and forces customers to deploy SVC in front of FlashSystem to get data services. SVC adds a net new layer in the architecture requiring compromises.

Added latency - customers considering FlashSystem would be seeking low latency, yet adding a virtualisation appliance (SVC) increases latency, thereby raising the question why deploy FlashSystem?
Expanded failure domain – SVC sits in the data path and therefore a failure at the SVC level can lead to data unavailability.
Increased cost – SVC adds a redundant controller layer and customers would require minimum of two SVCs for failure tolerance. Flash is a premium asset. Adding SVC to the deployment, increases the cost further.
Added complexity – Another layer to manage and coordinate for change management.

The performance capability that Flash can deliver surpasses the demand of any single application. Maximising Flash investment means consolidating multiple applications onto a single Flash Appliance or Flash Array.

Consolidation drives multi-tenancy requirements (Tier 1 resiliency, mixed-workload performance, secure sharing of resources, and Quality of Service (QoS) controls to consolidate safely. HP 3PAR StoreServ 7450 offers Tier1 resiliency, mixed workload performance, Virtual Domains for secure sharing and Priority Optimization for QoS controls. Flash Appliances such as FlashSystem are typically not multi-tenant capable.
He finishes by pointing out the HP's 3PAR StoreServ 7450 is an All Flash Array that delivers across performance (IOPS, Latency), scalability (capacity), and Rich Data Services (including Tier1 resiliency).
IBM rebutted much of the HP view as incorrect, saying that:
The HP claim that "IBM's all flash solution lacks tier 1 resiliency and data services ... is not correct. The FlashSystem Enterprise Performance Solution meets all industry requirements for resiliency and has the broadest array of advanced data services in the market. The IBM quote references a time before the FlashSystem Enterprise Performance Solution was marketed."
The HP view that "SVC adds complexity ... is not correct. IBM FlashSystem 840 and FlashSystem Enterprise Performance Solution both use the same SVC GUI enabling easier management".
The HP idea that "The IBM offering does not support multi-tenancy ... is not correct. IBM FlashSystem Enterprise Performance Solution supports Quality of Service (QoS) and offers the performance characteristics needed to support consolidation of multiple applications."