This article is more than 1 year old
Wanna make your own Azure? Now you can: Microsoft joins Open Compute Project
Redmond just gave you the plans
Microsoft has given away the secrets of its data centers for free by joining Facebook's Open Compute Project.
The shock move will be announced at the Open Compute Summit on Tuesday and means that the server designs Microsoft uses to support Bing, Office365, and Windows Azure will be available for cloud-wannabes across the world.
"It's not like it's the two-year-old design - it's the current design in our infrastructure," explains Windows Azure's general manager Mike Neil. "From a benefit standpoint – comparing against traditional server costs, it's in the ballpark of a 40 percent cost-saving [and] we're at 15 percent power gain."
This means that if a company fancies some low-cost commodity-style servers with a Redmond flavor they will be able to ring up HP, Dell, Quanta, and others and request the Microsoft Special, rather than being stuck with buying standard pricier servers.
Microsoft says these servers have let it reduce network cabling by 1,100 miles and metal by 10,000 tons across its global fleet of some one million servers.
Microsoft is initially donating two designs: a Compute blade and a JBOD blade. The Compute blade packs in two Xeon ES-2400 v2 chips onto a motherboard and two compute blades can sit aside one another in a single 1U server slot. Each blade supports 6 DIMM slots, and comes with an Intel storage controller, one PCIe slot, and networking support for a single or double Dual 10G Mezzanine card or Dual 4X SAS 6G Mezzanine cards.
The company also published a design for a JBOD (Just a Bunch of Disks) blade which can cram in up to 60TB of HDDs into a single sled. Microsoft says this design pattern can cram in up to 96 servers into a 52U rack (48 1U dual-blade server slots, plus networking).
The curious thing about these designs is that they seem to match a patent Microsoft was awarded last December for a "Tray and Chassis Blade Server Architecture" – why go to the bother of patenting a design if you then donate it to the community, we wonder.
Specifically, Microsoft is donating the hardware and software specifications for the servers, along with mechanical Computer Aided Design (CAD) models, schematics, and source code for chassis infrastructure such as server management, fan and power supply control, Diagnostics, and repair.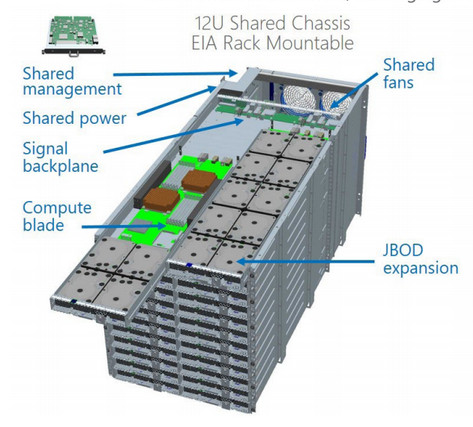 Microsoft's OCP server design
The Open Compute Project is a Facebook-fostered scheme to do away with some of the vendor-added pricey features to servers destined for big bit barns. It launched in 2011 and since then has gathered in contributions from companies as varied as Intel, AMD and Broadcom.
Some early enthusiastic users of OCP gear include cloud operator Rackspace, financial titan Goldman Sachs and Facebook itself.
Since launching, the OCP project has broadened its remit from servers out to storage systems, rack designs and even networking equipment as well. (Microsoft, for the time being, is focusing on servers but may involve itself in other schemes as time goes on, Neil said).
By joining the Open Compute Project, Microsoft is adding a further stamp of legitimacy to a scheme that seeks to open up the traditionally secretive world of bespoke cloud hardware. Microsoft hopes that its involvement can ensure that a broad array of companies have the necessary specifications and manufacturing experience to build servers for it, which can probably help it lower prices and keep itself from being dependent on any one supplier.
"From a Microsoft standpoint we could have taken a different route, but we felt like OCP had a lot of critical mass of the industry," says Neil to El Reg. "We had good alignment with them."
Neil also hopes that as Microsoft's designs are adopted by other companies, Redmond can benefit from the collective intelligence of other operators to improve its own kit.
Overall, Microsoft's involvement in the OCP project also serves as a neat illustration for the big story of last week – IBM's long-suspected selloff of its x86 server unit to Lenovo.
After all, if the world's largest infrastructure operators are rushing to make the underlying hardware as cheap and vanity-free as possible, then the last place Big Blue wants to be is a glorified component assembler, given how enslaved it is to Wall Street's desire for high-margin businesses that can factor into a mammoth EPS.
Microsoft's new bout of openness also serves as a bit of beneficial public relations material against cloud king Amazon Web Services – a notoriously secretive organization, whose own employees have worried that its lack of participation in wider tech schemes could ultimately damage its chances of hiring people. Perhaps Microsoft's new approach could yield some Amazon CVs finding themselves in an inbox in Redmond, rather than the other way round? ®