Department of Human Services removes Medicare from internet
Australian government forgets redirects for popular websites
---
Australia's Department of Human Services (DoHS) is working to re-instate redirects from some of its legacy websites.
The DoHS is the umbrella agency for delivery of the Australian government's health insurance, income support and child support services. The Department's site offers access to all of those services, but many users of those services would be more familiar with the old web addresses for the agencies responsible for their delivery: Medicare (health insurance) and Centrelink (income support) are far more recognisable brands that the Department's. It therefore makes a lot of sense for traffic to those agencies to automatically redirect to the relevant page on the DoHS site.
But The Reg has heard rumblings among network operators and internet service providers, whose customers are asking why intuitive and long-standing URLs like www.medicare.gov.au produce a server error (depicted below), instead of a redirect to the part of the DoHS site where Medicare can now be found.
Vulture South can now supply a reason for the lack of redirects: DoHS forgot to keep them running.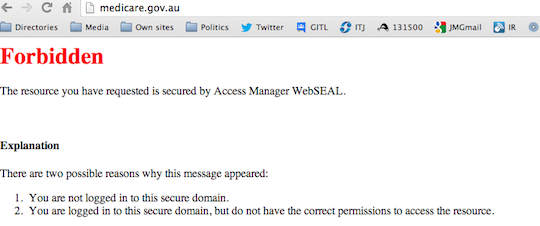 Is this any way to treat a national icon? The server error message at medicare.gov.au
A DoHS spokesentity has told Vulture South that "When the former Centrelink and Medicare websites were initially transitioned to an integrated website, the department ensured redirects to www.humanservices.gov.au were placed on the relevant legacy Centrelink and Medicare urls."
"We are aware that some of these redirects are currently not working and and these are being investigated as a matter of urgency."
"We expect to have active redirects in place again in the near future."
Which is all very nice, save for the fact that medicare.gov.au has been producing an error for most of 2014.
Your taxes at work, people. ®
Similar topics
Broader topics