This article is more than 1 year old
US, Japan prep new rainfall sat for launch
GPM observatory set to fly late Feb
NASA and Japan's space agency Jaxa are readying a satellite for a late-February launch, to give the world a high-precision global rainfall and snowfall observatory.
If all goes well, GPM, the Global Precipitation Measurement Core Observatory, will be hoisted on 27 February on a Jaxa H-IIA rocket from Japan's Tanegashima Space Centre. As well as carrying its own instruments, the bird will link data from what NASA describes as "a constellation of current and planned satellites" to measure rainfall and snowfall.
Instruments on board the NASA-built GPM include a dual-frequency precipitation radar (DFPR) built by Toshiba to a joint Jaxa-National Institute of Information and Communications Technology design; and the GPM Microwave Imager, built by Ball Aerospace & Technologies in the US.
As well as being able to "see" inside clouds, NASA says, the two instruments can detect smaller particles of rain and snow than current-generation satellite imagers.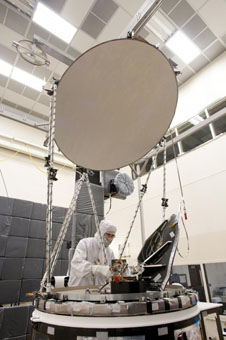 The GMI instrument
under test. Image: NASA
GPM will be lifted to a 407 km orbit inclined at 65° to the equator. This will give it an orbital path with a view from the Arctic Circle to the Antarctic Circle, multiple times a day.
The satellite will also gather data from existing precipitation satellites, creating a network that will gather precipitation observations globally at three-hourly intervals. Data from the new observatory will act as "the measuring stick by which partner observations can be combined into a unified data set", NASA's announcement states.
Once the mission's data is downlinked via the Tracking and Data Relay Satellite System to the Goddard Space Flight Center's Precipitation Processing Center in Greenbelt, Maryland, the data will be distributed over the Internet.
As well as improving global weather forecasts, NASA says the observatory should also feed into better climate models and help track the distribution of fresh water around the world.
The instruments
The GPM Microwave Imager (GMI) is a 13-channel instrument that will provide a constant scan of a region 885 km wide. Its channels range from 10 GHz upwards, with four channels about 166 GHz and 183 GHz. NASA says the 1.2 metre diameter antenna provides higher spatial resolution than predecessor instruments like the Tropical Rainfall Measuring Mission's microwave imager.
The DPR instrument runs radars in two frequencies, the Ku band and the Ka band. Each radar is focussed onto the same five km footprint, providing 3-D observations of precipitation. ®