This article is more than 1 year old
Just how far did storage and compute converge in 2013?
Come together...
Converged storage is the coming together of storage and compute in the same box. Didn't this used to be called a server, before the days of networked storage?
Indeed it did but these re-invented servers often employ a logical storage pool, and are the future, we are told. So, where are we at, as glide into 2014?
We're separating out converged server/storage hardware and software systems here from virtual storage appliances (VSAs) based on software alone. Customers for converged server/storage systems buy a product which includes hardware and software instead of VSA software which can be applied to commodity hardware. First we'll look at the hardware convergers.
Converged server/storage hardware systems
An earlier approach to converging storage and compute was the idea of adding compute resources to storage arrays. It did not really work as part of the problem converged systems deal with is the storage array. DataDirect Networks runs parallel file systems software in its HPC disk arrays but not the application software that uses it.
Violin Memory can run Microsoft system software in its all-flash arrays but this is fairly new and usage numbers aren't available yet.
Nutanix
Generally speaking, converged server/storage systems is start-up land. The company getting most mind-share seems to be Nutanix which builds a virtualised server cluster and virtualised SAN and grew strongly throughout 2013. In May it said it had sold 3,000 systems in the 18 months since it started shipping kit.
It reckoned it was "the fastest growing IT startup ever at this stage in its growth, just three and a half years old and with an $80m annual run rate." It says a main appeal of its product - for which it claims 170 partners - is that its customers don't have to buy networked storage arrays. Thus they save cost and complexity and power, and get faster, lower-latency data access through converging compute and storage.

Nutanix NX-3000
Nutanix's SOCS (Scale-Out Converged Storage) software runs on each server node and aggregates Fusion-IO PCI flash cards, Intel SATA SSDs, and Seagate disk drives to create its virtual storage pool. This is accessible by all the virtual machines in the cluster. Every server in the cluster is a metadata server in its architecture - in a 150-node cluster there will be 150 metadata servers. MapReduce technology is used in the metadata processing.
The company has varied the server/storage componentry proportions in its systems with, for example, an SSD replacing the PCIe flash or offering all-disk nodes for bulk data storage. It introduced smaller kit for remote and branch offices in June. In August SOCS got renamed to the Nutanix Distributed File System with the v3.5 Nutanix OS update, and deduplication was added to the existing compression. It also previewed Hyper-V support alongside the existing VMware support.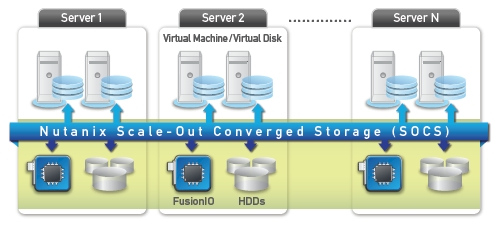 Nutanix architecture
In December CEO Dheeraj Pandey, the Oliver Twist of start-up CEOs, said a $1.5bn IPO was not interesting. He must want more, and indeed Nutanix had a $101m funding round on January this year, aiming to grow more before any IPO takes place.
Simplivity
This is the dark horse of converged server/storage systems, revealing less of itself than Nutanix. There was an announcement in August during which it introduced smaller and larger versions of its Lego block-style Omnicube product which converges server, storage and networking inside a 2U case. This features deduplication and compression and data optimisation.
Nodes are federated and an Amazon "Cloud Node" can be connected for disaster recovery purposes.
Simplivity is a few months younger than Nutanix, and says it has double-digit customer numbers with shipments then approaching 100 systems; there is a bit of catching up to do but it is shipping kit faster than it planned.
In October it partnered with Nvidia to improve graphics in VDI applications, both VMware View and XenDesktop. And in November it announced an $85m funding round. The cash is being used to grow its engineering, sales and support and field teams.
CEO Doron Kempel predicts 2014 will see revenue growing fivefold.