This article is more than 1 year old
Reg snaps moment when Facebook turned air Blu: 1PB box for unloved pics
What the *&^%! 10,000-disc sarcophagus for old photos and likes
Picture Facebook has developed an archive storage system that uses Blu-ray discs to stuff a petabyte into a single cabinet.
The as-yet-unnamed 42U box was revealed at the Open Compute Summit in San Jose, California, on Tuesday. Facebook's chief of infrastructure engineering Jay Parikh said the social networking giant plans to publish the designs to the wider community shortly.
This means that electronics manufacturers will be able to start churning out gear based on the blueprints, giving companies access to a relatively open long-term storage platform.
Facebook chose Blu-ray discs for their high information density and longevity, we're told. The website's data jukeboxes can each hold 10,000 triple-layer 100GB discs, and hold the information for up to 50 years, Parikh said. In time the box may be able to contain up to 5PB if more bytes can be squeezed into the Blu-ray format.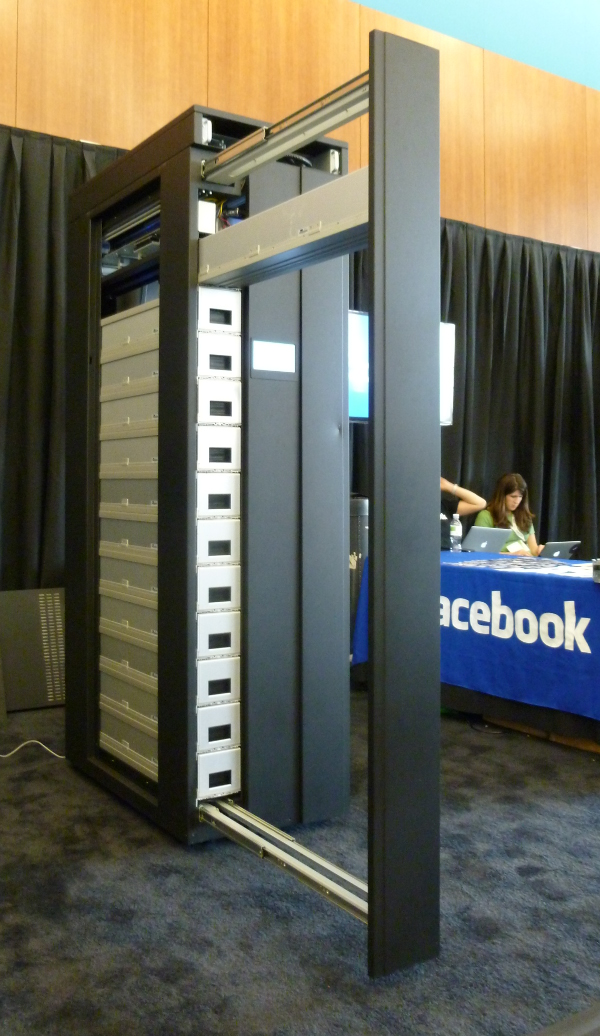 The Facebook archive system packs a petabyte of storage in a data-center cabinet
The system's access latency – limited by the time it takes to get a disc into a drive – is between 17 to 18 seconds, we understand, and the aggregate read rate is about 240 megabytes per second. The machine was developed over six months with help from German-Chinese outfit HIT Storage, and has been modified to fit the specifications of Facebook's Open Rack project.
The unnamed equipment is set to become the ultimate morgue for unloved and unvisited information stored in Facebook's gigantic social network; rarely accessed photos, for instance, will be banished to the gear after spending time on the company's hard disk-packed "Open Vault" cold storage systems.
Though many have suggested that tape would be the ideal platform to store this information in, Parikh once quipped: "I'd rather poke my eyes out with chopsticks [than use tape]."
Facebook's unnamed disc jockey will compete with existing tech such as Hitachi's HLDS Blu-ray Disc Optical Archiving System, which can pack up to 12 optical drives each storing 50TB per 8U enclosure, allowing a 42U stack to fit in up to 400TB of data.
Given that Amazon's long-term storage solution is nicknamed "Glacier", we would suggest that Facebook pick a pugnacious name for its similar solution – the FaceFridge, perhaps? ®