This article is more than 1 year old
Management tools lead VMware through $5bn annual revenue barrier
Virtzilla predicts faster revenue growth for next two years
VMware has cracked the $US5bn barrier for the first time on the back of 17 per cent year-on-year revenue growth it says it can repeat again during 2014.
The company also reported Q4 revenue of $1.48bn, up 15 per cent from 2012's fourth quarter.
Virtzilla's current hero is its management and automation software. Just about anyone likely to need the company's core virtualisation products has them by now. VMware anticipated that a few years ago and started to build, and acquire, a range of management tools. Those are now going like a train, said the company's president and chief operating officer Carl Eschenbach, and have become the company's fastest-growing product line thanks to license bookings that surged by over 40 per cent during the year. He added that just ten per cent of VMware customers have acquired such tools, meaning there is plenty of room for growth.
Acquiring management and automation tools is also surely good news because it shows users are committing to the VMware stack. Doing so bespeaks deep commitment and sticky incumbency, not the kind of thing one does if a shift to a rival platform is under contemplation.
That performance will be welcome news for market-watchers, as it shows VMware's three pillars strategy looks to be working.
The main pillar, now described as building the software-defined data centre, is also doing very well thank you. VMware's documentation doesn't break out the performance of each pillar, but the data released today talks up record renewals of enterprise licence agreements (ELAs) and says ten ELA deals worth $US10m or more closed during 2013's final quarter. During the earnings call, Eschenbach said the company also had a record quarter for support sales and the average length of support contracts is over 24 months. That figure suggests deep commitment from customers.
The software-defined network looks to be gaining some traction, with "3 of top 5 global investment banks plus McKesson, Starbucks, Medtronic, Best Buy, China Telecom" mentioned as users of the new NSX product.
VMware's third pillar is end-user computing, a field in which the company has long had an ambition to do better after a false start or two. Execs talked up "mid-teens" growth of license sales year-over-year and said a refreshed executive team is making a difference to this area of business. With desktop-as-a-service outfit Deskone and AirWatch borged in recent times, it's hard to imagine VMware spending on acquisitions unless it sees real traction in end-user computing. Either that or it has figured out that acquisition, not organic growth, is the way to succeed.
Things are so good down VMware way it even offer this line: "Expect Revenue Growth of 16 – 20% in 2015 and 2016, up from previous guidance of 15 – 20%."
Committing to extra revenue is not something executives do lightly, so telling the investment community to expect another upward kink on the graph below means VMware's management are pretty sure happy days are here to stay.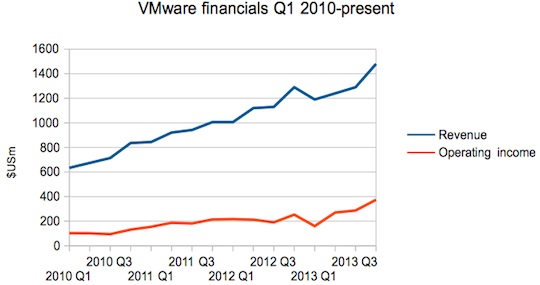 VMware's quarterly results and profits from 2010 to the present
The earnings call contained a couple of hints about why VMware is willing to talk up its future, one of which is the performance of the UK's banking and finance sector. Eschenbach said the company's UK operations enjoyed a strong quarter thanks to a rebound in the City, and that the US government has also proved a strong source of sales. CEO Pat Gelsinger also talked up the recent acquisition of AirWatch as giving the company a "foundational" mobility proposition, intimating it will help to sell other parts of the end-user computing portfolio.
Markets haven't lauded the results: VMware and parent EMC's share price are off a per cent or two because finance types wanted a stronger growth story and worry about warnings of lower profit margins during 2014.
But VMware's problems are of the sort plenty of other vendors wouldn't mind having: there are many worse things than a diversification strategy that is gaining traction, loyal customers, resurgent target markets.
Did we forget to mention a surge in Chinese sales? And the fact that VMware isn't slowing down even though Microsoft more-or-less gives away its rival Hyper-V?
There'll be smiles a-plenty in Palo Alto tonight. ®