This article is more than 1 year old
Amazon mints a BILLION BUCKS from its cannibal cloud
Bezos & Co tower over competition in Q4 results
Amazon's cloud division has brushed off competition from Google and Microsoft to report record revenue of $1.234bn, and grew its business abroad to historic highs as well.
Amazon took in $1.234bn in cash in its "other" revenue segment in the fourth quarter of 2013, the company announced on Thursday, up from $1.011bn in the previous quarter. $1.170bn came from North America, where Amazon operates its largest and longest-running data centers, and $64m from abroad as companies gave a large collective shrug to worries over US spying on cloud data.
Though Amazon does not break out cloud revenue directly, it does stick it in a mysterious category named "other" which also wraps in cash made from advertizing revenue and some other fringe products. A recent report – which El Reg dived into and verified – reckoned advertizing would slurp in $835m for the whole of 2013, so the year's "other" figures of $3.934bn likely represent a good $2.9bn in cloud revenue.
Incidentally, this comes in a shade above our own most recent prediction that Amazon would make $3.7bn in "other" revenue this year.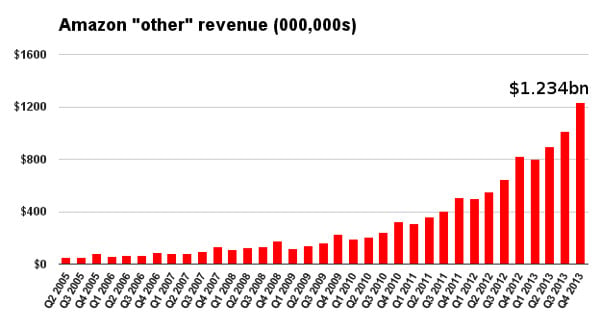 Amazon's cloud dominates the rentable compute and storage market
Though the few billion in revenue is a minnow compared to Amazon's overall revenues of nearly $75bn for the year, it is a valuable figure as it gives us an indication of how much cash Amazon is generating from as-a-service rentable computing. Remember – the bigger companies like Amazon get, the more money they hoover up that would otherwise be spent on upgrades to bit barns owned and operated by smaller companies, according to the Uptime Institute.
This compares with a claim by Microsoft that its Azure cloud wing was a billion-dollar business when measured on an annual basis, and Rackspace's most recent quarterly revenue of $108.4m for its public cloud. Google also operates its own anti-Amazon cloud products via Google App Engine and Google Compute Engine, but doesn't break out revenue in a meaningful format.
The results may also salve some concerns in the industry that revelations by Edward Snowden about US spying could have blunted the growth of cloud computing. Judging by Amazon, people are already committed to the cloud, and even punters abroad are spending more than ever given the international takings were a record $13m higher than previous quarters. ®