This article is more than 1 year old
Boffins build electronic tongue that can distinguish between BEERS
Not American boffins, obviously
A team of Spanish scientists have built an electronic tongue capable of telling the difference between six different styles of humanity's favorite alcoholic beverage with over 80 per cent accuracy.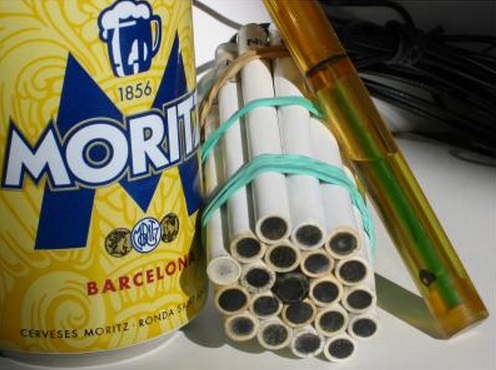 Seis cervezas por favor, mi amigo va a pagar.
"The concept of the electronic tongue consists in using a generic array of sensors, in other words with generic response to the various chemical compounds involved, which generate a varied spectrum of information with advanced tools for processing, pattern recognition and even artificial neural networks," said Manel del Valle, associate professor in analytical chemistry at the Universitat Autónoma de Barcelona.
The research, published in the journal Food Chemistry, details how the team built a bundle of 21 electrodes to act as the tongue. Some are built to sense the presence of different substances in fluid, including sodium, potassium, and nitrates, while others fed back more generic information about the brew.
The electrodes could tell the boffins the base chemical signature of the beer's ingredients but couldn't tell what type of fluid it was, so the team built software to cross correlate the results to get a better match in six beer types:
"Using more powerful tools – supervised learning – and linear discriminant analysis did enable us to distinguish between the main categories of beer we studied: Schwarzbier, lager, double malt, Pilsen, Alsatian and low-alcohol, and with a success rate of 81.9 per cent," del Valle said.
The team thinks the software and hardware combination can be refined to include more beer types with additional research, and to improve the accuracy of robotic taste testing still further so that the device can be used for process control standards in the brewing industry.
You'd expect research like this to come from Germany, the Czech Republic, or even the UK, but Spain has a vibrant and mixed beer-drinking culture. Meanwhile, here in the US, over 50 per cent of the beer-drinking market is made up of Budweiser, Bud Light, and Coors Lite, which all taste the same anyway. ®