Storage overlord EMC announces growth, plans to slash 1,000 jobs
Layoffs 'driven by new architectures based on cloud, flash, white-box solutions'
Big storage beast EMC closed its 2013 fiscal year with impressive growth in its final quarter but sees lower growth in the future. It also announced 1,000 layoffs on the way in Q1 as it rebalances towards flash, integrated systems, mobile and cloud computing.
According to EMC, the staff cuts are down to its internal rejigging to decrease the effects of back-end loading of customers orders in each quarter.
Fourth quarter revenues were $6.7bn, an 11 per cent jump on last year's Q4.
Full year revenues were $23.2bn, a tad under the $22.5bn EMC CEO and chairman Joe Tucci had hoped for last quarter but still 7 per cent higher than the fiscal 2012 total.
Net income for the fourth quarter was a clear $1bn and a full 71 per cent higher than the third quarter number; meaning more deals and more profitable deals; while profit as a percentage of revenue rose to 14.9 per cent from the third quarter's 10.7 per cent.
Full year net income was $2.9bn, up 6 per cent on the previous year's $2.73bn. Also, with net income as a percentage of revenue at 12.5 per cent, EMC was less profitable than in the previous year, when the percentage was 12.6 per cent.
EMC said there was "double-digit year-over-year revenue growth across US, EMEA and Latin America, with strong revenue growth from BRIC+13 markets."
Two charts show the quarterly and full year numbers: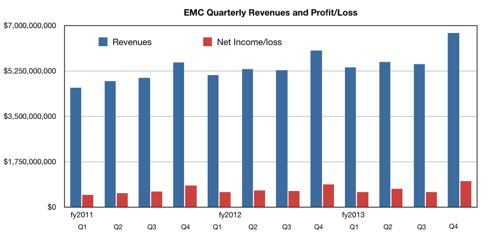 Click chart for larger version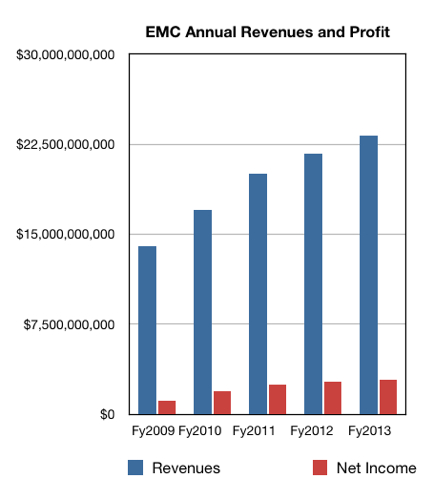 The annual chart shows revenue growth as well as profit growth tailing off. EMC Information Infrastructure CEO and EMC CFO David Goulden alluded to this in his prepared remarks: "Despite 2013 IT spend growth that was lower than we expected, EMC achieved strong revenue and profit growth. This outperformance relative to our industry speaks to the power of the EMC portfolio, solid operational and financial model and consistent execution."
Some details:
The Information Storage business accelerated Q4 revenue growth to 10 per cent year over year.
The Emerging Storage business saw 73 per cent revenue growth y-o-y with:

The XtremIO all-flash array selling well, leading the market in both bookings and revenue. A VDI app emphasis exists.
Continued strong growth of the Isilon, Atmos and VPLEX products.

The Unified and Backup Recovery business increased revenue 11 per cent y-o-y.
VMAX revenues returned to growth (+2 per cent y-o-y).
The RSA Information Security business and EMC's Information Intelligence business grew at 17 per cent and 3 per cent y-o-y respectively; a welcome turnaround for the Information Intelligence business which had been in the doldrums.
VCE did well with demand for Vblock systems showing strong annual growth.
The VSPEX reference architecture portfolio "continued to extend its market leadership with rapid adoption and increasing popularity among customers and partners. "
EMC's Cloud Service Provider Partner program "was EMCs fastest-growing vertical market segment."
Stifel Nicolaus MD Aaron Rakers got a closer look at the numbers and said: "Isilon revenue was up nearly 40 per cent y-o-y in the CME (communications/media/entertainment) vertical and +40 per cent in the health care vertical (vs posting +50 per cent in the health care vertical and +100 per cent growth in big data analytics use cases in the prior quarter). Atmos revenue was up +200 per cent (ie, more than tripled) in 2013, driven by increased demand from service providers."
Well, all of this looks great but, nevertheless, EMC announced a restructuring plan. Of course Goulden said it was more of a "rebalancing", with up a 1,000 heads talking a walk. William Blair analyst Jason Ader said: "Management stated that the restructuring should be viewed more as a rebalancing, as the company moves people into "third platform"-oriented parts of the business and reduces headcount in legacy areas of the business."
What's third platform? It's how EMC describes the latest wave of IT and involves the move to mobile devices, public and (Tucci stresses the "and") private cloud computing. The second platform is today's IT minus mobile and cloud elements. There's an EMC Third Platform webcast here.
Ader said he thought the layoffs "are being driven by new architectures based on cloud, flash, white-box solutions, and integrated systems."
The outlook for fiscal 3014 is for revenues of $24.5bn, 5.6 per cent up on the 2013 year total, representing lower growth than in the 2012-2013 period. The first quarter of EMC's fiscal 2014 should see a $5.39bn revenue number, the same as fiscal 2013's first quarter, meaning no growth.
Ader said: "We believe that the company's muted revenue growth target for 2014 is reasonable, given ongoing product cycles (VNX, Data Domain, XtremIO), with the major risk being a tailing off of VMAX sales, which … still represent the company's largest product line. We are also concerned about declining margins in the information infrastructure (II) business."
All-in-all Ader said EMC's storage business is decelerating: "Storage sales were up 4.5 per cent in 2013 and are expected to grow only 3 per cent in 2014 (we estimate 2 per cent)."
This is making services more important, also VMware relatively more important and emphasising the need for the Pivotal business to grow strongly and return a profit.
Rakers suggests a VMAX refresh may be coming in the second half of this year. We understand several ViPR announcements could come during the year too. ®