This article is more than 1 year old
EMC puts on an 'appy face to box Box, Dropbox
Syncplicity apps upgrade also offers Android, iOS back door for Microsoft Office
EMC's attempt to do better in the world of share 'n' sync tools has given Microsoft a back door into iOS and Android.
The back door comes in the form of new mobile apps for the information management company's Syncplicity service.
EMC has, over the years, 'fessed up to a less-than-stellar outlook for its document management businesses. Share 'n' sync tools like Dropbox and Box have stormed business-land and their approach of providing content bucket accessible from anywhere has proven more appetising to users than other approaches. Recognising that joining 'em if you can't beat 'em might be a good idea, EMC acquired store 'n' sync outfit Syncplicity in May 2012 and has since set about adding enterprise-grade security tools along with hooks into its storage kit (especially Isilon) to deliver an on-premises alternative to services that use the public cloud.
The likes of Dropbox and Box make plenty of their mobile apps, as users apparently want to have the chance to access everything they own at all sorts of odd times. EMC's now decided it needs to ensure Syncplicity can roam free and has the apps to prove it.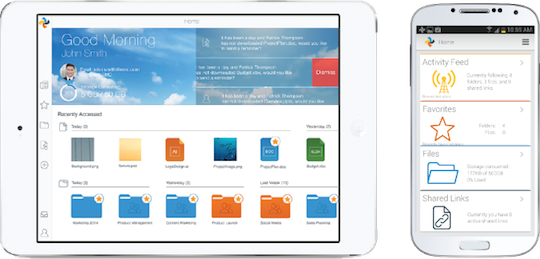 EMC's new Syncplicity apps apparently possess both beauty and brains
EMC's spiel for the apps suggest they possess "beauty and brains". The former quality comes from "a layout devoid of clutter". The latter claim is made because "The apps put your most active files and folders front and center to save you time, and they bubble up notifications so you can send reminders and stay productive with a single tap of the finger." It's also possible to create a document and have it appear in the Syncplicity folder of all the folks attending a meeting, without much intervention or need for email.
Perhaps the most interesting new feature is integration with Microsoft office that allows users of the apps to open and edit Redmond-formatted documents within the Syncplicity application.
That feature shouldn't make mobile devices a source of leaks: it's possible to set policies so that documents can only be edited within Syncplicity.
The apps are available now. ®