Gene boffins: Yes, you. Staring at the screen. You're a NEANDERTHAL
Well parts of some of you, anyway (mostly genomic markers of hair, skin)
Humanity is still hanging on to over 20 per cent of the Neanderthal genome, which influences modern attributes from skin and hair to nicotine addiction and diseases.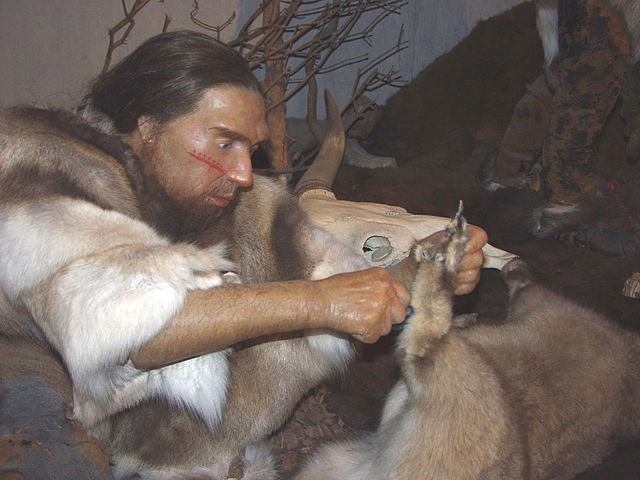 Over 30,000 years ago groups of Homo sapiens migrating out of Africa started running into Neanderthals, who had diverged from humanity hundreds of thousands of years before. The two lines mingled and merged and today the biological markers of those encounters are still present in humans with European and Asian ancestry.
Now, two separate genetic studies have found that at least a fifth of the genome from the extinct Neanderthal race is still around today. University of Washington geneticists Benjamin Bernot and Joshua Akey looked at the genomes of 379 Europeans and 286 East Asians to find which parts of their DNA didn't look human and to figure out when that DNA might have been introduced.
In a paper published in Science Express, the boffins found that Neanderthals were a probable source for at least a few genetic variations that helped humans survive, while other aspects of the sequence were discarded.
"We found evidence that Neanderthal skin genes made Europeans and East Asians more evolutionarily fit," Vernot said, "and that other Neanderthal genes were apparently incompatible with the rest of the modern human genome, and thus did not survive to present day human populations."
For example, the researchers found a strong depletion of Neanderthal DNA in the region of human genomes that play a role in speech and language.
The team compared their findings to a recently mapped Neanderthal genome obtained from a bone fossil, but this might not always be necessary.
"We wanted to know how well our predictions matched the Neanderthal reference genome," Akey said. "The analysis showed that, after more refinement of these methods, scientists might not need a reference genome from an archaic species to do this type of study."
At the same time as Vernot and Akey were doing their research, boffins from the Harvard Medical School and Howard Hughes Medical Institute were conducting their own comparison of Neanderthal and human DNA, published in Nature.
Lead scientist David Reich was one of a team that published the complete genome of a Neanderthal woman from a toe bone in late 2013. Reich and his colleagues then used that sequence to compare with the genomes of 1,004 present-day humans from around the world.
Like Vernot and Akey, Reich's team found the genetic changes most often inherited from Neanderthals were related to skin and hair.
"This suggests that as humans were adapting to the non-African environment they were moving into, they may have been able to exploit adaptations that Neanderthals had already achieved," Reich said.
The researcher also focused on areas where Neanderthal markers were missing and found a striking lack of the genome in the X chromosome. This suggests that humans underwent hybrid sterility. When two organisms are distantly related, the genes related to fertility, inherited on the X chromosome, can interact poorly with genes elsewhere, rendering males infertile. Modern males who inherited a Neanderthal X chromosome often may have been unable to have children and therefore pass on the same X chromosome.
"This tells us that when Neanderthals and modern humans met and mixed, they were at the very edge of being biologically compatible," Reich explained.
The boffins also found that some genetic changes that affect the risk for diseases like lupus, diabetes and Crohn's Disease likely originate from Neanderthals.
"[We want] to use this information as a tool for understanding human disease genes," Reich said. ®