Lenovo and IBM's System x biz: It'll be just like 2005's PC buyout
Successes? Oh, we've had a few...
Analysis It was only eight months ago when the industry was rife with rumours that IBM was selling all or part of their x86 business to Lenovo. It took a while, but the deal has gone down and it's now up to the lawyers and accountants to finalize the paperwork.
This deal has turned out to be (way) more comprehensive than anticipated. Lots of folks, including me, figured that if IBM was looking to sell, they'd get rid of the low-end commodity part of the business.
This would include the pizza boxes and towers that are the cheapest and least differentiated part of the line.
Rather than part out System x like a tired old jitney, IBM opted to sell the entire division – including the high-end, differentiated boxes that they've poured money into since the turn of the century.
Here's how an IBM briefing slide positioned what Lenovo is getting for their money: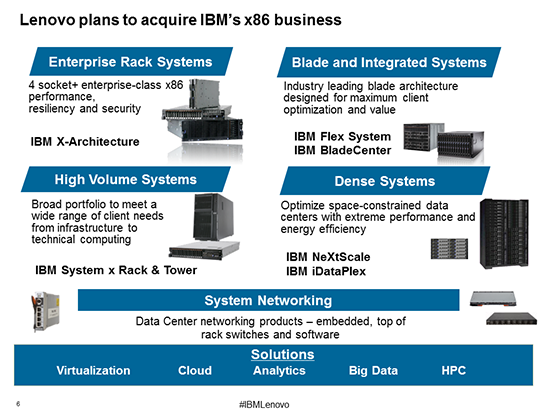 The slide above focuses on hardware products, but there's a whole lot more in Lenovo's shopping cart. Lenovo will get licenses to IBM's GPFS (General Parallel File System), SmartCloud Entry package, System x management software, and the Platform Computing suite. Lenovo can OEM and resell these products (plus IBM's Storwize and tape tech) or use them as components in their own solution bundles.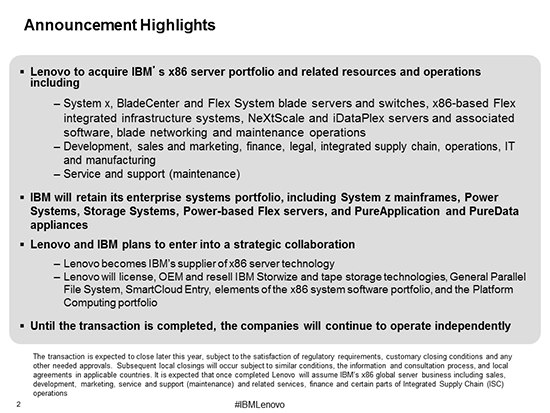 In addition to the products, Lenovo will also get the development, sales and marketing, service/support, operations, manufacturing, and all the other departments that enable and support the division. This also includes a fair amount of real estate, labs, chairs, desks, and everything else used by the current System x crew.
Initial estimates are that 7,500 IBM employees will be turning in their badges for shiny new Lenovo tags, but I think the real number will be end up significantly higher – perhaps as high as 9,000 or more when world-wide employees are factored in. There are also a lot of people who work for IBM organizations that support multiple systems, but who work exclusively on System x or x86 architectures. These people will probably end up with Lenovo badges when the deal is done.
A new force in the server market?
Lenovo isn't picking up bits and pieces of IBM's System x – they're buying the whole magilla (or megillah, for insisting on historical accuracy.) This makes Lenovo a near-instant player in the highly competitive x86 server business, with a full slate of proven products and worldwide sales reach.
And it's not like Lenovo doesn't know how to compete in tough markets. It's instructive to consider what Lenovo did with IBM's semi-moribund PC division after purchasing it in 2005. They've built their product portfolio and sales to the point where they've become one of the largest PC vendors in the world. And they've remained solidly profitable while doing it – which is quite an accomplishment.
So how did Lenovo succeed where IBM failed? In my mind, it came down to execution in three broad areas:
1. Preserving and building upon the good: They didn't clean-sheet the desktop and laptop products to reduce prices and maximize margins. Instead, they kept the attributes that were most attractive to their best customers: things like product quality, reliability, durability, and performance, a business oriented set of hardware and software, plus fast break/fix service.
2. Pushing technology faster: IBM usually lagged behind the rest of the market when it came to refreshing their product lines. Lenovo is typically one of the first vendors to roll out new chips, new features, and different form factors.
3. Competitive pricing: Under IBM, the PCs and Thinkpads were always priced at a premium above similarly configured systems. Often even Thinkpads with lowly configurations had high costs than more powerful competitive boxes. Lenovo has been able to optimize their supply chain to the point where their systems carry prices at least on par with the other major suppliers.
We can argue whether Lenovo PCs (particularly Thinkpad laptops) are better or worse than others, but Lenovo's success in a very tough market can't be denied. Of course, we have to note that Lenovo was aided by being in the right place at the right time - buying IBM's PC unit just as tech demand in home country China began to rapidly rise.
Lessons learned?
I'd argue that Lenovo purchasing System x isn't all that different than when they bought up IBM's PC operations. The two markets have a lot in common; both are seen as low-margin commodity segments that offer little or no chance of returning decent profits to vendor coffers. Both of these product lines suffered from a lack of focus and investment at various times within IBM.
In my data centre research, when it comes to x86 servers, IBM receives high marks for their x86 technology, performance, and reliability – but lower scores when it came to pricing and ease of doing business. There's plenty of value for Lenovo to build upon and the problems the brand faces are familiar to them.
I would expect Lenovo to attack the server market at least as fiercely as they did the PC market. This means preserving and amplifying the good – like the base technology and IBM design features. It also means optimizing the supply chain to reduce prices and making it easier for resellers and end customers to acquire systems, solutions, and service.
What competitors can anticipate is a Lenovo sales approach that goes something like "…systems with IBM performance, quality, and design at Lenovo prices and the same devotion to execution and details that made us the #1 PC supplier in the world…."
It's an intriguing enough value proposition to get them a meeting with most server buyers. If they truly deliver on that pitch, they will become a formidable new competitor to the other major x86 system vendors. The x86 server market may be in for some interesting times, but perhaps in the Chinese curse sense of the phrase. ®