This article is more than 1 year old
It's big, it's expensive and it's an audiophile's dream: The Sonos Sub
Networked wireless subwoofer wows our man, sets him all a-flutter
The big dog in the streaming Wi-Fi speaker business has barked and delivered a sub-woofer - called the Sub.
In fact it launched it a year and a half ago, but we can only now write about this heavy boom-box, so to speak, because the damn thing costs the best part of six hundred quid and we've had to save up our pennies.
It's the size of a cut-down roll-along case - 402mm x 380mm x 158mm - and as heavy as an armful of house-bricks - 16 kilograms.
The design is discreetly understated and upmarket, being a black oblong of very shiny resin with an internal oblong slit, the acoustic slot. There are opposing dual-force speakers in each side of this cutout and the hole provides a handy means of carrying the box. Sonos said it was going to introduce a cheaper, matt black finish box shortly after it launched the Sub but never did.
The shiny surface is great for showing dust and greasy fingerprints; no surprise that Sonos provides a cleaning cloth.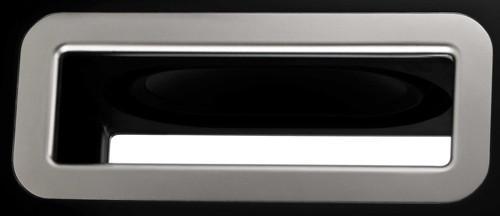 This oblong hole is an acoustic slot, otherwise known as a carrying hole.
The Sub has two Class-D amplifiers and can deal with sounds down to 25HZ and will easily rouse your close neighbours to a frenzy of rage if you use it anywhere near its maximum volume. This thing has a deep, deep - did I say deep? - rumbling bass. It simply ROCKS!
Back to speeds and feeds. It has a power connect and an RJ145 Ethernet port. We're told it has Digital Signal Processing (DSP) which controls the filter settings, "active equalisation and timing for truly zero-loss listening."
Setting it up – more than just plonking it under the telly
The only control button on it is a Join button, used to get it bonded to an existing Sonos WiFi network. We checked it out by adding it to a stereo pair of Sonos Play:3 speakers.
It was a moderate pain to do this. The network wouldn't recognise the Sub until we turned off the WiFi router and Sonos Bridge box and restarted them. Then we reconfigured the pair of Play:3s and, when that was done, added the Sub. En route we noted that the Sub documentation was basically crap, assuming that stuff would simply work and, if it didn't, you call a Sonos help line. Well, no, not on a Sunday afternoon you don't.
The Sub should be placed on the floor in a vertical or horizontal position or even hidden away under a chair if you want. The opposing speakers are said to cancel out any rattling by the enclosure but the slot shouldn't be masked and the box left uncovered so that heat can dissipate.
Like all Sonos speakers it needs to be powered on to work. You can't power it up immediately before you play music because it takes time for the Sonos software to detect it and configure it with the other Sonos gear in the room. This software then optimises the sound data transmission to the various Sonos speakers so as to use the Sub for bass notes, relieving the Play:3s (or Play:5s or Play:1s) of that task and leaving them to concentrate on higher frequency sounds.
Anyway, once the Sub is added to the set-up there are a couple of tests to check out its volume and then off you go.
An audiophile's dream
Now we leave the speeds and feeds stuff and move into the realm of aural delights. The Sub worked, and how. You can, of course, turn the volume up and have sounds in the lower register shake the house. Bach's Toccata and Fugue in D Minor sounds simply fantastic. Close your eyes and listen: you are right there, in a cathedral with the deep organ notes coming up through your feet and from all around in deep, billowing powerful blasts of sound, while the soaring high register notes take you up there, high into the cathedral interior-like aural soundscape.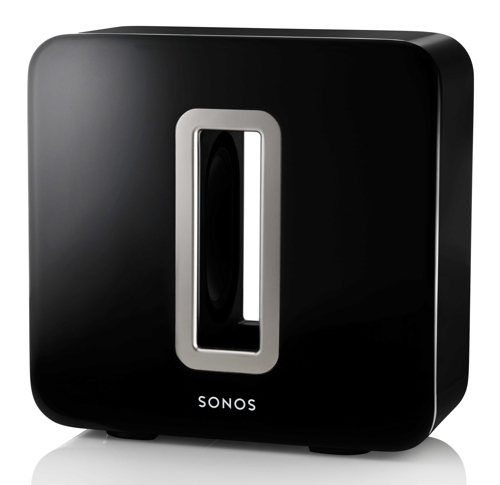 Sonos Sub. You can have it any colour you like - as long as it's black
Tavener's Song for Athene seductively sucks you in to its contemplative core and then, when the choir turns up the volume, gives you a fabulous jolt as it climaxes. Florence and the Machine sounded crisp, clear and more powerful and nuanced. The Sub takes care of the bass beautifully letting the other speakers present middle and upper register sounds with wonderful precision and clarity. Stereo separation never sounded to definite to this listener.
Obvious sub-woofer test pieces like the music from Twin Peaks and songs by the Righteous Brothers sound familiar, yet fresh and new with an added dimensions to them. You just start playing through your entire music collection to rediscover it.
Like other Sonos components you control it through iOS or an Android phone, orthe desktop/notebook/tablet app. Read the Play:1 and Play:3 reviews to find out more about this and the Internet radio service streaming Sonos is noted for.
The big question: is Sonos' sonorous sub-woofer worth £599.00? Well, I just bought the thing. What do you expect me to say? It's fabulous, the best speaker set-up I have ever listened to. But six hundred quid ... pair a couple of Play:3s with this and you've spent over a thousand pounds on three speaker boxes. It's a lot of cash.
Best advice is go listen to one. I doubt you'll find a Sub owner that disses the box. It's like moving from a Trabant to a Mercedes. I wonder what Dire Straits sounds like? Pet Sounds? Jagged Little Pill?
The Sub gives you aural delight - at a price. You need a deep, deep wallet to appreciate its deep, deep sound. ®

It's big, it's expensive and it's an audiophile's dream: The Sonos Sub
Premium sound quality from a premium-price subwoofer.