This article is more than 1 year old
Wheee GDUNK! Panasonic's latest Toughpads ready to hit the streets
Super-rugged David and Goliath go on show
Hands-on A few weeks after its unveiling at CES in Las Vegas at the beginning of the year, samples of Panasonic's mini Toughpad FZ-M1 have finally made it to these shores. The company was showing off the sturdy little blighter in London yesterday alongside its 20-inch 4K tablet which is rolling into production as you read this.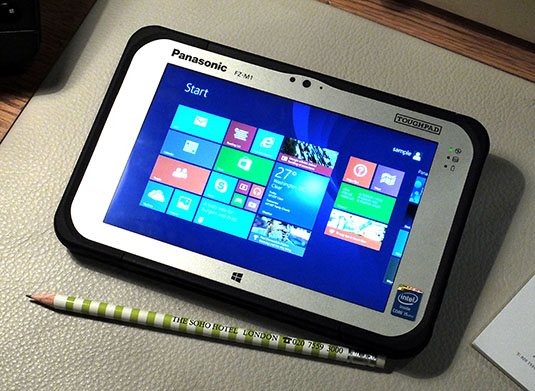 Small wonder: Panasonic's FZ-M1 Toughpad features a Core i5 CPU
Together, these two Toughpad products put on a David and Goliath display, as the 20-inch UT-MB5 we checked out at IFA last year isn't as beefy as the new kid on the block.
As 7-inch tablets go, the Toughpad FZ-M1 is quite unique. This is not just due to its rugged construction, which survives a 5ft (1.52m) drop (conforming to MIL-STD 810G) and includes IP65 protection against the contact and infiltration of water and dirt.
The real surprise is that this chunky, 540g go-anywhere fondleslab has an Intel Core i5-4302Y chip running the show... and goes without a cooling fan too. Starting off with 4GB of DDR3L 1333Mz RAM, this can be increased to 8GB and the 128GB SSD has a 256GB alternative. Talking of alternatives, you don't have to rely on Windows 8.1 Pro either as there is a Windows 7 "downgrade" available.
If storage is an issue, then inside the battery bay behind a sealed cover is a micro SD. The SIM slot functionality is optional though. Panasonic claims it's the first 7-inch tablet to offer 4G LTE multi carrier embedded wireless broadband connectivity.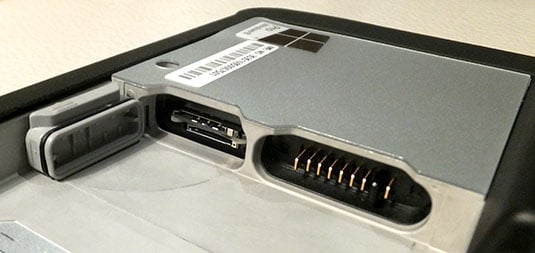 Micro SD card and Sim card slots hide out in the battery bay
Removing the battery doesn't kill the Toughpad FZ-M1 either if the bridge battery option is installed. The demo unit had this on board as this additional power source is integrated into all units that fit into the first of two accessory bays.
In this case, bay one had a SmartCard reader installed and there was about a minute's grace to swap out the battery for uninterrupted use. Panasonic reckons you'll get eight hours of operation out of the standard 3220mAh battery which can be doubled with the optional 7100mAh battery.
Much like its big brother, the 10-inch FZ-G1 that El Reg video-ed being kicked down the stairs as part of its testing, the FZ-M1 has a range of accessories to suit different scenarios. However, these are not compatible with the 10-incher, which will most likely grate on existing Toughpad customers.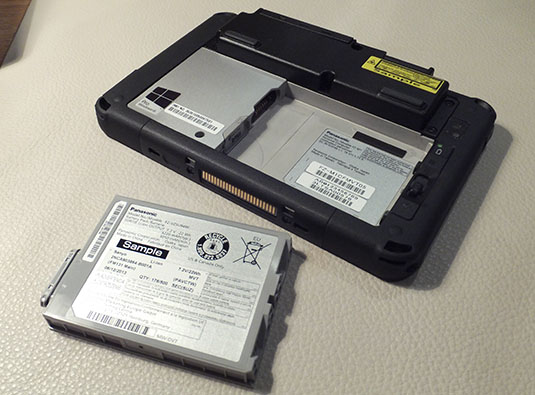 A tablet with a swappable battery, whatever next?
SmartCard reader aside, slot one can accommodate a magnetic stripe reader, NFC or UHF RFID options too. In the second bay of the demo sample was barcode reader with an integrated torch that all together bulked it out quite a bit. You can also fit LAN and serial interfacing accessories here instead.
In its endeavour to pack in connectivity for the various options together with mix of ABS plastic protection and magnesium chassis, Panasonic couldn't find room for a stylus which – given how small everything looks in Desktop mode on its matt 1280 x 800 pixels TFT touchscreen – would definitely come in handy.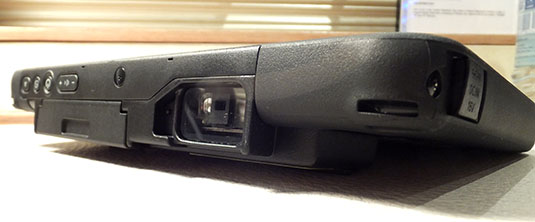 Covered SmartCard slot (left) sits alongside the bulky bar code reader (right)
Using pinkies only, making choices from drop-down menus was a challenge, and will no doubt be a toe-curling experience for field workers.
Panasonic has been trialling it with the Old Bill in one region and, given its cradle interfacing contacts along the side, has high hopes that it'll become installed in vehicles too. The basic cradle breakouts feature power, Ethernet and a couple of USB 2.0 ports, with a full blown version adding HDMI, VGA and a battery-charging slot to boot.
It seemed appropriate to do a drop test and although the demo unit easily survived a 3ft (91cm) fall unscathed, it was confused for a while, with the touchscreen becoming unresponsive - although a restart eventually cured it.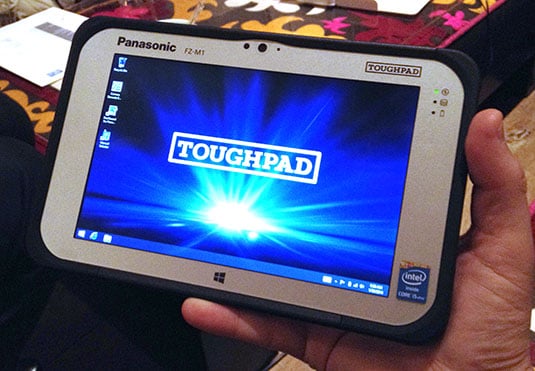 Palm device?
In late February, Panasonic will flog you an FZ-M1 for £1300 and there's an Intel Bay Trail M generation model waiting in the wings too for £900 both including VAT. Alas, there's no information yet on whether this Bay Trail design will be Pentium or Celeron based or if it's likely to be a dual-core or quad-core processor.
As for the 4K 20-inch Toughpad, this eye-popping display seems to be a solution looking for a problem. Panasonic hopes car dealers can use this Intel Ivy Bridge generation tablet to display different livery. Likewise, cosmetics could be sold in-store by giving the customer an idea of how they might look.
Naturally, there were apps showing off these ideas along with s-l-o-w moving 4K video. All very pretty but I had the most fun with the make-up app. Simple and intuitive, you could turn any one of the models into an instant chav. Turn up the fake tan to a bright orange, add white lipstick and eyeshadow and hey presto! Job done.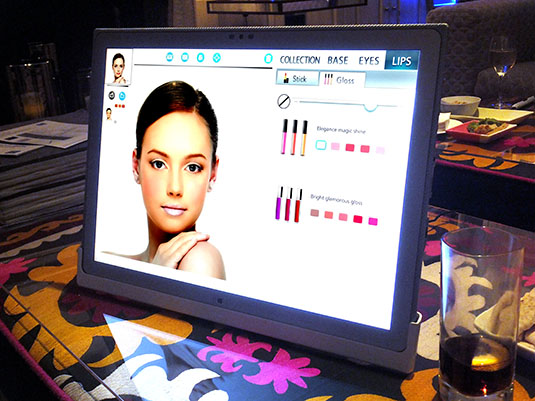 Cosmetic solutions: what would you use a 4K 20-inch tablet for?
The standard UT-MB5 model is out in March for around £4,000 including VAT. You can read more about it here. ®