Plenty of vendors offer Chromebooks, but if mobility isn't your bag, Asus has announced a compact Chrome OS desktop at a price that's hard to beat.
Asus isn't the first company to offer Chrome OS in a desktop form factor. That would be Samsung, which launched the original Chromebox in 2012. But vendors have shied away from the design since then, preferring to ship all-in-one Chromebook laptops instead.
The problem with that earlier Chromebox was that it was hard to see who its intended audience was. It had a slow processor, and for a general-purpose PC it lacked a lot of things that consumers have come to expect from their Windows or OS X machines.
Asus seems to have taken that lesson to heart, and rather than pitching its new Chromebox as a PC replacement, it's marketing it as an easy-to-use, low-maintenance web terminal that doubles as a media device that can handle 4K ultra-high definition video.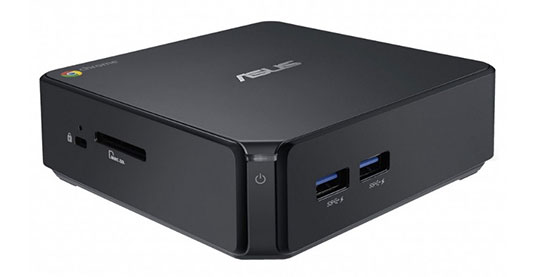 The new Asus Chromebox is small enough that you can hide it behind your display
"When booting Chromebox up, browsing the web or performing your essential tasks, it's all about speed when it comes to Chrome OS," Asus's promo copy explains. "It gets you closer to what you want to do, simply boot up Chromebox and go."
We got our first peek at the new Chromebox at last September's Intel Developer Forum, where it was unveiled as part of a new wave of Chrome OS devices based on Chipzilla's power-sipping "Haswell" processor architecture.
The actual specs aren't exactly mind-blowing, as it turns out, but the Asus Chromebox should run a bit better than Samsung's version. Asus plans to offer three different processor options: a 1.4GHz Celeron 2955U, a 1.7GHz Core i3-4010U, and a 2.1GHz Core i7-4600U – but we're told the Core i7 version will only be available in select markets, North America not being one of them.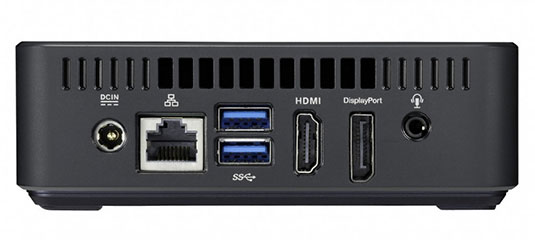 For its size, the new Chromebox comes with plugs aplenty
There will be configurations available with 2GB and 4GB of RAM, presumably with the higher RAM going to the model with the faster processor. And in addition to the customary dual-band Wireless-N and Ethernet connectivity, the Chromebox will ship with four USB 3.0 ports, a 2-in-1 SD card reader, 16GB of onboard SSD storage, and both HDMI and DisplayPort plugs.
All of this comes in a little box that's reminiscent of Intel's Next Unit of Computing (NUC) devices but slightly larger, at 4.88 inches (12.40cm) by 4.88 inches by 1.65 inches (4.19cm). It's also VESA-mountable, so you can stick it to the back of your monitor or TV – which, by the way, you'll need to supply yourself, in addition to a keyboard and mouse.
But where the Asus Chromebox really stands out against the NUC (and Samsung's earlier Chromebox) is in its price tag. Full pricing for all of the configurations has yet to be released, but Asus says the base unit will start at $179 in the US, compared to a starting list price of $285 for the NUC.
That, and the Chromebox ships running Chrome OS out of the box, meaning customers will be able to plug it in, turn it on, and begin surfing the web in a matter of seconds. The NUC, by comparison, comes without an OS.
Asus says its Chromebox will begin shipping to US retailers in March, with further pricing info and availability in other markets to come. ®
Similar topics