State surveillance? We'll do it ourselves, thanks
For hundreds of years, if not more, people have maintained a constructed public self - but social networks now require you to mine the private self to feed it. In this sense, Facebook really was different. And this was a demanding beast to feed. Failing to "score" resulted in anxiety.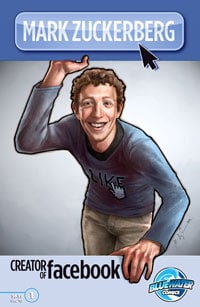 A genuine Zuckerberg comic cover.
It's a terrific irony that in the mid-Noughties, as the NSA and GCHQ were building the capacity to perform warrantless data gathering, more people than ever were publishing intimate data that could be collected without a warrant. We exposed our private social connections, our likes and fears: all were now public. Collecting them did not require the snooping later revealed by Snowden.
The disgruntled NSA BOFH disclosed the extent of the systematic surveillance; how it had compromised all the giant internet companies, and the limitless collection of data in vast warehouses. But the revelations were mostly met with shrugs. The spooks had sunk to our expectations.
Not only that, but Facebook became a model for the state surveillance industry. Once people were monitoring themselves, the analysts could perform a higher order function. As the New Scientist noted having scanned a sample of procurement contracts, "the US government is keen to take advantage of what amounts to a society of self-surveillance."
This created a number of moral panics and led to as much anxiety as it did serendipity. "Demands on our attention lead us to use Facebook more passively than actively, and passive experiences, no matter the medium, translate to feelings of disconnection and boredom," agonised the New Yorker, as it tried to sift through apparently contradictory psychological studies showing that Facebook was either very good, or very bad for you.
Feeding the rat
"Feeding the the rat of the self" is how film-maker Adam Curtis describes social networks, and this been a recurring theme for him, particularly in the BBC film series The Century of the Self (2002) and The Trap (2007). In the latter, broadcast just as Facebook was opening up its APIs (which helped set it on its way becoming a mass global phenomenon - it had just 12.5m users then, by the end of 2008 over 100 million), Curtis related a warning.
In the 1970s, psychiatry had begun to permit people to self-diagnose, and encouraged this instrumentalist approach to their patients.
"They gave up on the idea that they could understand the human mind and cure it. Instead, American psychology created a new set of measurable categories that were only based on surface behaviours of human beings. Many were given new names like attention deficit disorder and obsessive-compulsive disorder," noted Curtis in 2007.
"But what was beginning to emerge from this was a new form of control, the disorders and checklist are becoming a powerful and objective guide to what were the correct inappropriate feelings in an age of individualism and emotion," he added. "This is a very different system of order, no longer are people told how to behave by the elite. Instead, they now use the checklist to monitor their own feelings and police their own behaviours."
Last year the American Psychiatry Association published its latest volume of its "bible", Diagnostic and Statistical Manual of Mental Disorders or DSM-5, to widespread criticism. It was hard to find anything that wasn't a disorder of some kind. There was no new normal. Lost a loved one? Suffering grief? That was now a disorder too.
In a world of inadvertently hilarious Twitter bios (which make sure "Atheist biker. Loves the NHS. Hates cheese" can never accidentally cross paths with "Episcopalean Mom. Patriot") Facebook helps ensure a brutal conformity. Demur from the opinions of your group at your peril. Try being the libertarian who wants banks to adopt Glass-Steagal-style lending ratios. Or the NHS supporter who wants money to follow the patient in a European rather than Soviet-style system. Or even being an environmentalist who supports shale gas.
Online, one's political affiliations are a row of badges (by which you show your virtue) and shriek at anyone who contradicts them. It's hard to reconcile this with the what the internet's most enthusiastic supporters envisaged twenty years ago, as a kind of Enlightenment era of free thinking.
In short, we've become our own policemen. Zuckerberg's great empowering hides that he's helped usher in an age of conformity. One we've really created for ourselves. ®
Similar topics