This article is more than 1 year old
Sons of Sun roar 'Freedom!', uncloak server-switch
Pluribus Networks nixes NIC processing, animates Frankenswitch approach
Cisco's embattled business gained another nimble competitor on Tuesday as startup Pluribus Networks bellowed "Freedom!" and lobbed a Frankenswitch over the networking giant's ramparts.
The Frankenswitch – a "Server-Switch", in Pluribus Networks' terminology – is designed to compete with Cisco, Juniper, and Arista switches in high-traffic environments, while offering punters greater analytical capabilities and more openness than they would get with a traditional networking provider.
Pluribus Networks has a strong pedigree, with its top people hailing from Cisco, Sun Microsystems, Juniper, and others.
The company's approach combines a multithreaded network operating system (the Netvisor OS), with a switch that wraps in either a typical merchant silicon controller (Broadcom Trident 2) or an Intel networking SoC (Intel Alta), along with an Intel Xeon chip attached via up to four 10GbE connections.
Pluribus Networks bills this switch and OS combo as "the most programmable platform for transport-aware L4-L7 applications," and claims its approach offers customers a greater degree of freedom via its use of traditional merchant silicon and standard server components.
"We started to get to a level of traffic in any given geography where we have a datacenter where we were noticing – with the existing infrastructure we were using – that we were having pretty significant packet loss," Joshua Motta of Pluribus Networks–customer Cloudflare told The Reg. "We went about scouring to look for a vendor that could solve this problem, and the only one that came close that we tested was Pluribus."
The enhanced dataplane performance comes from a combination of the Intel Alta networking chip, Joshua explained, and the way it hooks into the attached processor. "We can handle more packets per second through this given switch," he said.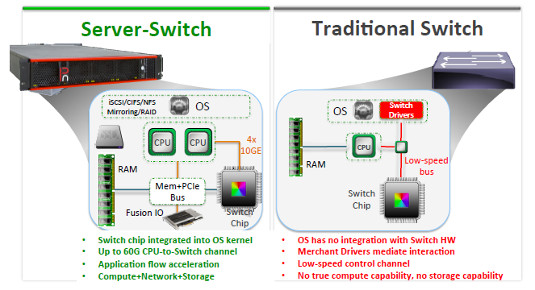 Pluribus Networks's approach brings a server architecture to a switch
Besides base performance, Pluribus Networks argues that its architecture gives network administrators greater visibility into packet flows, and helps them gather application-specific network flow information.
Pluribus has already worked with companies like VMware and Red Hat to integrate OpenStack and vCenter into its OS along with network services such as DHCP, PXE, DNS, SLB, Wireshark, and others, and is working with other providers to add more into its tech in the future.
At the time of writing, Pluribus Networks had not disclosed prices for its kit. "The list prices are comparable to the Ciscos and Junipers of this world," said Cloudflare network engineer Tom Paseka, and said the switches offered "better performance for a similar price."
Judging by Cloudflare's response, Pluribus Networks's motto – "Freedom Starts Where Traditional Networking Stops" – seems like both a statement of intent and an elegant description of its technology. Meanwhile, Cisco continues to insist that customers can get greater performance by tying themselves to a proprietary software and hardware stack. ®