This article is more than 1 year old
Boffin dreams up smart battery gizmo for Raspberry Pi fiddlers
Kickstarter drive aims to bring backup juice to the masses
Raspberry Pi-packing makers who are devising mobile projects or seeking to set up stationary Pi-based devices that operate beyond the reach of the mains will get a big jolt of help next May if a new doohickey wins sufficient backing on crowd-funding site Kickstarter.
MoPi is a T-shaped board that drops onto the tiny computer's GPIO pins to provide smart input from DC power sources.
Driving a Pi on battery power is nothing new, of course, but the MoPi, designed by Sheffield University computer science boffin Hamish Cunningham, provides solutions to the most common problems encountered when constructors run Pis away from the mains.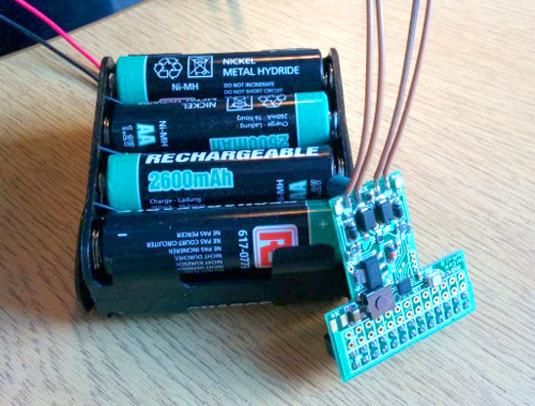 MoPi allows two parallel energy sources to be connected to the Pi so dying batteries can be swapped while other cells continue to power the Pi. In conjunction with software it will detect an ailing battery feed and shut the Pi down in good time to prevent a sudden loss of power from potentially corrupting the computer's SD storage.
If the computer is running off the mains too, the MoPi allows the batteries to operate as an Uninterruptible Power Supply (UPS).
The MoPi board includes pass-through GPIO ports so it'll be easy to solder on a second set of GPIO pins if you have other devices you need to hook up to your Pi too.
Other refinements include a pair of LEDs to give a visual indication when the voltage on either or both has fallen to a critically low level. A third LED indicates the state of the combined power being fed to the Pi. The on-board electronics are managed by a programmed microcontroller, which also drives the board's 5V switch mode voltage stabiliser.
At the moment, the microcontroller knows how to deal with alkaline and NiMH rechargeable batteries, but Hamish is working to add support for Lithium Ion rechargeables too. He also wants to allow it to feed 3.3V to the Pi, which is capable of running at that voltage.
Kickstarter pledges of £18 or more will get you a MoPi when it ships. Pledge at least £130 and you can also get one of the two education-oriented outdoor experimentation kits Hamish and Co. will also be supplying. More info on Kickstarter. ®