Cisco's latest Visual Networking Index (VNI), its annual analysis of current and future bit flows, has hit the wires and it confirms what most people already consider a given: mobile access is continuing to grow, both in terms of volume and in terms of users.
The VNI states that mobile connection speeds are also on the rise, doubling during 2013 from 526K bps on average, to 1.4M bps. This was mostly driven by adoption of 4G technologies, with 4G devices generating 14.5 more traffic than non-4G connections to now represent 30 per cent of traffic even though they only represent 2.9 per cent of connections.
Whether or not they're 4G devices, smartphones are the unsurprising driver of all this traffic, sucking down 95 per cent of total handset traffic although they're only 29 per cent of all handsets.
The VNI predicts overall mobile traffic to grow elevenfold from 2013 to 2018, but as users make the switch, 4G traffic will grow 18-fold. In volume terms, total global mobile traffic is predicted to rise from 2013's 1.5 exabytes per month to 15.9 EB per month by 2018. 4G will account for 51 per cent of this by 2018, Cisco says.
However, those who believe the mobile revolution renders fixed networks obsolete are down for a disappointment. "There will be more traffic offloaded from cellular networks (on to WiFi) than remain on cellular networks by 2018," Cisco writes. Ever the optimist, Cisco also thinks picocells remain a coming thing in the offload market.
That will put a premium onto the fixed networks that connect most Wi-Fi hotspots and picocells. To put this into context, Australia's fixed broadband customers generate around 23 times as much download data as mobile users, according to the Australian Bureau Statistics' latest release.
The very rapid growth Cisco forecasts for mobile devices, combined with the increasing WiFi offload, will accelerate rather than crimp download growth on fixed networks.
In geographic terms, America and the Asia-Pacific will drive most mobile network traffic growth, with the US to make up 18.6 per cent of total mobile data traffic by 2018, and the Asia-Pacific to represent 42.4 per cent of the total.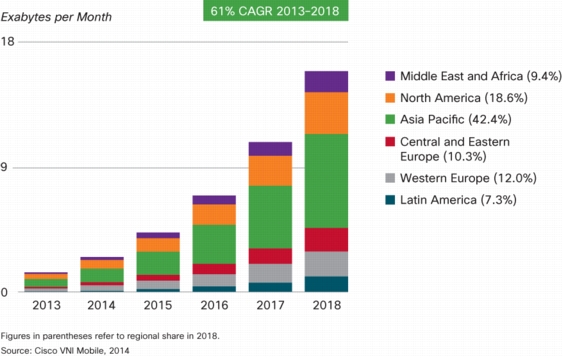 Asian tigers to dominate mobile data. Image: Cisco
Interestingly, the aggregates Cisco forecasts represent a reduction in traffic growth compared to what was in last year's VNI. From 2013 (the start of this year's data) to 2017 (the end of last year's), the Borg has reduced each year's predicted growth.

Cisco has quietly trimmed its VNI mobile data forecast. Data source: Cisco VNI
The same thing happened in the last revision of the VNI - but forecasting is devilishly difficult.
The VNI is here. ®