NASA has announced the discovery of a fresh impact crater on Mars, and has released eye-popping pictures of the new hole taken by the Mars Orbiter's High Resolution Imaging Science Experiment (HiRISE).
The orbiter can't provide certainty about when the crater first appeared, as HiRISE was only pressed into service after the less-powerful CTX (context camera) "revealed a change in appearance here between observations in July 2010 and May 2012."
Once boffins found something of interest, HiRISE's ability to take pics of 0.3 meter resolution from 300 km altitude, using 14 2048x128 CCDs, became a jolly fine idea.
The landscape HiRISE photographed is a bit of a knockout: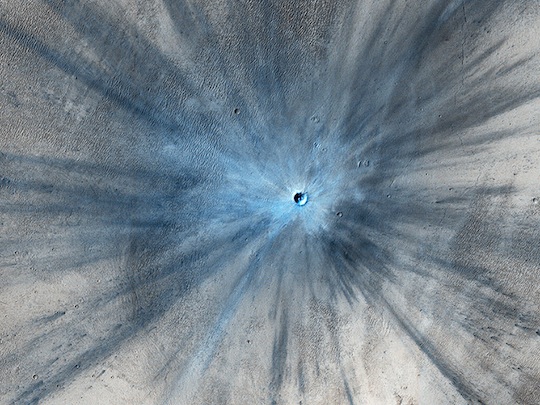 The 30-meter crater on Mars. Image: NASA/JPL/University of Arizona
Some key details about the crater itself:
It's around 30 metres in diameter;
Debris (ejecta) has been thrown 15 km from the site of the explosion;
As NASA notes, the crater is at 3.7 degrees north latitude, 53.4 degrees east longitude on Mars.
Surface impacts are more common on Mars than on Earth, since the red planet's thin atmosphere isn't much use to prevent space rocks reaching the surface. NASA says there are around 200 hits each year that produce craters larger than 3.9 meters in diameter.
As for the colour of the image, NASA states: "Because the terrain where the crater formed is dusty, the fresh crater appears blue in the enhanced colour of the image, due to removal of the reddish dust in that area." ®