How many keys can one keyboard have? Do I hear 200? 300? More?
Transylvanian dedicated Photoshop controller gives you ALL THE KEYS
Are you frustrated with Photoshop's hard-to-remember key commands? You're not alone, and an international group of professional photographers and designers has launched a Kickstarter campaign to do something about it.
Romanian Sorin Neica says the group needs just $185,280 to begin production of Shortcut-S, a new computer peripheral that he describes as a "one key shortcuts system" for Adobe Photoshop.
"Who remembers all this [sic] shortcuts and under what key combination are they hidden on the regular keyboard?" Neica writes on the project's Kickstarter page. "There you can see just letters and numbers!"
The solution? Create a new kind of keyboard that features dedicated keys for every function and tool, each labeled with an icon to let you know what it does. And that's just what Neica and his team have done.
The final version of the Shortcut-S measures 15.86 inches by 12.04 inches (403mm by 306mm), is just 8mm thick, and has 319 separate keys for 372 functions, tools, and filters. Feast your eyes on its full, mad glory below: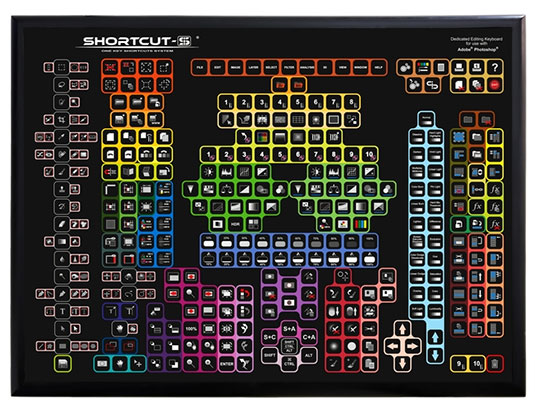 I don't know. Do you think it could use a few more keys?
Using the Shortcut-S eliminates the need for Photoshop users to take their hands off their mice to form key commands with two, three, or four fingers, Neica says.
"Using this dedicated keyboard is very very easy for a beginner to start working with Photoshop, increases the creativity for a middle level user and the professionals will be at least 30% faster," Neica explains. "Of course you can also keep the regular keyboard, just to input text."
The Shortcut-S works with both Windows and OS X – in fact, Neica says, it is a completely plug-and-play USB device and requires no drivers of any kind.
And while the project is a long way from its funding goal yet, Neica assures us that the Shortcut-S is far more than just a dream. Fifty of the devices have already been produced by a facility in Shenzhen, China, he says, and the factory is now ready to ramp up to full production.
If the Kickstarter goal is met, Neica says he expects to produce 2,000 units for delivery in the summer of 2014 with a list price of $130 each, although customers can preorder them for as little as $89.
Shortcut-S's creators claim it will cut your Photoshop editing time in half
Neica has even sweetened the pot for big Kickstarter backers by offering anyone who pledges $9,000 or more an all-expenses-paid trip to Shortcut-S's birthplace of Brasov, Transylvania, Romania – "just 30 Km  away from the famous Dracula Castle" – where they will have the opportunity to talk to the development team, participate in workshops, and receive a personalized Shortcut-S and other gifts.
If the first batch of Photoshop keyboards sells well, Neica says his group also plans to produce additional keyboards for other applications, such as Corel Draw, Adobe Premiere, and Final Cut. You can vote your preference for the next model on the Shortcut-S website. ®